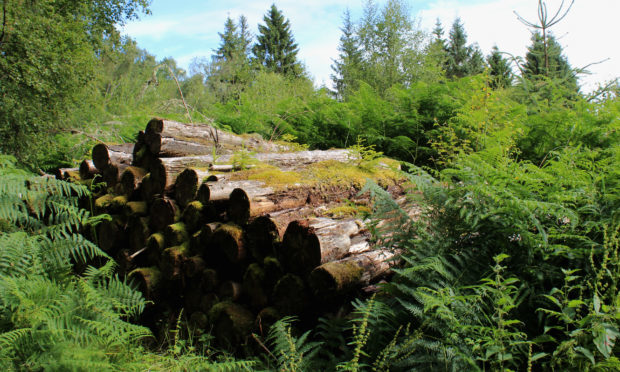 More than £250,000 will be spent on upgrading and improving rural Perthshire roads used to extract timber.
Perth and Kinross Council has been awarded grant funding of £253,400 by the Forestry Commission Scotland following a successful bid to the Commission's Strategic Timber Transport Fund (STTF).
The cash will go towards road repair projects on the B847 near Loch Rannoch, the U29 near Dunning and the C450 near Kinloch Rannoch.
More than £7 million is to be shared by constituencies across Scotland, with Perth and Kinross receiving the smallest fund.
The grant is aimed at minimising the impact of timber lorries on rural roads and improve the roads condition.
Despite the investment, Perth and Kinross Council has received less than it did last year.
The council was awarded £1,478,000 from the same fund agreement in 2017 to fix four rural roads. A further £633,819 of local authority funding supplemented it.
A council spokesperson said: "The STTF is an important resource that allows Scotland to reap the benefits of our rural areas forestry industry, while minimising the impact of timber lorries on the road network.
"The funding we received last year allowed us to complete a substantial amount of work on the network, with this year's additional funding essentially topping up the major piece of work which has already taken place.
"As such, we're satisfied the funding granted this year meets our needs."
The fund is also set to deliver over £1 million of investment to the TimberLINK shipping service to give access to timber by sea.
It is hoped the investment can take lorries off local rural roads and transport timber to the market by sea.
Mairi Gougeon, minister for rural affairs and the natural environment, said: "Timber will greatly benefit our rural economy but we must also do all we can to mitigate the impact on local communities of increased timber traffic on minor rural roads.
"This year's awards go to local authorities and forest owners that have come forward with project ideas that will facilitate the sustainable transport of timber and ultimately benefit local communities and the environment."
The other constituencies to receive funds were Argyll and Bute Council receiving £1,466,717, Highland Council receiving £1,162,000, Aberdeenshire Council receiving £944,827, Ayrshire Council receiving £731,640, Scottish Borders Council receiving £601,208, Moray Council receiving £470,316 and Dumfries and Galloway Council receiving £455,000.