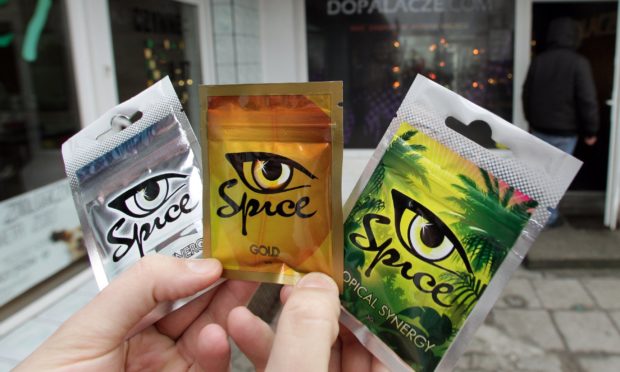 Perth's police chief has said instances of people using the controversial drug Spice have fallen since the city's legal high shops were closed down.
Chief Inspector Ian Scott, area commander for Perth and Kinross, said Spice use was "tied" to sales from This N That, which was located in the city's County Place until November 2015
The shop's owner, Paul Brocklehurst, was jailed in April for recklessly selling psychoactive substances to the danger of life.
Another shop that sold legal highs, Bong in Atholl Street, Perth, ceased trading in late 2015.
The police chief welcomed the reduction in use of the so-called "zombie drug" but stressed people who want to use it can still do so by ordering it on the internet.
He said: "In my opinion, the closure of these legal high shops this has reduced the impact of people using Spice locally, particularly over the last 18 months.
"However, it can be sourced illegally online so we're trying to work both preventatively and also to educate substance users by making them aware of the dangers of such products.
"We are also working with various partners in enforcement action and this includes co-operation with the Royal Mail."
He continued: "There was a TV documentary concerning the use of Spice and it featured those who took it in Tayside and it is a brutal concoction.
"While users of any illegal drug have to be very careful, the particular risk in getting substances online is that you have no idea of what they are or where they come from, so one hit could be totally different to the next."
While Mr Scott said the drop in Spice use in Perth is positive, he conceded it is still prevalent in Perth Prison and warned of the dangers associated in taking it.
"Taking Spice has horrendous effects and it impacts badly on families of those who use it," he added.
"We are aware of its use in Perth Prison."
Brocklehurst, 62, was sentenced to four-and-a-half years in prison in April after admitting recklessly supplying psychoactive substances at This N That to the danger of life and health. His offences were committed over two years from July 2013 at his Perth shop.
However, this sentence was reduced by nine months on appeal last month at the Court of Criminal Appeal in Edinburgh.
Liston Pacitti, 28, had also been sentenced in April to four-and-a-half years in prison for supplying psychoactive substances at legal high shops he ran in Montrose and Arbroath.
Eight of Brocklehurst and Pacitti's customers required hospital treatment after taking drugs sold at the legal high shops. This included a 13-year-old boy who bought substances at the Perth shop.