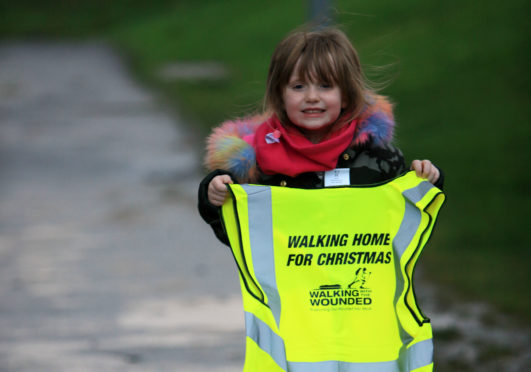 A kind-hearted Perth youngster is walking more than 50 miles in the run up to Christmas to raise money for veterans.
Myiah Allan has been walking almost a mile and a half on her daily round trip to school and back in aid of armed forces charities.
The six-year-old Goodlyburn Primary School pupil has braved wind and rain with her mum, Carlin Beaton, since the start of November and will continue until the end of term.
She was inspired to raise money for ex-servicemen and women after learning about the centenary of the First World War at school.
Miyah and Carlin usually get two buses to school from their home in Methven but decided to ditch the second one and walk from East Huntingtower to the Crieff Road school, as part of the national Walking with the Wounded Walking Home for Christmas campaign.
Carlin said: "I've always been a big supporter of Help for Heroes and I've done other fundraising things with Miyah like Race For Life so we had a chat about it and she decided she wanted to do Walking Home for Christmas.
"We walk every day unless the weather is really terrible. Most rainy days, unless it's really bad, she just pops up her brolly and keeps going.
"She is always really happy to do it and never complains. She's an active wee girl anyway because she's football daft.
"We have a running joke that her feet hit the floor when she gets out of bed and she doesn't stop until she goes back to bed."
By the end of term, Myiah will have clocked up more than 50 miles and hopes to raise £200 in sponsorship. Her online fundraising page has raised £78 so far.
The money raised will go to Help for Heroes and Walking With The Wounded, who have been working together to help provide therapy and employment support to former veterans.
The Walking Home for Christmas campaign has been supported by Prince Harry and it is hoped it will raise £1 million nationally.
Walking With The Wounded chief executive Ed Parker said: "We really hope that people can come together to support Myiah's incredible challenge.
"We feel extremely proud to have inspired one so young to think about the most vulnerable members of our society at a time when most other children are entirely focused on presents and parties.
"Anyone can set themselves a challenge by walking home from work, school or even from a day out Christmas shopping. We think that by working together we can make Walking Home For Christmas bigger, better and raise even more money for those who may have lost all hope at this special time of year."
Donations can be made at https://www.walkinghomeforchristmas.com/users/carlin-beaton.