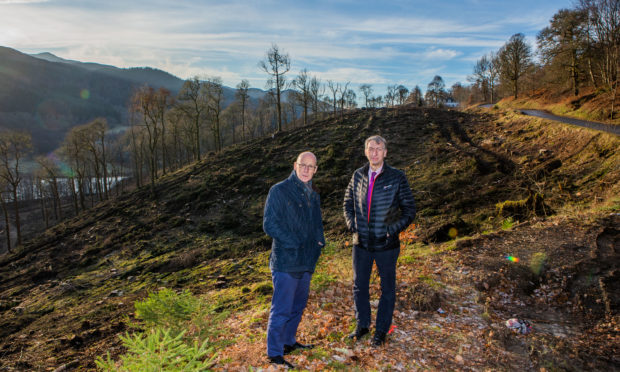 Visitors to a world famous Perthshire beauty spot are running the risk of death or serious injury due to recent tree felling, local residents have warned.
Thousands of people stop at the Queen's View every year to enjoy the spectacular views down across Loch Tummel.
However, recent tree felling close to the visitor centre has made it hard for drivers to judge where the edge of the road is.
With the woods between the B8019 and the banks of the loch gone, residents are concerned motorists could slide off the road and tumble down to the banks of the loch.
Now local politicians, including deputy first minister and Perthshire North MSP John Swinney, are calling on Perth and Kinross Council to install crash barriers before a "preventable tragedy" occurs.
Mr Swinney said "The Queen's View is rightly regarded as one of Perthshire's most spectacular locations. It is therefore no surprise that it attracts a significant number of visitors who are not familiar with the area.
"The B8019 is a road which, in the best of conditions, still requires very careful navigation. The felling of roadside trees will have a dangerous impact upon visibility at night, whilst removing a natural barrier for any car that were to skid off the road.
"I share the concerns of my constituents, and I join them in calling for the introduction of crash barriers."
Mr Swinney said the measures would substantially improve driver safety, particularly for visitors who are not familiar with local roads.
"At a time when more people than ever are visiting Perthshire – indeed, tourist spending across the region last year was up a staggering 68% — it would be a shame if this welcome development were to be soured by a series of potentially preventable tragedies," he added.
Local SNP councillor Mike Williamson said nearby residents were "rightly concerned" about the issue.
"As we go into the winter period, the B8019 will potentially become even more hazardous. It is therefore important that all steps are taken to minimise the risk to drivers – whether they be residents of Highland Perthshire or those from outside the area," he added.
Perth and Kinross council said it could not comment on the concerns by the time of going to press.