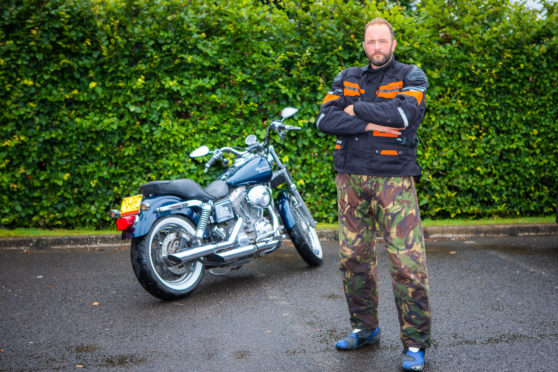 A motorcyclist who rushed to the bedside of his seriously ill daughter has been slapped with a £60 fine for parking the "wrong kind of vehicle" in a hospital car park.
James Begg says motorcycle parking at Ninewells hospital needs to be more clearly signposted as signage is cluttered and misleading.
Parking firm Saba, which runs the car park, says its signage conforms to standard.
Mr Begg travelled from his home near Crieff last week after his daughter was transferred from PRI.
Unfamiliar with the layout of the Dundee facility he says he followed signs for "Ninewells Parking" and left his Harley Davidson machine in the car park nearest the door.
After locking up the bike and removing his protective gear he found a small sign next to the payment machine stating "no motorcycles".
As staff at the hospital were unable to tell him where he could park, he paid £2.40 for four hours parking and went to his daughter's bedside. Had he parked in the designated motorcycle parking he would have paid just 50p for 24 hours.
Having received a £60 penalty, he has since learned that Saba requires motorcycles to park in a newer multi-storey located closer to the main road, with just two smaller red signs pointing the way.
Mr Begg said: "Even if I had noticed these on my first visit I would have ignored them as at no point do those or the signs for the multi story indicate that it has any connection to Ninewells hospital.
"I imagine that a local may know this but it is many, many years since I have been to Ninewells and am entirely unfamiliar.
"At no point after the multi-story does it state 'no motorcycles beyond this point' until you have parked your vehicle, removed your protective equipment and make your way to pay at the machine, and even then there is no indication of where motorcycles can park as an alternative.
"I have no objection to paying for parking, that rule is made clear, however I feel that in my circumstances – which would not likely be unusual for someone arriving at an unfamiliar hospital – that a fine of £60 is quite unreasonable."
A spokeswoman for Saba refused to say why motorbikes could not park outside the new multi-storey facility.
She said that signage at the site complied with the British Parking Association code of practice.
"We'd encourage your reader to get in touch with us directly or follow our appeals process so that we can discuss their case with them directly," she said.
"In the meantime – we wish his daughter a speedy recovery."