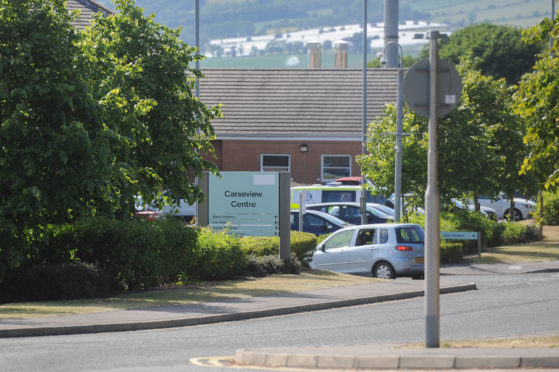 Health chiefs have confirmed they are pressing ahead with a controversial review of mental health services, despite statements made at a recent NHS Tayside board meeting.
Director of Strategic Change Bill Nicoll told board members that the proposed re-design – which will see services centralised at Carseview in Dundee – had been "paused".
When asked about progress of the review, Chief Executive Grant Archibald spoke about the pressure of 14 consultant psychiatrist vacancies, as well as comments made by Dr David Strang, the author of a highly critical report on mental health services in Tayside.
After a break in the meeting, following a query by The Courier to NHS Tayside's media office, Mr Archibald clarified that the review had not been paused.
A spokeswoman for NHS Tayside confirmed Mr Nicoll had mis-spoken.
Perth and Kinross councillors Callum Purves and Colin Stewart, who sit on the board, said the statement had caused confusion and raised concerns about decision making.
Mr Stewart said: "The recommendation in Dr David Strang's report was for the in-patient mental health and learning disability redesign programme to be paused.
"That would give everyone concerned time to consider the community infrastructure that is already in place, and what else we need before we consider how many in-patient beds we need and where those bed should be.
"It would be a much more logical approach to take."
He added: "Given this latest uncertainty, and our ongoing serious governance concerns about the Perth and Kinross Integration Joint Board, Councillor Purves and I are seeking a meeting with the Cabinet Secretary for Health and Sport as a matter of urgency."
The mental health inquiry was launched after a campaign by family members, who claimed their loved ones had killed themselves following issues at Carseview.
Addressing members of the public in Perth in July, after a scheduled IJB meeting ended in chaos, Dr Strang said: "The process lacks confidence amongst staff, patients, families, communities and partner organisations."
He added: "Rather than simply undertaking a move of beds, what is needed is a comprehensive review of mental health services – a mental health strategy.
"We need to first ask what are the needs of the population, and what is required to support those needs, and then we can look at designing a service to match."