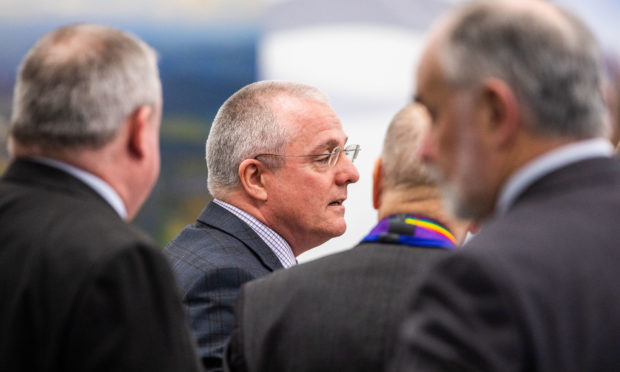 The leader of the Perth and Kinross Liberal Democrat group has hinted he could quit the council's administration.
It follows a simmering row over two Conservative councillors, who were suspended following a series of complaints about alleged misconduct.
On Monday, the Tory/Lib Dem administration lost its bid to kick councillors Colin Stewart and Callum Purves off the Integration Joint Board (IJB).
An amendment by opposition groups – now in the majority – to keep the pair on the board, and promote Mr Stewart to chairman, was voted through instead.
Lib Dem leader Peter Barrett told the meeting: "To persist in nominating Councillors Purves and Stewart to the IJB and denying the administration its right to nominate its members,  is to bring this council into disrepute and will have a damaging impact on the operations of the IJB.
"I will not be part of an administration which would tolerate such opposition behaviour."
In comments made before the vote, he said: "There are serious risks to the council's reputation if members pursue this amendment.
"The responsibility for that needs to be laid at the feet of the SNP and any new administration – if one can be constructed – to take such a reckless course of action forward."
He called for an emergency meeting to address the council's new minority status.
Asked by The Courier if his comments were – as some opposition councillors claimed – a declaration of his intention to step down from the administration, he said: "Actions have consequences. I don't think the fall-out from the decision on Monday has been fully realised yet.
"There are still decisions to be made."
He later issued a statement from himself, on behalf of the Lib Dem group: "The Scottish Liberal Democrats are steadfast in our commitment to work in the best interests of the people of Perth and Kinross and serve our communities."
He said: "We have provided rock-solid reliability within the partnership administration, which is a genuine partnership."
He said other councillors – including SNP group leader Dave Doogan – were "patently trying to drive a wedge between the Liberal Democrats and our Conservative partners.
"This is a lot of noise from self-serving empty vessels and the people of Perth will see through their typical destructive and disruptive behaviour."
Mr Barrett said: "Councillor Doogan has no appetite for the job (of running the council), but is just desperate to dictate terms from behind the scenes and no one should be fooled by him."
Councillor Dave Doogan, leader of the local SNP group, said: "Given Councillor Barrett's comments at Monday's meeting, we were of the understanding that he has already resigned.
"If he is now flip flopping about that decision then it shows that his hunger for control is far greater than his need to do the right thing."
He said: "If I was (council leader) Murray Lyle, I would have shown him the door by now."