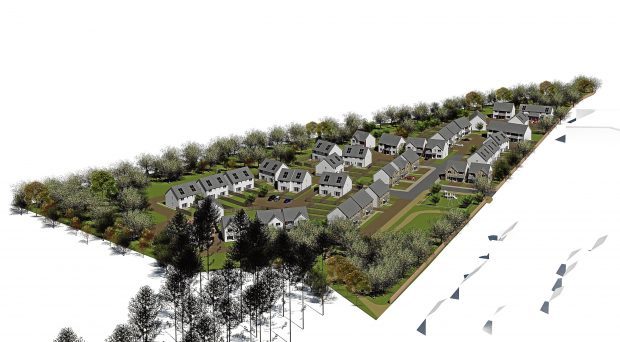 Scottish Ministers have rejected plans for dozens of new homes at a "noisy" greenfield site in Carse of Gowrie.
Hadden Construction lodged an appeal with the Scottish Government after councillors rejected its plan for 66 properties near Inchture.
The earmarked farmland is sandwiched between the busy A90 and Taypack, one of the UK's biggest potato producers.
Members of Perth and Kinross Council's planning and development committee kicked out the scheme in March last year, because they believed the 10-acre plot would be too noisy for residents.
They also raised concerns about the number of planned properties, given the 10-acre site was zoned for just 16 homes under the previous Local Development Plan.
Bosses at Taypack were also worried that new residents could complain about noise from their processing plant, forcing the firm to make costly – and potentially damaging – changes to its operations.
Hadden's appeal has now been dismissed by the government's planning and environmental appeals division.
Claire Milne, the reporter who was appointed to assess the case, said residents at 48 of the planned homes would have to keep their windows shut to avoid "moderate" or "major adverse" noise during the day, and also "moderate adverse" impact at night.
"I accept that residents will make a conscious choice to purchase a property at the appeal site, and therefore should be aware of the surroundings and the existing sound environment," she said.
"I also consider it reasonable that new residents will expect to be able to open the windows at certain times, and will do so.
"If windows are sealed shut and not open-able, then there could still be an impact from open doors. Furthermore, I consider residents would expect to have full use of their gardens.
"I do not consider it acceptable to submit future residents to assessed noise levels, which would compromise amenity standards and lead to adverse health effects."
In papers lodged with the Government's appeals office, agents for Hadden argue that the plan is not an over-development and that noise issues could be easily resolved through planning conditions.
The revised Local Development Plan, which was formally adopted last week, suggests the land can hold up to 80 properties.
Ms Milne added: "The appellant (Hadden) refers to the economic benefits of the proposed development, including job provision and local investment. It will also make a contribution to meeting the need of affordable housing and reduce pressure for the development and other greenfield sites.
"While these are matters which I take into account, I do not consider that they are outweighed by the adverse impacts."