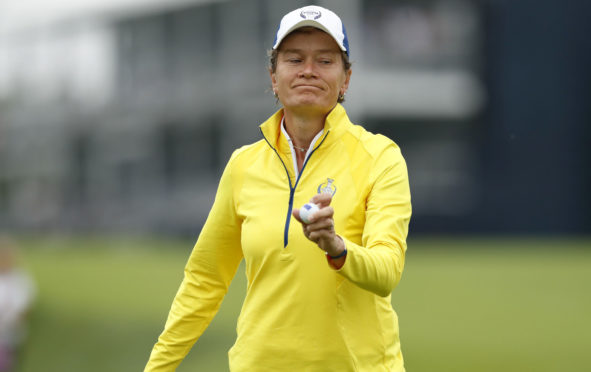 Eve Muirhead MBE has a nice sound to it…….maybe I should get those three letters after my name in the column!
Seriously though, it was such a pleasant surprise to get the news that I was going to be recognised in the Queen's Birthday Honours.
When you start out in sport you have lots and lots of goals. From small things like winning in local club games to juniors championships, then nationals, Europeans, Worlds and Olympics.
You never stop setting yourself new, achievable targets.
But one thing you can never set out to do is get an MBE and that's what makes it so special.
Because you don't think about that sort of thing, it kind of surprises you how honoured you feel to be chosen.
And the reaction from friends, family and the public in general has been wonderful.
When someone like Catriona Matthew messages you, it brings it home how big a deal this is.
There aren't many people in curling who have received these type of honours.
I'd like to think everything I've done to help promote my sport off the ice (including in my Courier column!) has counted as much as what I've achieved on the ice.
It's been a while since the last Olympics and my last World gold so it can't be that!
It is the sort of thing you usually associate with athletes getting towards the end of their career.
While I must admit, combined with turning 30 this year, it does make you feel old, there's no danger of me slowing down and becoming less ambitious.
If anything, knowing that what I'm doing is reaching out to a wider audience than just curling fanatics is an inspiration to drive forward and squeeze every last drop out of my career.
* It was quite a historic weekend for sport.
Rafa Nadal has joined Roger Federer on 20 grand slam titles and Lewis Hamilton has equalled Michael Schumacher's record of grand prix wins.
I find it an interesting comparison to look at how the big three in tennis are perceived compared to the main man in F1.
We'll need to wait and see what totals Federer, Nadal and Novak Djokovic end up on when they finish but whoever is top, there will be a debate about the greatest.
What doesn't seem to be debated in tennis is that all three are worthy of the title and you don't hear many voices saying 'it was better in the old days'.
That is definitely the case in F1, with most experts seeming happy to overlook Hamilton's numbers to choose another 'greatest' from a previous era.
I may be picking him up wrong but it seems that Hamilton struggles with that.
The main difference for me is that although equipment has changed in tennis down the years it has never been a determining factor in success like the motor racing machinery.
However much he might hate it, there is a strong case that the best car wins in F1, not necessarily the best driver.
The thing is, Hamilton has it in his power to change his legacy.
He would get just as much money by joining a different team other than Mercedes and proving his critics wrong.
That would be the ultimate example of backing yourself and taking a big risk for a huge reward.
I bet he doesn't do it, though.