Laura Muir certainly hasn't taken long to make her mark in 2017.
Breaking a 25-year-old record is an impressive way to bring in the new year.
Across sports you probably see more records surpassed than you used to because of improving technology, sports science, fitness and things like that.
But when you see a record that has lasted as long as the UK one Laura has just taken in the indoor 5,000 metres – and the quality of the athlete who was the previous holder of it – you get some perspective on the achievement.
Liz McColgan is one of Britain's greatest ever runners.
When you take into account Laura's age – she's just 23 – it would be a big surprise if she doesn't keep improving and enjoy a very, very successful career.
It has been built on solid foundations.
There are some sports –like football or golf – where if you do well as a junior you get instant fame.
But there are others – like my own and athletics – where you can stay under the radar.
I'm sure Laura will have benefitted from that.
It doesn't hurt that she's had Eilidh Child to take advice from as well.
What are the chances of two pupils from the same school in Kinross-shire getting to the top?
I was at Portmoak Primary until primary two….does that count!
I also think that the fact that she's been able to study to be a vet at the same time as competing – Eilidh was a teacher before she went full-time – keeps you grounded too.
Laura has had tough times, such as the World Indoors and the Commonwealth Games, but because she hasn't had the hype of other sporting prodigies there was no great public outcry when she didn't meet her own expectations.
You can't choose your route to the top but, if you could, it would be the Laura Muir way.
* The Perth Masters has been a fixture in the curling calendar and I've got a lot of happy memories of watching it when I was younger.
In fact, it probably played a big part in my development. Watching the top players was the best way to improve your own game.
It's a shame that there's a Canadian Grand Slam event clashing with it this week but it's still a really strong field.
The Masters has built up a reputation that has lasted for decades. Hopefully the ladies event that started last year will stand the test of time just as well.
* Sir Clive Woodward has supported the darts for the Olympics campaign this week, and it's hard to argue with him.
The image that the sport used to have didn't help its cause but that is changing. And what isn't up for debate is the skill level the top players need to win titles.
It's incredible.
There's also mental stamina required.
Maybe there will always be a bit of snobbery about darts from other 'traditional' Olympic sports but the public know what they like and, having seen a live event, I know that I'd rather watch darts than a lot of other sports!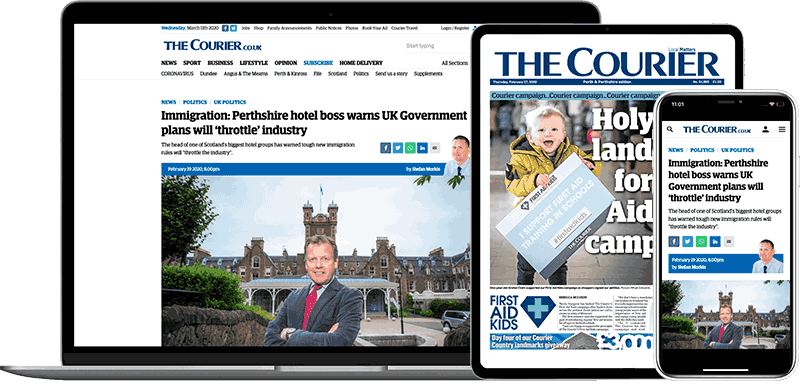 Help support quality local journalism … become a digital subscriber to The Courier
For as little as £5.99 a month you can access all of our content, including Premium articles.
Subscribe