It has been a long time coming but the new national curling centre is worth the wait.
I really think that it will be a big positive for us as a team in the short term and for other teams long after we've retired.
The fact that it takes me about two minutes to get there is a nice bonus!
The biggest thing, though, is the quality of the ice.
Because it's a facility for the elite end of the sport, that means no more worrying about having to rush off for local club games and no ice skating.
You might think ice is ice but that's definitely not the case. If a rink is shared between curling and ice skating, that's never ideal.
Another bonus, which might seem like a small thing, is the fact that the lanes are separated.
We've already had tactical and technical sessions on the ice at the new centre which have been really worthwhile, as well as video analysis.
Our coach has been over from Canada and he's been really impressed, which is the biggest compliment you could get really because Glenn has seen and worked at the best ones in Canada.
This has been talked about for about 20 years so to get it open at the start of an Olympic season is the best possible timing.
It's all feeling very real.
We've got a get-together in Edinburgh with athletes from different Winter Olympic sports and support staff when we'll be getting more information on PyeongChang.
Having gone through this a couple of times before I now know how quickly the Games will come round.
We're competing in back to back events in Canada at the start of the month, which will give us a good idea of how our preparations are going, and those of our rivals.
I'm optimistic that we'll be in good shape. This time last year we had a new team member and new coach but we're all used to each other now.
I really can't wait to get started.
* With a lot of athletes you would worry about them stepping up at short notice to take part in as high profile an event as the Solheim Cup.
But it says everything about Catriona Matthew that nobody seems to have any concerns about her replacing Suzann Pettersen.
She must have one of the best temperaments for sport that I've seen. Nothing seems to faze her.
Her golf might not be at the peak of a few years ago – she didn't qualify for the European side automatically – but these big team events are as much about the mental aspect of the game as skill levels.
How often do Ryder Cups and Solheim Cups come down to having the bottle to hole a six-footer?
There's nobody you would rather have in that situation than Catriona.
I think it's an uphill task for the Europeans because there doesn't seem to be the strength in depth that we had a few years ago, and I would have to pick the Americans to win. But I'm sure that the Scot on the team won't be letting the side down.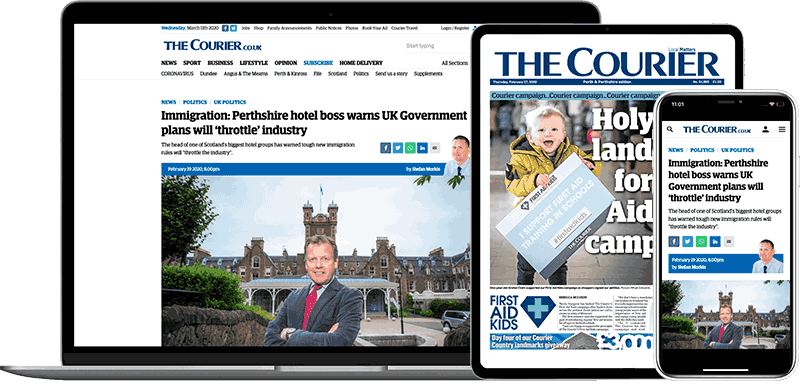 Help support quality local journalism … become a digital subscriber to The Courier
For as little as £5.99 a month you can access all of our content, including Premium articles.
Subscribe