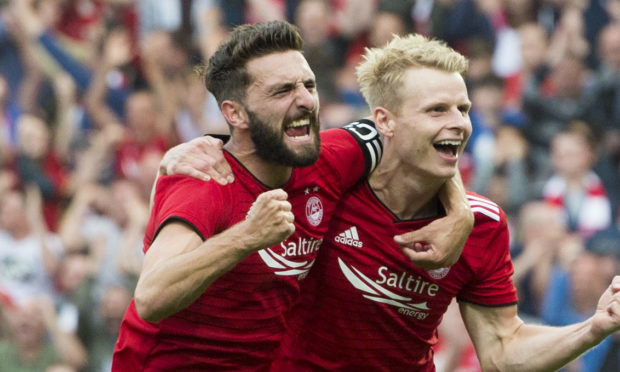 The last four Scottish meetings with top English opposition in Europe have resulted in draws.
Hearts shared the spoils at Anfield with Liverpool six years ago, Celtic twice drew with Manchester City in 2016, and Aberdeen on Thursday night finished 1-1 against Burnley.
Yet we still get ourselves in a fankle over what the neighbours think about our standard of football.
To me what English pundits think of our game is a matter of supreme indifference.
It certainly isn't the Premier League, that's for sure.
If it were, it would be a bloated monster, completely reliant on TV income, to pay hugely inflated transfer fees and salaries, which it could otherwise never afford.
If the TV bubble ever bursts then many top English clubs will collapse faster than a pack of cards in a hurricane.
I enjoy the English top league, and at its best a clash between one of the big six clubs can be a riveting experience.
Like football anywhere though, it has its share of the humdrum, the overpaid, the mercenaries, and the downright average.
The Sky television boom, and brilliant marketing, helped to propel a product which was not that much different from our top league into a different stratosphere.
We can't compete with the apparent glitz and glamour.
Our fare is less champagne and caviar, and more prosecco and popcorn. Scottish football is wholesome and community-based though.
After financial troubles of our own a few years back which caused grief to clubs living beyond their means, we've now adopted the sensible part of the 'Micawber principle' – annual income greater than expenditure, result, happiness.
A brief trip in a time machine to the 1982/83 season shows Chelsea with average crowds of under 13,000, less than 2,000 more than Dundee United that season. Aberdeen's average attendance then of over 17,000 was around 7,000 less than Arsenal, and Celtic and Newcastle were both around the 24,000 mark.
The Scottish game once led the way in Europe, with Celtic being the first British club to capture the European Cup in 1967, a feat Manchester United couldn't accomplish until the next season.
As a bigger country England always produced fine clubs, their best usually heavily reliant on Scottish players, but they weren't light years ahead financially as they are today.
Burnley's annual TV income is estimated to be around 60 times that of Aberdeen at £120 million. While the Dons' record both domestically and in Europe makes the Turf Moor club look like a Sunday boys outfit, that financial gap should really have ensured that Aberdeen were swept into the North Sea.
It didn't though, and that's because football is still about more than just the money. It's a combination of pride, and passion, and belief. And when those are all present then it's just 11 against 11, as Aberdeen proved.
Our game isn't swimming in riches, but it's afloat on its own boat, and not on the life raft of TV cash, which, while still important to our football, hasn't become the drug which might someday kill the patient.