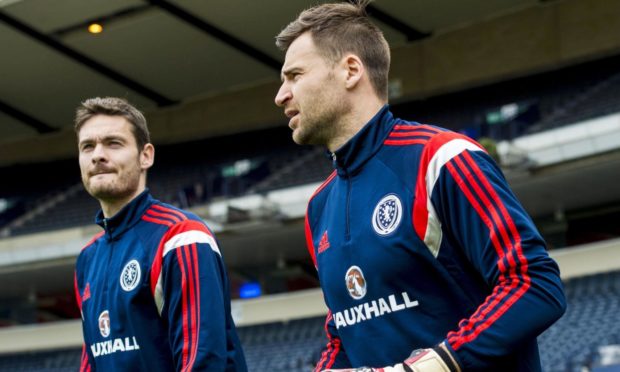 Watching any goalkeeper experience a moment like the one David Marshall had for Scotland against Serbia would have been sweet.
Having been in similar situations myself, I know the feeling would have been out of this world.
But the fact it was Big Marshy made it all the better.
I can go right back to his big break, if you like; 16 years ago, when he came on for Celtic at half-time against Barcelona after I'd been sent off.
He was just a boy then, but he was Mr Assured from the start.
All these years later, to watch him save the penalty that got Scotland through to the European Championships was magic.
But I reckon he actually made an even better save in the first half of extra time!
If you watch back the shot from Serbia's Nemanja Gudelj, it moved about two-and-a-half feet in the air – that was probably Marshy's best save of the whole game.
And it was absolutely crucial.
Had Scotland conceded at that point it would have been very cruel. It might have killed our hopes off.
I'm absolutely delighted for the big man because there's always been one thing hanging over him – whether Craig Gordon should be the number one.
For me, Marshy's cemented the place now. He's made it his own – there's absolutely no doubt about it.
You're never guaranteed to be undroppable as a goalkeeper but I'd like to think Marsh is as close as he can be now.
After what he did the other night, I doubt many in the Tartan Army would argue with that.
I'm as proud a Scotsman as anybody and I was absolutely glued to my TV last Thursday night.
What a rollercoaster!
When Serbia equalise at the death, you're thinking: "Typical Scotland." Then you're worried we might lose another one before full-time!
At that point the stakes were so high.
I was on the bench at Wembley in 1999 when we won the game but failed against England in the play-offs.
I was involved in the failed play-off with Holland in 2003.
These moments feel huge when you're involved – and they feel huge watching them.
So for Scotland to get the business done, the guys involved have created a wee bit of history.
They've got the monkey off the back now.
You saw Ryan Christie's interview – everybody saw what it meant to him.
The rest of the players will have been exactly the same and they deserve every single accolade they get.
They've not won anything but they've got us to a major tournament.
That's the one thing we've been starved of for many, many years, so to see that run ending at Big Marshy's fingertips was great to see.
He's a guy I've kept in touch with over the years and I texted him the other night.
But it's not about that, I'm just delighted for him.
He's not just a top goalie, he's a top bloke as well – and you better believe I'll be on the phone to him for tickets to Scotland's games next summer!
---
Social media is a horrible place now – especially for goalkeepers.
It can be a nasty place sometimes.
Jack Hamilton has been slaughtered on there of late – and it has been well over the top.
Now Dundee have brought in a new keeper in Adam Legzdins.
But I hope that inspires Jack to get back to the form I know he's capable of.
This is a lad who has been in Scotland squads. You don't get there if you don't have what it takes.
I just think he needs to get back to basics.
I had a great relationship with the Dundee fans when I was there. I still hope Jack can win the Dundee fans over.
There's nothing worse than seeing a goalkeeper getting stick because I know it's the loneliest place in the world at those times.
I've been there myself. I've been on the receiving end after internationals and Old Firm games.
That's nothing I'm proud of but it means, when things go wrong for goalies, I know what it's like.
In Jack's case, I'd love to see him put a stop to the criticism and live up to his potential with Dundee.
Si Ferry interview: How Dundee boy's Open Goal podcast started Yes Sir, I Can Boogie revival