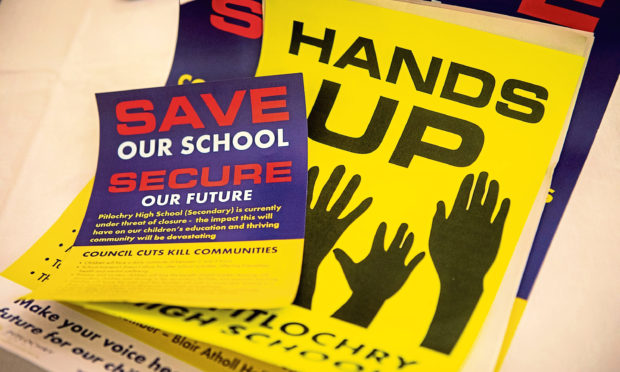 Sir, – I am writing with regard to the proposed closure of Pitlochry High.
I am a former pupil of the school, having started there in 2004.
I came from a small rural school, Straloch, which sadly has since closed.
The last five generations of my family have gone to Pitlochry High and my biggest achievement was becoming head girl.
Having a high school in the town is paramount and I will challenge anyone who says otherwise.
Coming from a small rural school I was extremely shy and not confident at all in large crowds of people.
Going to Pitlochry High from a primary school of only seven pupils was a big shock to me. I can look back now and laugh at how shy I was but at the time it was very daunting.
If I was going to a bigger school such as Breadalbane or Blairgowrie I really wouldn't have coped.
When considering closure, the decision must not be based on numbers or meaningless opinions.
Rather the decision must be based on the past reputation of the school and the high standard of teaching pupils have received and continue to receive.
So many schools are being centralised but not all pupils cope in these situations and lots of pupils get "lost" and do not receive the support they need.
Pitlochry High must remain open, and with an expanded catchment area.
Without the school, Pitlochry will not have a heart.
Kirsty Horne.
Burnside of Dipple,
Fochabers.
Gender fluidity must be taught
Sir, – Richard Lucas claims that "putting up posters in classrooms" is "not about tackling bullying and promoting inclusion, it's about indoctrination" (Courier Letters, Monday).
He goes on to say: "Civility and tolerance can be promoted without preaching".
I agree, and I certainly hope that the introduction of LGBTI inclusive education goes much further than putting posters up.
It is only by educating through discussion that children will learn about the sexual and gender fluidity.
But then Mr Lucas says that the Roman Catholic Church had to back the proposals, claiming the "tacit offer" was "do it or we shut down your schools".
I invite Mr Lucas to provide any evidence that the RC Church in Scotland were threatened or coerced by the Scottish Government to either accept LGBTI inclusive education or have their schools closed.
I will agree with Mr Lucas when he says that "teaching kids that they can choose whether they are a boy or a girl" is indeed insanity – for gender identification never is a choice.
And should Mr Lucas doubt that, I invite him to tell me just exactly when he chose to be cisgender.
Finally, Mr Lucas claims: "The insistence that all expressions of sexuality are equal has no grounding in evidence."
Actually, there are reams and reams of peer-reviewed science which fully confirm sexual and gender fluidity.
If Mr Lucas has any similar peer-reviewed scientific evidence to the contrary, I invite him to share it with all of us.
Leslie Thomson.
2 Moredunvale Green,
Edinburgh.
Council must be quids in
Sir, – I was intrigued by the article regarding the lady who is maintaining grass verges and making sure that road signs can be seen by applying weed killer at their base ("Villager to bill council for 20 years of weeding", Courier, November 19).
Good for her.
This is just another problem solved for Angus Council.
It would appear that funds are strictly limited and now recycling centres can no longer accept general waste inclusive of plastics.
No problem – unless, of course, you are elderly or infirm and have difficulty getting to Arbroath to deposit said waste.
So yet more money saved.
Irene Liebermann.
63 MacDonald Smith Drive,
Carnoustie.
Corbyn could contribute
Sir, – Jeremy Corbyn's recent Sky TV interview showed he is a lot closer to Theresa May's Brexit deal and approach than he'll admit.
He agrees Brexit can't be stopped, doesn't want another referendum, and seems to have good ideas on how to solve the "back-stop" issues.
And, as a closet "leaver", Brexit actually suits him.
Rather than waste time meeting Nicola Sturgeon, he would do the country a huge service by genuinely supporting one more heave at adjusting the deal to get a better solution.
He would also see an immediate spurt in the polls for him and his party as a reward for ditching party politics "in the national interest" and put clear blue water between Labour and the SNP.
Allan Sutherland.
1 Willow Row,
Stonehaven.
EU nationals are now vilified
Sir, – I am struck by the comments of Theresa May that her Brexit plan will stop EU migrants "jumping the queue" when it comes to working in the UK.
How low the UK has sunk that its Brexiteer Government is now resorting to spreading resentment toward European citizens, classing them as "queue jumpers".
These individuals took no part in this mess and work here legally and contribute to the country in so many different ways.
They have the same general right of freedom of movement that allows British people the opportunity to work in Berlin and Paris, or retire in Spain.
Even so, their reward seems to be an increasingly hostile atmosphere.
Mrs May makes no mention of those British "queue jumpers" in other EU countries, symptomatic no doubt of the same attitude that classes those Brits abroad as "expats", while those from the other EU countries who come to work here are "immigrants", an increasingly negative term.
Since the referendum in 2016 there has been an alarming increase in both veiled and more explicit verbal abuse to EU nationals, and this will no doubt increase as the negative impacts of Brexit become clearer and scapegoats will be required.
Step forward those innocent EU nationals in our midst.
The UK has taken a wrong turn, as exhibited by the dog-whistle politics of Theresa May and her Tory Government.
As the UK enters full panic mode, the victim of a bitter and corrupted Etonian gamble gone very wrong, we must do all that we can to support those EU nationals in our midst and defy this vile populist rhetoric.
Alex Orr.
Flat 3,
2 Marchmont Road,
Edinburgh.
Public made the decision
Sir, – Politicians cross party have seized the issue of Brexit and made it their own.
Yet it is not theirs to seize.
In so doing they are committing robbery.
The issue of Remain or Leave was put to the British people – it is ours; and for us to decide.
And the British people voted by a majority to Leave.
It matters not a jot to the British people who is in Government on this issue.
For all we care it could be the Banana Party led by Mickey Mouse or the Flat Earth Party led by Donald Duck.
Those politicians and "remoaners" who think they can get away with stealing from the majority will in due course reap what they are sowing.
Will Brooks.
Kirkside Court,
Leven.
Brexit a case of self-harm
Sir, – In the spring of 1945 Europeans found themselves standing amidst the smouldering ruins of Western Civilisation.
A 30-year civil war from 1914 to 1945 had effectively burnt Europe to the ground.
Nearly 100 million people had been killed.
But in this year zero the Europeans said "never again" and forged what became the EU.
Britain hesitated but eventually joined, replacing its lost empire with a key role in Europe.
London soon emerged as the de facto financial, creative, military and arguably the intellectual capital of a massive union of more than 300 million people.
Then, in a moment of madness, by a tiny minority, the provincial English voted to throw the whole thing away.
Brexit will almost certainly go down as one of the greatest self-inflicted wounds in modern history.
Rev Dr John Cameron.
10 Howard Place,
St Andrews.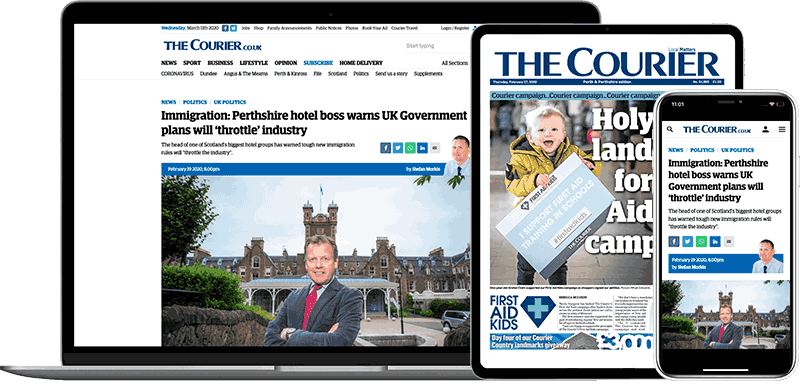 Help support quality local journalism … become a digital subscriber to The Courier
For as little as £5.99 a month you can access all of our content, including Premium articles.
Subscribe