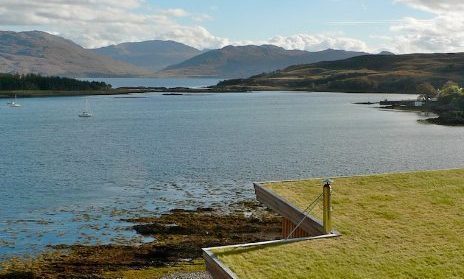 I have been working in the most beautifully situated college in the country, perhaps even in the world.
Sure, it helped that the sun was shining. But, boy, what joy to work amidst a super collection of white buildings, including a broch-like tower, beside a shimmering sea with a view towards majestic mountains on the Scottish mainland.
Sabhal Mòr Ostaig is the Gaelic college on Skye and it provided for me a refuge from hammers, drills and pop music. As you may recall, I've been staying in The Cabin, my friends' self-catering joint on the island. Basically, I get to go when there are no guests, that is to say in the worst weeks of winter, or when repairs are being carried out.
In this case, the roof was being done up. I thought I could weather the storm but, on my first day of trying to compose an amusing divertissement, even wearing industrial ear defenders I soon could stand no more of the racket from above. And I had a deadline looming.
I racked my brain, removing much fluff and debris, and, lo, an idea came: Sabhal Mòr Ostaig just ten minutes down the road would surely have a library. But would it allow non-students to waddle within its confines?
I telephoned and the librarian, Greg Thomson, assured me I'd be more than welcome. Greg proved as good as his word, and offered me a seat with a blissful view.
Indeed, everyone was friendly, and the only pity of it was my inability to respond in kind to their greetings in Gaelic. I've made several half-hearted attempts to learn the lingo over the years, but fear it is beyond me. I'm not sure we retain new words as adults the same way we do as children.
As an alleged grown-up, I re-learned Latin, which I'd done a bit of at secondary school, but when I try speaking it to bus drivers, newsagents and so forth, they've no idea what I'm talking about. Same with Norwegian. Once, when at last I'd felt I was getting somewhere with it, I met some Norskies on a fishing boat and we ended up talking about Manchester United – in English.
I watch BBC Alba from time to time, mainly for the football, though I'll often stay for the next programme as the subjects, landscapes and music interest me, and the production standards are high.
At Sabhal Mòr Ostaig, it was lovely to hear everyone speaking Gaelic, and I felt it must be a fabulous place for native speakers, particularly perhaps the young people.
In the library, between bouts of frenetic scribbling, I immersed myself in a collection of essays about Hebridean life by Iain Crichton Smith. Sometimes, I went for walks in the pleasant grounds or just leaned on a wall and gazed across the sea.
So, out of a bad and seemingly hopeless situation, I ended up becoming acquainted with the most beautifully situated college in the world where, deadlines and work apart, I spend some idyllic days.
Next time I stay in The Cabin, I doubt if I'll need to find refuge elsewhere to work. But I'll probably still pop into Sabhal Mòr Ostaig, to which I now say: Chì mi a-rithist thu. I'll see you again.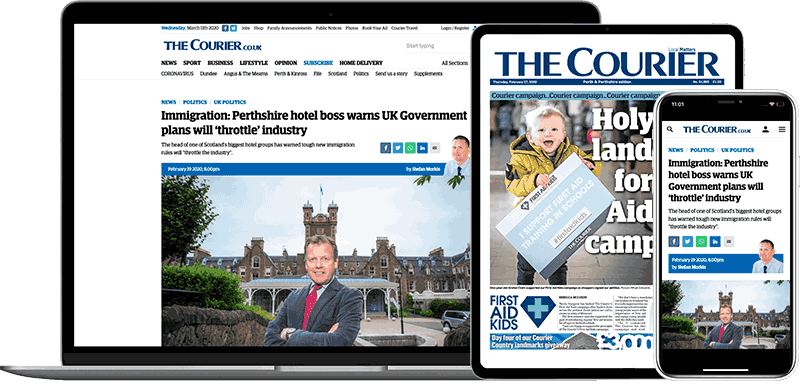 Help support quality local journalism … become a digital subscriber to The Courier
For as little as £5.99 a month you can access all of our content, including Premium articles.
Subscribe