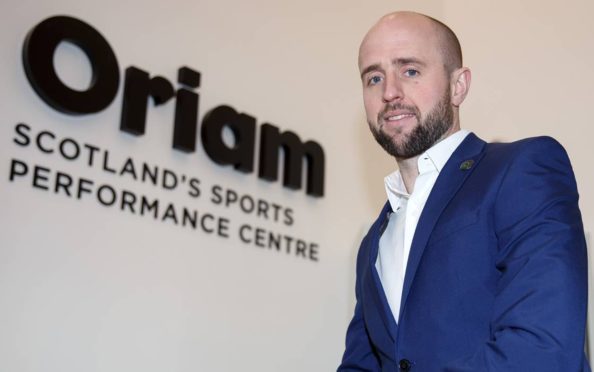 As chief executive of Oriam, Scotland's Sports Performance Centre in Edinburgh, Ross Campbell could be forgiven for deciding he had more than enough on his plate to keep him busy.
However, the 34-year-old combines his role at the state-of-the-art facility with being assistant manager to League 2 leaders Montrose.
Both jobs are equally as important to Campbell, son of legendary football boss Dick, and he has high hopes that this year can be one to remember for the Angus club and Scottish sport in general.
The chief exec is already seeing exciting results since the flagship facility at Heriot-Watt University's Riccarton campus opened its doors, none more so than with Scottish rugby – stats show their training programme had increased by 20% after using Oriam.
He would like nothing better than for the centre to help head coach Gregor Townsend and his team secure what would be Scotland's first championship success since they last triumphed in what was the old Five Nations in 1999.
Campbell said: "The centre opened in August, 2016 and we can see tangible benefits already, very much so.
"We are delighted with all the partnerships we have and there is more to come.
"From the outset, football, netball, rugby, handball, squash and basketball were the main players in terms of our partnership work.
"Every one of them has at least one measure to demonstrate an improvement.
"The stand-out at the moment is Scottish rugby. The way they have embraced the facilities has been tremendous.
"We are really proud with our partnership with them as we are with everyone.
"Football is obviously our national game and we are looking forward to hosting them once again in March.
"It is great to have both professional sports as well as the amateur ones."
Campbell admitted he would be delighted if the Scotland team – who stood toe to toe with the mighty All Blacks, beat Samoa and thrashed Australia in the autumn – could triumph in the Six Nations with their campaign starting this afternoon against Wales in Cardiff.
He added: "Definitely. Scotland came close last year and if anything, Gregor has picked that up really and carried on the momentum.
"It is an exciting journey. If you look at the autumn internationals, and what they achieved, taking New Zealand close, and then winning the other two games.
"The game itself, rugby in Scotland, seems like it is progressing and Oriam is playing a part in that."
With players and coaches from several sports all rubbing shoulders together at Oriam, Campbell is already seeing that they can learn from one another.
He said: "It was really epitomised by the camp we had in November.
"Scottish rugby were in for their four weeks and their programme was set but Scottish football at the time didn't know what was happening whether they had qualified for the play-offs, etc.
"So unfortunately when the men's team didn't qualify, they decided to have that friendly against Holland.
"They were in camp at the same time as Scottish rugby so for both men's games at the very top of their professions, it was great to see them interacting.
"So far so good but there is certainly more to come."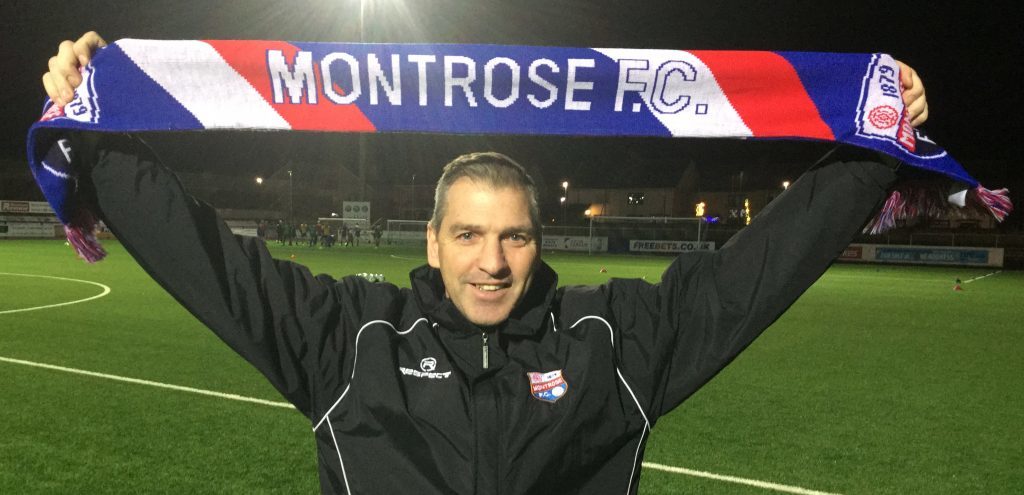 Campbell is also hoping there will be more to come from Montrose this season.
He is still registered as a player and is often on the bench for Stewart Petrie's side as well as coaching.
He said: "It was a challenge to be a director of the company while at the same time trying to continue to play.
"The role I have just now at Montrose as assistant manager with a little bit of playing is probably equally as challenging.
"I didn't think it would be as I wouldn't be training as hard but the type of person I am, I want to do as good a job as I can.
"So I am as committed now to Montrose as I am to Oriam.
"In many respects I am extremely grateful to my wife Helen and my kid Aaron. They are great and we try to spend some time together as a three on a Sunday which is nice.
"They are very supportive as it is a six-and-a-half-day-a-week career I have at the moment.
"It can be tiring as the week goes on but you go from one really thriving place and then you come into another one where the boys are doing well in the league.
"Montrose as a club are on the up so from that point of view it is good."
One of the main reasons for the transformation in recent months has been the impact former Dunfermline player Petrie has made since he took over as manager at Links Park.
Campbell said: "Stewart has been a close friend of the family for a long time.
"My dad coached him at Dunfermline for a number of years.
"He brought him in as his assistant at Ross County and again at Forfar.
"At no point though did I ever work for him. It was my brother who worked with him at Ross County and others.
"Even when Stewart came in, he had other plans for his coaching staff but things just fell into place really.
"I consider him a good friend now. We speak daily and our respective partners give us a bit of stick about it.
"He has been a breath of fresh air at the club. He has brought a lot to Montrose and I am delighted to support him.
"I am also really impressed with what is going on off the field in the community.
"But if you look at Montrose's finishing positions over the last few decades, they are not used to being successful.
"We are still just keeping our heads down and cliché or not, we are not looking too far ahead.
"We are trying to build a club rather than just a team.
"We don't just want to shoot for something short term – it feels like everybody is pulling in the right direction and if it is not going to be this season, then we hope it will still come in the future because the people deserve it."
Campbell admitted he had learned a lot from his father whose passion for the game remains undiminished at the age of 64, as he demonstrated two weeks ago when he stormed onto the pitch to remonstrate with the referee during Arbroath's Scottish Cup tie against Ayr.
However, Campbell Junior insists he is very much his own man.
He said: "My dad doesn't take a step back from anything – you just have to look at his pitch invasion!
"We are different personalities but I learned a lot from him and his character is what makes him the man he is.
"I have picked up lots of good stuff from him but you like to forge your own career.
"I am pleased with that as I am quite an independent person.
"I am really proud of what I have achieved at Oriam and now in coaching I am trying to bring my own twist to it."
Campbell also finds himself in the unusual position of coaching his brother Iain who is still a key player for Montrose.
He admits they are different personalities but in a similar way to his dad and his twin brother Ian are.
When asked what it is like coaching "Yano", his brother replied: "It is rewarding on occasions but very challenging . . .
"Anyone who knows my brother and me, we are contrasting.
"We are probably similar to what my Uncle Pink (Ian) and my dad are like in terms of personalities and outlook.
"Depending on what mood Iain is in will determine how successful the day is going to be.
"But he has been really good this season and has earned a new contract which is richly deserved.
"He is maturing – albeit a bit later than I would have liked!"
To find out more about Oriam, Scotland's Sports Performance Centre, and its world-class facilities which can be used by everyone from beginner to expert, visit www.oriamscotland.com