Scotland end 22 years of football hurt: Nation reacts with tears and 70s disco classic
By
Blair Dingwall
November 13 2020, 1.32pm
Updated: November 19 2020, 6.21pm
Scots across the globe have been celebrating the national football team making history with the aid of a 70s Disco classic.
The Tartan Army responded with jubilation after Steve Clarke's men defeated Serbia in a penalty shoot-out in Belgrade on Thursday night, sending them into Group D of the delayed Euro 2020.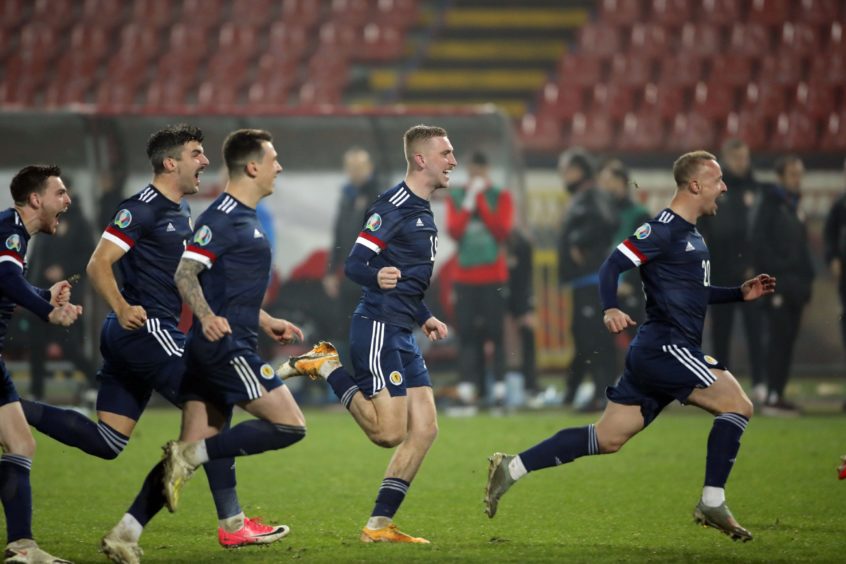 It was goalkeeper David Marshall's stunning save which won the match for the Scots, ending 22 years of suffering and prompting a palpable wave of relief and elation from fans the world over.
Scotland have failed to qualify for a major tournament since being knocked out of the 1998 World Cup.
Yes sir, we can boogie
With fans unable to hit the pubs or gather in numbers due to the coronavirus pandemic, Thursday night's achievement sparked celebrations in homes across the country.
Both goal hero Ryan Christie and Scotland captain Andy Robertson captured the mood of the nation, with both left fighting back the tears in their post-match interviews.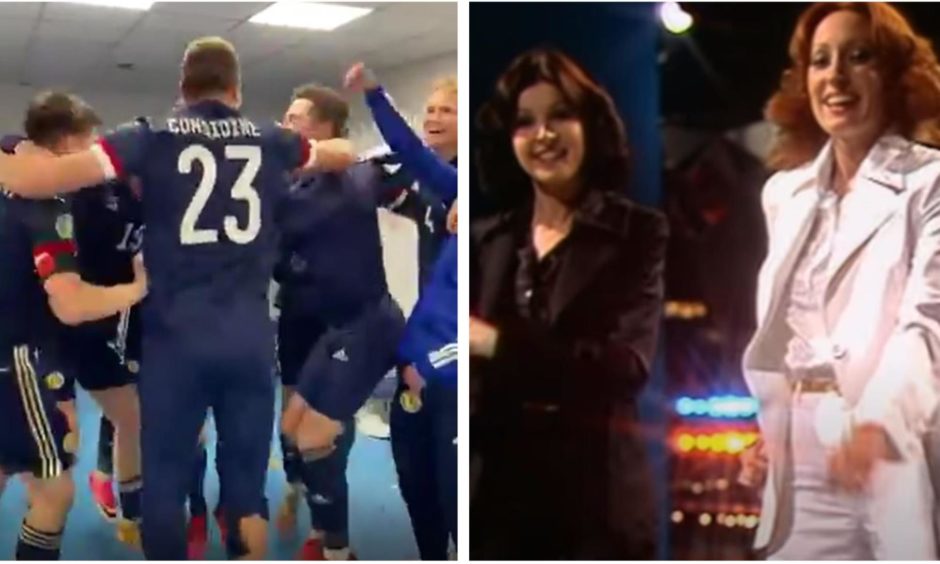 And Yes Sir, I Can Boogie by Baccara – the 70s disco track inexorably linked to Aberdeen FC captain Andy Considine– – was the anthem of the evening, and already looks on course to be the country's official theme of Euro 2020.
The players were filmed celebrating to the tune with the Dons skipper, who was on the bench for the game, during the post-match victory celebrations.
Scotland at Euro 2020: Viewers baffled at hero David Marshall's 'pink' orange kit
Nae Scotland, nae party
Scots across the globe posted their own video reactions following the nail-biting game.
However an incident which saw punters allegedly breach coronavirus restrictions at a bar in Aberdeen is under investigation.
On social media the hashtag "#NoScotlandNoParty" was trending, as was the search term "I Can Boogie".
A clip of tennis hero Andy Murray's muted and restrained reaction to the win was among the videos which went viral, along with footage of the national team doing the conga while chanting "David Marshall".
Here's how Scots across the globe celebrated the famous night.
🎶 Oh, yes sir… 🎶#NoScotlandNoParty pic.twitter.com/UNTLXIuHVH

— Scotland National Team (@ScotlandNT) November 12, 2020
🎶 David Marshall 🎶#NoScotlandNoParty pic.twitter.com/8amIKiTWrF

— Scotland National Team (@ScotlandNT) November 13, 2020
Our flat leading the party 🏴󠁧󠁢󠁳󠁣󠁴󠁿 pic.twitter.com/R644s2ItxJ

— Louis Peteranna (@louispeteranna) November 13, 2020
@N1ZBO my hubbys is absolutely buzzin 🤣 pic.twitter.com/JLJRWa68Zb

— Angie (@Angie_B_3) November 12, 2020
Emotional night!! pic.twitter.com/nXUbSgmC8I

— Katrina McSorley (@KatrinaMcsorley) November 12, 2020
This is what it means 🥰#EURO2020 pic.twitter.com/E3XU9F93Sz

— UEFA EURO 2020 (@EURO2020) November 12, 2020
Struggling to find the words right now, but I hope there is 5 million people smiling back home right now! The lads gave absolutely everything tonight, I could not be prouder of every single one of them! Oh and…… WE ARE GOING TO THE EUROS 💙🏴󠁧󠁢󠁳󠁣󠁴󠁿 pic.twitter.com/asGOI3FsOI

— Andy Robertson (@andrewrobertso5) November 12, 2020
🏴󠁧󠁢󠁳󠁣󠁴󠁿🏴󠁧󠁢󠁳󠁣󠁴󠁿🏴󠁧󠁢󠁳󠁣󠁴󠁿🏴󠁧󠁢󠁳󠁣󠁴󠁿🏴󠁧󠁢󠁳󠁣󠁴󠁿🏴󠁧󠁢󠁳󠁣󠁴󠁿🏴󠁧󠁢󠁳󠁣󠁴󠁿🏴󠁧󠁢󠁳󠁣󠁴󠁿🏴󠁧󠁢󠁳󠁣󠁴󠁿🏴󠁧󠁢󠁳󠁣󠁴󠁿🏴󠁧󠁢󠁳󠁣󠁴󠁿🏴󠁧󠁢󠁳󠁣󠁴󠁿🏴󠁧󠁢󠁳󠁣󠁴󠁿🏴󠁧󠁢󠁳󠁣󠁴󠁿🏴󠁧󠁢󠁳󠁣󠁴󠁿🏴󠁧󠁢󠁳󠁣󠁴󠁿🏴󠁧󠁢󠁳󠁣󠁴󠁿🏴󠁧󠁢󠁳󠁣󠁴󠁿🏴󠁧󠁢󠁳󠁣󠁴󠁿🏴󠁧󠁢󠁳󠁣󠁴󠁿🏴󠁧󠁢󠁳󠁣󠁴󠁿🏴󠁧󠁢󠁳󠁣󠁴󠁿🏴󠁧󠁢󠁳󠁣󠁴󠁿🏴󠁧󠁢󠁳󠁣󠁴󠁿🏴󠁧󠁢󠁳󠁣󠁴󠁿🏴󠁧󠁢󠁳󠁣󠁴󠁿 pic.twitter.com/8CJPKezzxt

— Nicola Sturgeon (@NicolaSturgeon) November 12, 2020
would hate to be andy murray's neighbours 😳 pic.twitter.com/tL6GvNuaUW

— james. (@james__avfc) November 12, 2020
I hereby offer all Scotland players free use of my static caravan in Pitlochry on any Monday in January (users take own gas) 🏴󠁧󠁢󠁳󠁣󠁴󠁿

— Bob Servant (@bobservant) November 12, 2020
NOOOOO SCOTLAND, NO PARRRRTTYYY 🎶 🥰🏴󠁧󠁢󠁳󠁣󠁴󠁿💙🥳🥳 https://t.co/xomRcAatQE

— Jen Beattie (@jbeattie91) November 12, 2020
So proud of this lad ….totally humbling .💙🏴󠁧󠁢󠁳󠁣󠁴󠁿 https://t.co/h89XX6KcRj

— Colin Hendry (@BraveheartCH) November 12, 2020
So many highs and lows in football. Thank you so much to everyone who always sticks with me. My heroes love you all ❤️ pic.twitter.com/SExXraBf8i

— Kieran Tierney (@kierantierney1) November 12, 2020
My dad is my hero. Watching my hero take Scotland to an international competition is the greatest thing I'll ever see.

— John Clarke (@johnclarke88) November 12, 2020
Mad Scotland! Said it years ago that we'd quality for Euro 2021. Brilliant.

— Kevin Bridges (@kevinbridges86) November 12, 2020
— John McGinn (@jmcginn7) November 13, 2020
WHAT. A. NIGHT!! Thanks so much for your messages. An absolute privilege to be part of a brilliant team in front of and behind the cameras. The emotion is real, it's been a long time, now bring on the Euro's!!! (I think the pic maybe sums it up….) @ScotlandNT @ScotlandSky 🏴󠁧󠁢󠁳󠁣󠁴󠁿💙 pic.twitter.com/LtGIYmqLZj

— Eilidh Barbour (@EilidhBarbour) November 13, 2020
What a night 😂😂😂😂

— Declan Gallagher (@declang31) November 13, 2020
Two tashes off to the euros pic.twitter.com/lWYTYlITsy

— Oli McBurnie (@oli_mcburnie) November 13, 2020
Who missed I can boogie for a drugs test 😂🤦🏻‍♂️ pic.twitter.com/6b3XZ7eZU4

— John McGinn (@jmcginn7) November 12, 2020
HERE WE GOOOOOO!! Off to the euros 🔥🔥🔥💙💙💙💙💙💙 pic.twitter.com/Bg6ITPlD0L

— Callum Paterson (@Callump7) November 12, 2020