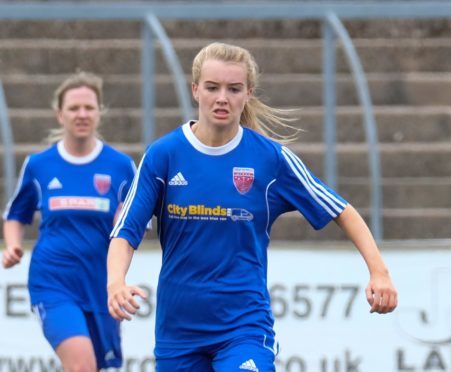 With the spotlight on women's football in this country brighter than it has ever been thanks to the national team qualifying for the World Cup, Forfar Farmington are set to be part of a Scottish first tonight.
The Angus club's home game against Hibs will be live on BBC Alba, breaking new ground for league football north of the border.
The fourth-placed Station Park side entertain joint-leaders Hibs and the Forfar players are thrilled about the opportunity they have been given to showcase their talents.
Midfielder Beth McPherson said: "It's really exciting. We'll all have lots of friends and family watching and hopefully it will get good viewing figures.
"It's great to be able to make a bit of history and obviously we want to play well."
The timing couldn't have been better – for Alba or the sport –  given the achievement of Shelley Kerr's Scotland team a few days ago.
"We were training while the Albania game was being played," said McPherson.
"There was a real buzz when we heard they had done it."
---
>> Keep up to date with the latest news with The Courier newsletter
---
McPherson has been part of the Scotland set-up at under-15, under-16, under-17 and under-19 level. The next step (and biggest) would be the full squad.
"We play against a few of the Scottish girls in our league," she said. "I've come up against Jo Love in centre-midfield and she's some player.
"It's great to see players who you know get to a World Cup. It gives you something to strive for. The pathway is there. There are girls from Aberdeen, where I'm from, and from Perth. It doesn't feel like a different world. The World Cup next soon will be a bit too soon for me….maybe four years after!"
She added: "The sport has gone on to a whole new level. It can only get bigger on the back of this because there will be role models to look up to who we didn't really have before.
"Hopefully the people who watch our game will see that the skill level in women's football is really high."
McPherson has been injured for the last few weeks but should be involved in the Forfar squad this evening.
"We're doing well after getting promoted," she said. "It's been a really good season and we want to keep it going."