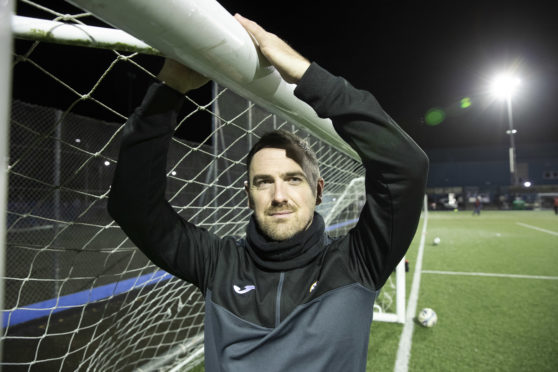 The Scottish senior football pyramid has a broad base and a high tip and Jeanfield Swifts are at the bottom of it with their necks craned.
If there is such a thing as climbing with your feet on the floor, then that's what the ambitious but grounded manager of the Perth club will try to do.
Ross Gunnion has lofty aspirations for Swifts but they are rooted in reality.
Jeanfield, who will celebrate their 90th anniversary next year, have spent the last decade or so at a North Muirton stadium in the wake of their departure from Simpson Park.
A few months ago they seized the opportunity to make the switch from junior to senior, joining one of the three East of Scotland League conferences, a level beneath the Lowland League.
The unbeaten league start suggests that the choice was a wise one and the first few steps towards the SPFL have been taken.
Not knowing where it will end is part of the charm of the adventure they have embarked on.
"We are aware that there will be a ceiling for us," said Gunnion. "There has to be when you're sitting in a small city with St Johnstone.
"But we want to reach that ceiling and we certainly haven't yet. We want to find out where that is."
The senior football landscape is a fast-changing one, with a Lowland League Two thought to be under consideration. Also being discussed is an SPFL League Three, which would accommodate four new clubs from the Highland League, four from the Lowland League and four colts teams.
"I think that's a great idea," said Gunnion.
"Any idea that strengthens the pyramid has got to be a good thing. It would certainly give us something to aim for."
Their summer recruitment was the first sign for Gunnion that leaving the juniors was the correct decision for Jeanfield.
"It's no secret that the reason we got players like Paul Simpson, Aaron Whitehead and Connor McLaren to join the club is because of the league we were moving to," he said.
"They had better monetary offers from junior clubs in the area – some had as many as six – but they could see the progress we were trying to make.
"We had to make the decision quickly but when we saw the types of clubs who wanted to leave we knew we had to make the move.
"Investment is being put into clubs in the East of Scotland in terms of their grounds and youth systems. I don't think it will be long before they overtake the historic junior clubs.
"That's why you're now seeing junior clubs making a late clamour to be involved because they see the benefits of being in the pyramid system.
"If we hadn't made the move we'd have been sitting in the East Super League, probably quite high up in it. We'd have been with most of the players we had last year, still fighting it out with Lochee United and Broughty Athletic, and probably not quite matching up to their standards.
"We wouldn't have attracted the players we have. It was a bold move and one that has paid dividends."
The possibility of Swifts one day playing their Perth neighbours St Johnstone in the Scottish Cup would open up if they achieve their next off-field goal.
"We've put our application in this week to be assessed for our SFA licence," Gunnion revealed.
"We are extremely keen to have that in place by the start of next season, which will entitle us to take part in the Scottish Cup qualifying rounds.
"We've played teams (and beaten teams) who have got to the third round and we're more than capable of competing at that level, certainly with the current squad."
That current squad has a cup tie away to Civil Service Strollers this afternoon, then a clash with Conference C leaders Broxburn follows the weekend after.
"That will be another acid test for the team," said Gunnion.
"We've beaten them in the cup and we're the only club that's unbeaten in the league.
"I'd like to think it's between us, Linlithgow, Camelon and Broxburn – that's the four junior teams from last year.
"The club which wins our conference goes into a round-robin play-off against the other two conference winners to play the South of Scotland club to get promoted to the Lowland League."
Central to Swifts' long-term vision is the development of a sports hub at their Riverside Stadium that would introduce new facilities and pitches and provide local resources.
Jeanfield are one of three clubs to have been selected for the Big Lottery Fund Developing Community Clubs pilot project.
Time will be taken to get the project right and to bring the local community with them.
"A SCIO (Scottish Charitable Incorporated Organisation) has now been formed," said Gunnion.
"Because of the type of project this is it can't be football club-owned. It has to be community-owned.
"We want North Muirton Community Council and other groups to buy into it.
"The SCIO is a not-for-profit organisation that will have its own separate board. Jeanfield Swifts will be represented on it because we are a heavy stakeholder with the funding capital behind us but we also need the local community to buy into it and tell us what they'd like us to do.
"We've been engaged in this process for a while.
"The local community have always seen us playing football, coaching football and running football matches. They probably thought of us as doing our own thing but we want to reverse that mentality.
"We're just a tenant in North Muirton. We want to be a respectful tenant and one that will give something back.
"We're sitting in a community of 1,500 homes. We're not saying that we're the best but we are trying to do things to improve the area. North Muirton has a need for more amenities. Unless you go into North Muirton for a reason, you'll never go through it. It's a place where people should want to spend some time. Hopefully we can be a bit of a catalyst for that.
"The next stage will be to elect a diverse board. Chris Ahern has said he would like to be put forward but not in his capacity as a councillor, which is great. Eric Drysdale (a Perth-based councillor who works with Dundee FC) has been incredibly vocal in his support and helpful to the club.
"Having people like that wanting to get involved is fantastic.
"In January, with the SFA's help, hopefully we can start progressing it. It will be Lottery money. The Lottery don't fund sport, they fund what sport can do for a community."
By putting together a young and exciting team that has hit the ground running in the East of Scotland League, Gunnion, 39, is being too modest with his assessment of his coaching prowess.
What can't be played down is his commitment to the club and the area.
"I went to school in North Muirton, " he said. "When I came back from university in Edinburgh and playing football in Dundee, Jeanfield was a natural home for me.
"Like any good football club, it has a sense of community.
"I make no bones about it – I was an OK player, I'm an OK coach, I don't think I'm the best football manager in the world. My skillset is probably more geared to seeing the club realise its potential in the wider scheme of things.
"I genuinely see Logan McConachie taking over my job as manager sooner rather than later. The players have improved dramatically in terms of their technical ability and their awareness of the game since he came in. I don't see myself being a manager here in five or 10 years' time but I am committed to the club.
"I think that is the sort of thing the community wanted to hear. They were very sceptical to start with. They quite rightly wanted to know who is involved with the club from the local community.
"This is my seventh season and I can say to them I'm not going anywhere. And there are others who are equally committed."
Another key part of Gunnion's vision is ensuring the best young Perth footballers get developed at Jeanfield.
"This is my fourth year as manager," he said. "In my first year we had three players come through from our under-19s. The second year there was a bit of a gap and then we had a few more.
"We want to build on that.
"Sam Townsley is a 16-year-old goalkeeper who made his debut this season – in a men's league that is no mean feat. And there are other under-17s who we already have an eye on to get involved in February or March.
"When I came in there was a manager from Dundee and a lot of players from Dundee. We seemed to be attracting players who didn't identify with the club. It was crazy for a club our size.
"In my first year as manager we had Gary Fraser here and I took the decision not to sign him again. He went to Montrose and ended up top scorer in League Two but he was Dundee-based.
"We need to get the best players in Perth and from that you'll get an identity. Players will want to stay. That has made such a difference to the club.
"Moving forward, we want to identify a head of youth for want of a better title – somebody to take an overview and not be ingrained in one team."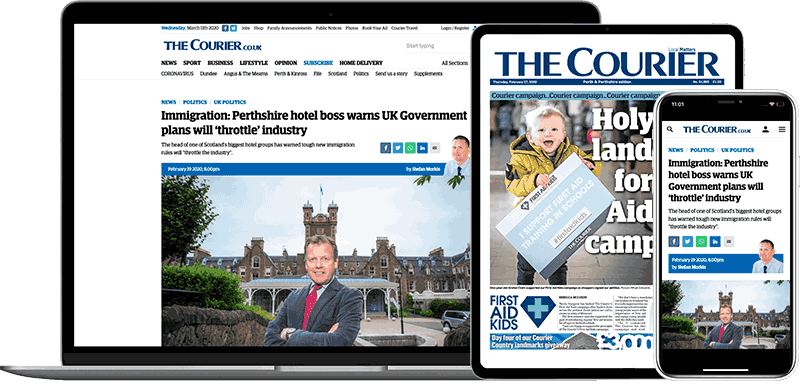 Help support quality local journalism … become a digital subscriber to The Courier
For as little as £5.99 a month you can access all of our content, including Premium articles.
Subscribe