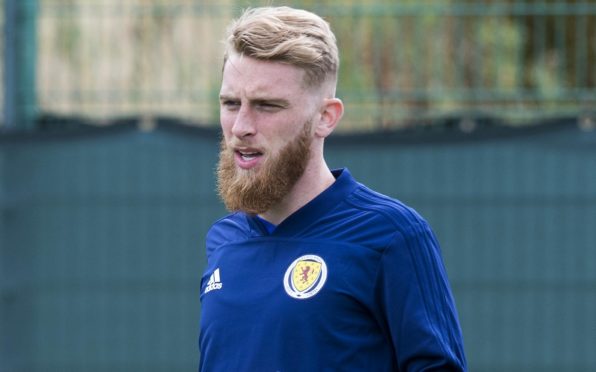 Oli McBurnie has explained himself and is totally committed to the national team.
That was the message from Scotland assistant coach Steven Reid when asked about the social media video clip that cast doubt over the Sheffield United striker's appetite for international football.
With the Scots facing a crucial Hampden Euro 2020 qualifying double-header against Russia on Friday and Belgium the following Monday, having question marks over one of your front players is the last thing boss Steve Clarke needs.
McBurnie, who moved from Swansea City to the Blades for £20 million, was filmed by the club's TV channel in conversation with fellow United players and compatriot John Fleck.
The pair appeared to be discussing Scotland call-ups when McBurnie was asked by Fleck if he was "going away" and replied: "I hope not." Later in the chat someone is heard to say "It's s****" although it can't be proved that it's McBurnie.
Nevertheless, the player has faced a backlash from some Scots fans who feel his heart isn't in it ahead of two vital qualifiers.
Reid confirmed that McBurnie faced boss Clarke and the rest of the squad at their training base to give his side of the story.
That should be that, insisted Reid.
Asked about McBurnie, the coach said: "He has been fine.
"He came in today and trained well.
"He looks sharp, looks enthusiastic and really happy to be part of the squad."
Asked about the message to his squad mates, Reid added: "Yeah, he wanted to speak to the group just to clear up and clarify the situation.
"I know he spoke to the manager as well."
Asked if McBurnie's take on events was accepted by Clarke and the players, Reid said: "Yeah, of course.
"It wasn't even a case of accepting or not accepting.
"He wanted to speak to the whole group to clarify the whole situation, which has been ongoing for a few days, and that's it.
"We draw a line under it, move on and look forward to the two games coming up."
Reid was then asked how the player explained his words.
He replied: "That will stay in the group, what was said.
"He just felt it was important to speak to everybody, clear it up, move on, train well and then focus on the next two games."
Reid was then pressed on whether or not McBurie had apologised.
He said: "I'm not going to discuss what was said. That's going to stay in the group."
That all left a cloud still hanging over McBurnie, especially as far as some fans are concerned, but Reid insisted he has no doubt about his dedication to the cause.
He stated: "Not at all. He's here and the manager has openly said that he only wants committed players to be involved.
"If that wasn't the case, then I don't think Oli – or any other squad member – would be here.
"It's a fully-committed squad, a fully-committed Oli.
"And it's a big opportunity for him now, for obvious reasons with positions up for grabs.
"So hopefully he can bring his good start with Sheffield United into the international fold."
Reid is also confident that McBurnie is a strong enough character to cope with adverse publicity.
He added: "I think so.
"He's got a big price tag, a big move to the Premier League – the best league in the world – and everyone's watching.
"There's a lot of pressure comes with that.
"So far he's dealt with it really well in the opening weeks of the season.
"Ultimately time will tell but, so far, so good for him. Hopefully, he carries it into this camp."