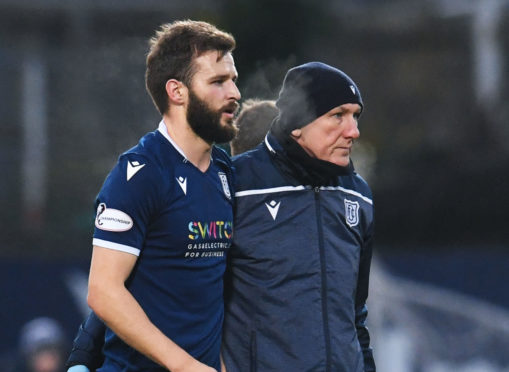 There was mixed news on the injury front for Dundee yesterday as James McPake attempts to get the Dark Blues' season back on track.
The Dundee boss had to do without quartet Paul McGowan, Josh Meekings, Jordan Marshall and Andrew Nelson against Queen of the South at the weekend, with Jamie Ness being subbed just before half-time with a calf problem.
The best news is that the health of Paul McGowan's new baby is improving (he put his hand up for reserve team duty on Monday), while Nelson and Meekings are back on the training pitch.
"Neller's a positive one," McPake reported. "His foot got injected at the back end of last week and he can run now.
"It's a case of when it's settled enough to let him kick the ball.
"Hopefully he'll be available at the weekend and the same goes for Meeks.
"He had the back spasm in training last week and it's one I can relate to myself.
"Meeks has been back in six days but for me it was six weeks."
On Marshall, McPake explained: "Because it's a hamstring we're still slightly concerned. Everything is crossed that he can build up to the high speed stuff in training. He seems positive and you hope there's no reaction."
McPake had been hoping the return of Ness would have a big impact on his team but the former Rangers man's stop-start season has taken another turn for the worse.
"No chance for the weekend," he said. "He's not been scanned yet because we're still waiting on it to settle down.
"It doesn't look as bad as we first feared but he won't be back this week.
"It's really disappointing because he was just getting back. It's another big set-back for him and us."
Meanwhile, McPake admitted that his team's failure to work goalkeepers during the three matches in a row they have lost has been a recurring issue that needs to be addressed.
"That's an underlying thing to come out of the last few games," he said.
"We've not been creating the same amount of chances.
"We've gone from being a very dangerous looking team to the one that we're seeing now. Stats don't tell you everything but they don't lie.
"We've not troubled goalkeepers enough.
"Our keeper was troubled more than theirs on Saturday which shouldn't really be happening.
"Teams will look to nullify our threats, particularly at Dens but we've got plenty of players who can trouble teams."
Danny Johnson's shot and goal against Queens was a prime example of what McPake wants to see more of.
"It was a really good goal," he said. "It was on his wrong foot and he's scored another one after three minutes for the reserves.
"We know what he gives us. Can we get more from him and get him to take the ball in and get us up the pitch? He's working really hard on that. Neller is the same.
"It's not all about goals. The three strikers all have different qualities but there are goals in all three and we need to create the chances for them."
Having a stronger mentality will help rebuild shattered Dens Park confidence, according to McPake.
"We started very well on Saturday and were really bright," he said.
"But as soon as there was a set-back we struggled to recover for a bit.
"It's our job to get confidence back up but the good thing about footballers is that once they get back on the grass to train they recover.
"We need to be mentally tougher. Things are going to go wrong in a game – that's a guarantee. We need to handle that better which we should be able to do because we've got plenty of experience in the team.
"I've still got the belief and I think that deep down the players do as well.
"We've got to be brave because at the weekend there will be 11 guys looking forward to playing against us and looking at the game thinking 'this is a good time to play Dundee'."