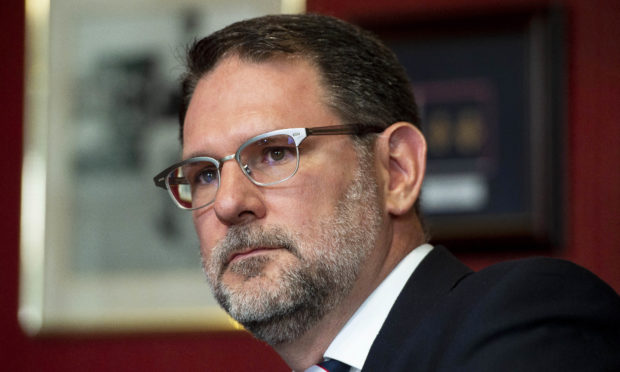 It's often said that truth is the first casualty of war.
After four increasingly bitter days of claim, counter-claim, subterfuge and spin, John Nelms could soon find himself uniquely qualified to attest.
Make no mistake, Scottish football is teetering on the brink of a new and potentially explosive internecine conflict, with Nelms, Dundee's previously low-profile managing director, at the centre of it all.
That the first shots should be fired at a time when the wider world is wracked with fear and, increasingly, haunted by grief, is typically undignified.
But in the self-parodically self-important world of Scottish football, coronavirus ain't got a thing on the latest volley of dubiously capitalised Club Statements.
Tuesday was supposed to bring some clarity to the situation.
That was the certainly the impression given by the stories leaking out on Monday night from under the presumably locked and disinfected doors of Scottish football's corridors of power.
Dundee were apparently "set to U-turn" on their original, botched vote to reject the SPFL's season-ending resolution.
Instead, after another day spent mulling things over, they sent hopes of a conclusion to this sorry saga round the U-bend.
In a remarkable statement released just before 5pm yesterday, the Dark Blues used 145 words to say almost nothing at all, then vowed to say nothing further until the situation is thrashed out.
Perhaps it was the irony of it that subsequently drove so many people to the Dark Blues' website that it crashed just after teatime.
On the other hand, it may have been sheer, desperate, I-need-to-see-this-for-myself disbelief.
Since the day he walked through the door at Dens Park, John Nelms has kept his cards close to his chest.
"We don't talk about our business," has been the mantra. Numerous colleagues and myself have heard it from the horse's mouth. More than once too.
That's an entirely legitimate way to work.
But as a result, this situation is foreign territory for Dundee's discrete-to-the-point-of-invisibility Texan decision-maker – and one where his lack of any meaningful relationship with the media might just come back to bite him.
There are powers at play here with far more muscle than Nelms. That much is inarguable.
As a result, the ins and outs of how this unlikely situation came to pass will emerge in one form or another and, crucially, from one source or another.
If the truth being told isn't the Dundee managing director's, it will be somebody else's, and they will more than likely be pushing their own agenda.
As it stands, John Nelms still hasn't cast his vote.
But as soon as he has, Dundee's quiet American desperately needs to find his voice.
Raith Rovers reiterate desire to end 2019/20 season and confirm Dundee's crucial SPFL vote has yet to be submitted