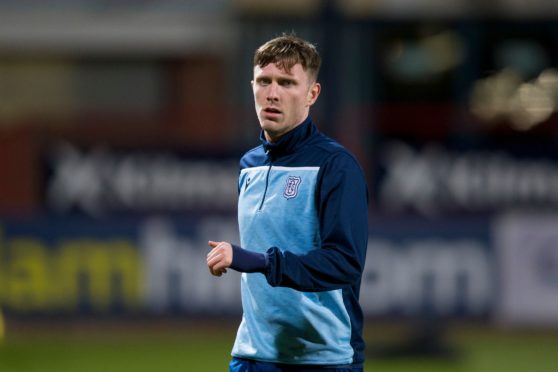 It's normally shades and sun cream for pre-season rather than Halloween masks and early Christmas tat but new Dundee skipper Jordan McGhee is ready to embrace the new normal.
For the 24-year-old defender, however, the only thing normal these days is being out on the pitch again with his team-mates.
After six months on the sidelines, the Dark Blues are now three games into their pre-season schedule and face Cove Rangers once more today following Tuesday's meeting with Paul Hartley's side in Aberdeen.
McGhee sat out the 1-0 win at the Balmoral Stadium as he was given a break by boss James McPake but is ready to continue gearing up for the new season starting on October 6.
And he's been pleased with how preparations have gone at Dens Park.
He said: "It's strange having our pre-season games in September rather than the summer.
"I was at the shops with my missus the other day and there's Hallowe'en stuff everywhere and then it'll be Christmas stuff already.
It's hard to train on your own but the boys stuck to it, everyone to a man.
"Normally you're 10, 15 games deep before that happens. It's madness.
"I've loved the games, they were brilliant. It felt normal – the only thing that does feel normal in the world right now, playing football with your team-mates.
"All the boys came back flying and that comes from the backroom staff, the manager and everyone putting the voluntary programmes together for us.
"Our last game was March and a month after that we were doing programmes every day and the boys stuck to it, you could see that when everyone came back.
"Now it's about getting the ball back down, learning the shape side of the game again and feeling your way back into game situations.
"It was hard to train on your own but the boys stuck to it, everyone to a man. Credit to them.
"I knew it would happen because we have a great dressing-room.
"We had a wee app called Strava where the boys could see everyone's times and you had the usual freaks at the front like Cammy (Kerr) and Marsh (Jordan Marshall).
"But everyone dug in, you could see all the boys' times getting quicker and quicker.
"We were tested coming back and it proved everyone had done the work so that'll stand us in good stead."
In the three matches so far against Peterhead, Montrose and Cove, McGhee and his team-mates have had to get used to playing in front of empty stands.
It's a strange feeling for everybody involved.
However, McGhee can see a benefit for the Dark Blues ahead of the new season.
They may be short of their 12th man at Dens Park in home games when the campaign restarts but the same goes for the opposition.
Something the defender thinks may be in Dundee's favour when they head to his old club Hearts on the opening day of the Championship season.
"It was strange having no fans but we'll need to get used to it," McGhee added.
"It felt flat at Dens (against Peterhead), even in friendlies you'll have fans shouting and cheering you on.
"But we'll have to get ourselves up for games and I'm sure we'll manage that.
"It is the same for both teams but we know how good the fans can be at Dens Park, they're our 12th man.
"Sometimes going to tough venues, like when we go to Tynecastle this season and there aren't all those fans on top of you, sometimes it can be to your benefit.
"I know the boys and the club are desperate for the fans to get back, though, once it is safe for everyone to do so."
With a few injuries to contend with in his small squad, manager McPake has given the club's young players plenty of time to show what they can do in the friendly matches.
And McGhee has been impressed with how the youngsters have handled being in and around the first team but knows it's up to him as captain, and the other experienced players, to help them realise their potential.
"We've had a few of the young lads stepping up to the first team training and played against Peterhead and every one of them has handled themselves like a man.
"They've been outstanding.
"A few of them have got a right good chance if they keep their heads down and working hard.
"It's down to me and the other experienced lads to keep them grounded and push them on.
"Hopefully, help them get out there in front of fans and playing for the club."
The long lockdown and postponement of the lower leagues since March have been tough on everybody and McGhee is no different.
He had plenty to keep him occupied, however, being named club captain and the responsibility that comes with that but also family life.
"My missus was driving me insane trying to get the house done up!" he joked.
"I just took the time just to watch my wee one growing up, she turned two in July and is keeping me on my toes.
"That's something when you're playing football all the time you don't always see, you miss things.
"I just cherished time with her and my family. That helped me a lot."