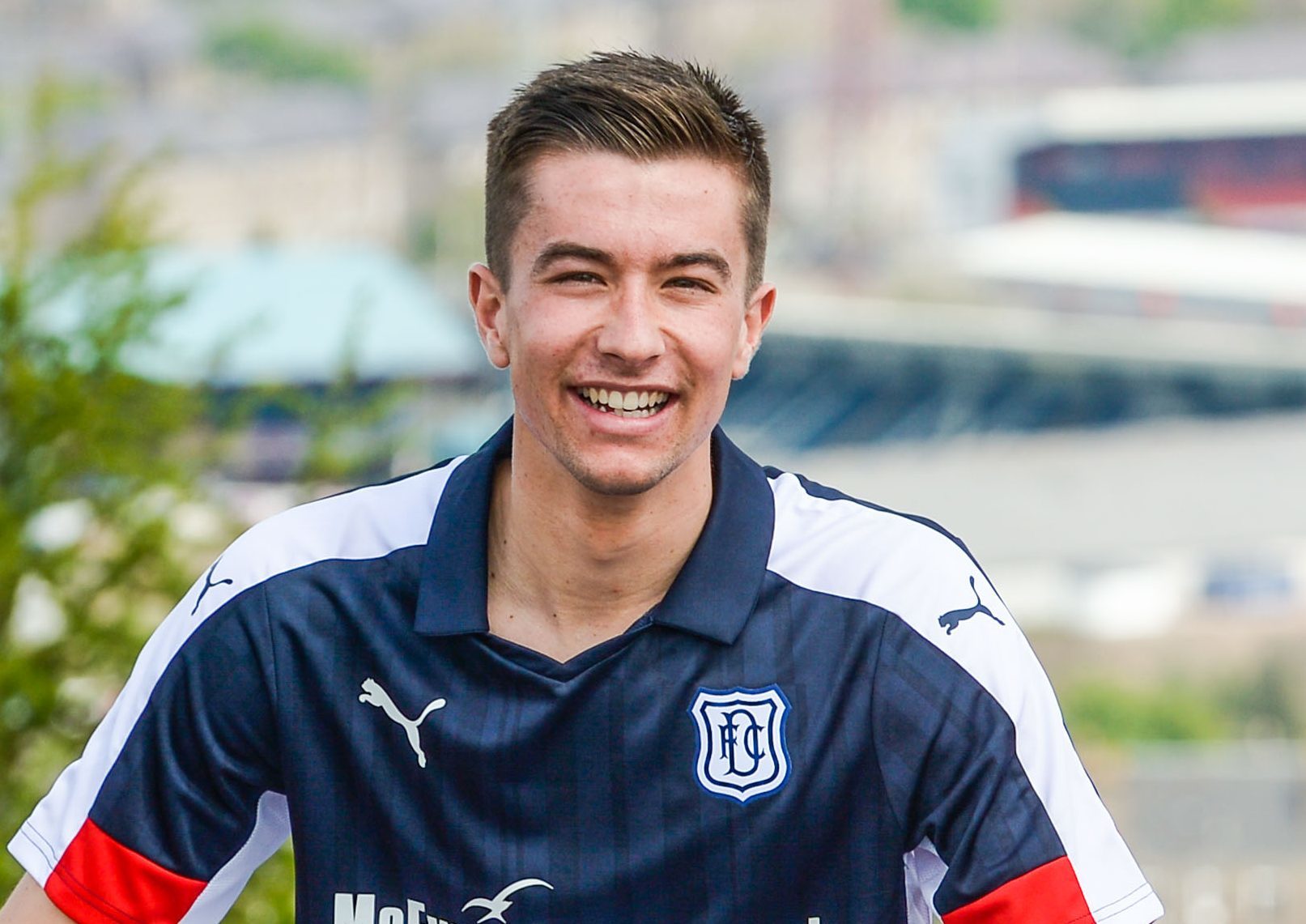 Dundee boss Paul Hartley recently said he would like to have "11 Cammy Kerrs" in his side.
However, the player himself admits he feared his time at Dens could be coming to an end when he returned from what was his second loan spell at League One Peterhead back in November.
The 20-year-old defender felt he was capable of doing a job for Dundee but that a lack of first-team opportunities would ultimately tell against him.
However, Hartley showed his faith in the youngster by handing him a start in the New Year derby with Kerr rewarding the manager for making the decision by producing a man-of-the-match performance.
Kerr then cemented his place in the side and any doubts over his future at Dundee were finally dispelled when the club offered him a new two-year deal last month.
He was delighted to accept and is now determined to kick on again next season.
Kerr said: "When I came back from Peterhead, the manager said it wasn't a clean slate as such but now that I had my second loan spell, it was time to kick on, it was a big six months for me and to get myself another contract.
"He said to me, 'Is this what you want from this?', and I said, 'Of course I do'.
"I just had to keep working away and then the manager gave me my chance."
When asked if there was ever a fear he wouldn't get a new deal, Kerr admitted: "I suppose there was.
"The times I had played for Dundee, I thought I had done well.
"In my eyes, I think I had proved I could play there but I hadn't had enough opportunities.
"They had been hard to come by and that's what I had at the back of my head that maybe I would just run out of chances.
"So I suppose it was a concern but I knew if I worked hard and I got a chance, then I could show what I could do.
"Thankfully, it was enough to earn a new deal.
"I will go away, rest up for a week or two and then be back at it in the gym trying to get myself as fit and strong as I can for next season.
"Hopefully I can push on again."
Kerr admitted he took a bit of a ribbing from his team-mates when they heard about the manager's "11 Cammy Kerrs" comment.
The player himself admitted he was surprised but pleased about it and had nothing but praise for the amount of help Hartley has given him.
He said: "I certainly didn't expect that and I was taken aback by it.
"The boys had a good laugh about it. But for the manager to say that . . . I was delighted.
"He has been brilliant with me.
"The amount of times he has had me in the office just telling me wee things I have to work on.
"On the training ground he will occasionally give you a hard time because he knows you can do better if you lose the ball.
"It's these things that you know if he wasn't telling you, he wouldn't really care.
"But the fact that he keeps on top of you and everything is right with you off the park, he is just top class."
Kerr had two spells on loan with Jim McInally's Peterhead side and the player admitted the second time around wasn't as good as the first but ironically he learned more in adversity.
He added: "The first time I was there I felt like everything went well and I got the Young Player award there.
"Everything seemed to go well, the boys were brilliant but the second time I went was different.
"I got sent off which was obviously my fault, results weren't great but that was probably when I learned more.
"When things aren't going so well, you see boys' and the manager's mind-sets change.
"It wasn't as good as I thought it would be second time round but Jim McInally was brilliant for me.
"No disrespect to playing Under-20s, but sometimes you feel like it is just a fitness exercise.
"But in the games for Peterhead, there was so much more on the line.
"There is so much at stake and it is totally different with crowds on your back.
"It is beneficial, though. The manager (Hartley) has said that to me so many times.
"Even recently when I spoke to him, he said he thought that loan spell had done me the world of good which it did."