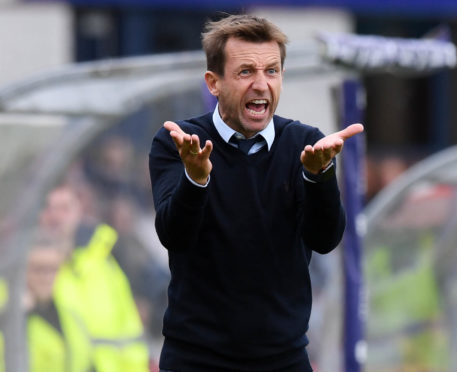 Dundee have taken over from Dundee United as Tayside's 'crisis' team this week. Courier sports writers Ian Roache, Neil Robertson and Eric Nicolson discuss whether it will be a case of 'crisis, what crisis' after Saturday's game at St Johnstone.
How have Dundee gone from a team playing well but not taking their chances to a team getting humiliated by Ayr United?
IR: That is a very good question that deserves a very good answer – I hope the other lads can come up with one! There are many reasons and they include team selections, square pegs in round holes, an inability to deal with the 'in your face' approach of the Ayr players, too much ineffective passing and poor defending at every goal. I wouldn't throw the red cards into the equation, though, as I didn't feel they really affected the outcome of the tie.
NR: Considering the respective starts made to the season by Dundee and Ayr, I thought the tie was a huge banana skin for McCann's men. It was also a near certainty that striker Lawrence Shankland who has been heavily linked with the Dark Blues would score for the Honest Men. However, I never once thought Dundee would ultimately lose 3-0 at home to a side who, it has to be remembered, had been playing in League 1 last season. McCann will be desperately hoping that his team – and himself – simply had a very bad day at the office.
EN: It's a worry, alright. I do think that there's a correlation between the St Mirren and Aberdeen hard-luck stories and what happened to Dundee at the weekend. Not winning (or drawing) when you deserve to erodes confidence. Team selection is a big issue at the moment. I don't know what Dundee's best 11 is yet and I suspect Neil McCann might not either.
How much credit does Neil McCann have in the bank?
IR: His was an appointment that generated real excitement among the fans and there are still a lot of people who will be hoping that he can be a success. However, I do detect growing frustration over his line-ups. For example, there hasn't been an explanation for his decision to name – then leave – Steven Caulker on the bench for the last two matches against Ayr and Aberdeen.
NR: As a former favourite player – who also came back to turn out for the club in the Dee-fiant season – and then helped save Dundee from relegation as interim boss following Paul Hartley's sacking, McCann's bank balance is still in the black. However, the natives are definitely restless. The current squad is very much one of McCann's making and they need to start repaying the faith the manager has shown in them.
EN: Forget what's going on at Livingston, we're far too early in the season to start thinking about changing manager. Two of McCann's best players (Deacon and Kamara) haven't kicked a ball in the Premiership and neither has the striker he brought in last week. The absence of Caulker is a strange one, though. I bet he plays on Saturday, mind you.
Is a derby with St Johnstone one of the best or the worst fixtures McCann could have chosen for a 'must-win' game?
IR: I'll nip in just before Neil to point out that the game is not a derby. Pedantry over with, it does look a daunting one for the Dark Blues purely because they were so terrible in the cup-tie. Play as badly as that this weekend and it will be a comfortable home win and that is an outcome Dundee and their manager can ill afford after their pointless start to the league season.
NR: Pundit pedantry aside . . . it is worth remembering that for all the talk of a Dundee 'crisis', Saints are only marginally better off after two Premiership games with just one point their name. I would say both sides need a win with Dundee arguably having even greater incentive after that Ayr humiliation.
EN: It will certainly tell us a lot about the Dundee dressing room. Saints haven't hit top form but you can guarantee they will give their all for their manager. The Dundee players need to do the same.
What have you made of Saints' early season form?
IR: I thought they looked pretty poor down at Kilmarnock but, in fairness, I only saw the TV highlights. A point against Hibs at home isn't too bad. They then showed character to dig in during extra-time down at Queen of the South in the Betfred when other teams may have become nervy and anxious.
NR: There have been a lot of changes to the Saints squad and I would say they are still a work in progress. I do like the look of wide men Drey Wright and Matty Kennedy while it is a huge boost to have captain Joe Shaughnessy back from injury.
EN: There has been a real change of emphasis at McDiarmid. Saints are playing with two out-and-out wingers (good ones) and when was the last time that was the case? That's where they will look to get at Dundee.
Tony Watt is starting to look like a shrewd recruit by Tommy Wright, isn't he?
IR: Perhaps what will swing Saturday's game Saints' way is that they have a striker who is getting goals, whereas Dundee are struggling on that score. Watt on his own is probably enough to make the Perth side favourites for this one.
NR: If he can stay fit, Watt could prove to be one of the signings of the season. He seems to have been around forever but is still only 24 and certainly in the two interviews I have been involved in with him, he seems absolutely determined to make the most of this opportunity with St Johnstone.
EN: Watt has definitely fitted in well at Perth. And he's a penalty box predator. He'll comfortably reach double figures this season. Saints actually have a few options in that position. If Watt comes off, or Wright decides to send on a strike-partner, David McMillan and Callum Hendry will both be goal threats.
The win at Queen of the South was as timely as they come for Csaba Laszlo. United fans won't have their faith restored that quickly, though, will they?
IR: It is remarkable how the pendulum of pressure has swung to the other side of Tannadice Street but Laszlo is probably just another bad defeat away from trouble of his own again. Actually, I am starting to feel a wee bit optimistic about the Partick Thistle game but there have been quite a few false dawns before.
NR: Laszlo still has the backing of chairman Mike Martin but speaking to United fans, they remain far from convinced he is the right manager to steer the club to promotion this season despite the result at Palmerston. That victory has to be the launching pad for a run of sustained success and the Partick game is certainly in the winnable category.
EN: It would be foolish to take social media as a reliable barometer of public opinion when it comes to football (or anything else for that matter) but the fact that there are United fans out there who wanted their team to lose in Dumfries so Laszlo would be sacked tells you that he still has a lot to prove.
Will the weekend off have done them good?
IR: Their wee Highland fling up in Aviemore will have given the players time to get to know each other a bit better but the important thing is the time spent on the training pitch. They should also benefit from being fresher than the Jags who, while the Tangerines were enjoying the mountain views, were losing to Celtic in the cup.
NR: I will turn that argument on its head and say that the United players may take time to get back into the groove following their break while the Thistle squad will be fully battle hardened after that tough tie against the Hoops.
EN: It had been a stressful few weeks for the United players and management so a weekend off was pretty timely.
Nobody seems to be talking about their opponents, Partick, as Championship favourites. Does that surprise you?
IR: Yes, it does a bit. The bookies have them as third favourites behind Ross County and United. For me, they definitely deserve respect as one of Scotland's fine, old traditional clubs, who have an ambitious board and a good manager in Alan Archibald.
NR: As a club who have just come down from the Premiership, yes it does. However, the fact they aren't one of the favourites is an indication of just how strong the rest of the Championship is and how difficult it will be to get out of it this season.
EN: I was surprised by the cost-cutting at Firhill over the summer and that's the reason they've not been well-backed. I would be much more worried about Ross County and Dunfermline, if I was a United fan.
Who is catching your eye in the lower leagues so far?
IR: As the saying almost goes, there is no smokie without fire. My vote goes to Arbroath.
NR: I'm tempted to make it a Red Lichties double but special mention must go to Montrose. It would have been a hammer blow to lose 4-0 at home to their bitter Angus rivals Arbroath on the opening day, even more so as they were also celebrating unfurling the League 2 title flag. So Stewart Petrie and his players deserve enormous credit for bouncing back with two wins in a row.
EN: I'm going even lower. Jeanfield Swifts have made a stunning start as a senior football club. East Kilbride were a penalty shoot-out away from the SPFL not that long ago and Swifts beat them 4-1 on their own pitch on Saturday.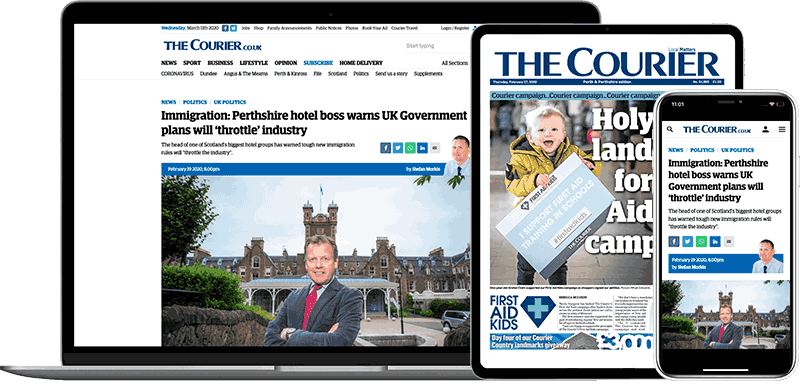 Help support quality local journalism … become a digital subscriber to The Courier
For as little as £5.99 a month you can access all of our content, including Premium articles.
Subscribe