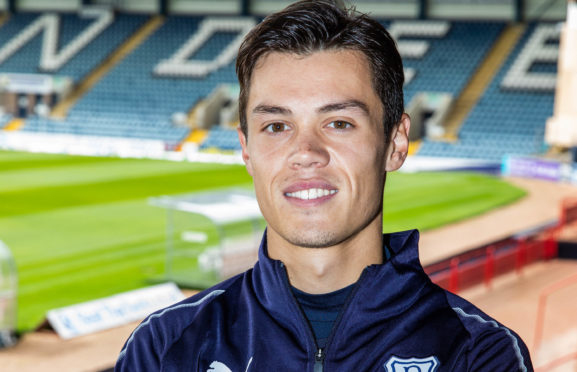 Philippines national coach, former England boss Sven Goran Eriksson, has been in touch but Jesse Curran reveals it is his mum who is really desperate for him to play for the country of her birth.
The 22-year-old Dundee winger also qualifies for Scotland thanks to his late dad Tom as well as for his homeland Australia.
However, it is mum Mary-Ann, who is originally from Manila, who is really turning up the heat for him to pursue his international ambitions with the Philippines.
Curran said: "I just have to see what happens. I can also play for Australia and Scotland. I will wait and see what happens and after that I can weigh up my options.
"I have spoken to Sven Goran Eriksson. He has rung me and he has invited me out to have a look around and to see what I think.
"I might go out and have a look. He has worked with some top clubs, countries and players.
"There will be a lot to learn from him if I do go.
"They have qualified for the Asian Cup. It is massive for them and I think it is the first time they have qualified in years.
"Sven spoke very positively about that and they have Neil Etheridge, a keeper who is playing in the English Premier League with Cardiff.
"They also have a couple of boys from the Championship and the Bundesliga, so it is looking quite good."
Curran added: "My mum is from Manilla.  She comes from a family of 12 brothers and sisters. They are all wanting me to play for the Philippines.
"I went out there a couple of years ago and it doesn't look a bad place to stay.
"My mum wants me to play for the Philippines but I have had to tell her to calm down and look at every option."
Those options obviously include Australia who have had Curran watched this season.
He added: "When I was a bit younger I went to a 20s camp for a week.
"That was with Australia but the game got called off and I never got that cap.
"They have come and watched a couple of my games this season. They were looking for a right-back but I have moved forward and (Hibs) Martin Boyle is playing on the right wing now."
Curran originally came over to Dundee for a week's trial but he has now been in the City of Discovery for over three years.
He said: "I was 18 when I came here. It was 2015.
"My agent knew a guy in Manchester who knew Eddie Johnston when he was the 20s coach at Dundee.
"That is how it all came about. I got a week's trial and I ended up staying for seven weeks.
"I was at Central Coast Mariners but I always wanted to play in Europe.
"I just said to my agent that I wanted to try something different overseas.
"He said I know somebody in Scotland and that appealed to me because my Dad was from Scotland."