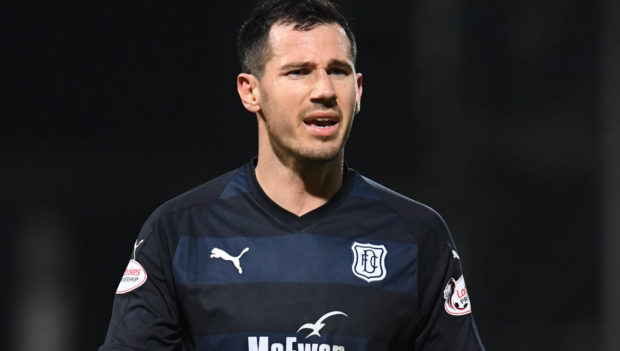 The guilt of being partly responsible for a club getting relegated doesn't go away, according to Ryan McGowan.
And the Dundee defender doesn't want to top up his memory bank.
Bottom of the Premiership faces second bottom in Paisley this afternoon in a game that has been looming large since the Dark Blues and St Mirren became entrenched in a basement battle.
The motivation is obvious – and so too are the consequences of losing such a crucial fixture.
"Nobody wants a relegation on their CV," said McGowan. "Nobody wants to be part of a squad which took this club down.
"I have been through it before. I was on loan with Ayr when I was younger and went down from the First Division.
"I joined in October and we took it to the last day but lost to Morton and that was it.
"That was a big pressure game and afterwards it wasn't nice because you knew you'd let everyone down.
"Those memories are still with me and I still wish I had been able to do something different to stop it.
"Even as a loan player you are involved right in the middle of it. You're there every day and if you're not fully committed to it then you're not the right character.
"I don't want to leave here – and that's not to say I won't be here next season – knowing I contributed to Dundee going down.
"I want to keep this club in the league and the fans will go away thinking that I gave my all for the cause.
"Everyone in our dressing-room is the same."
No player would choose to be involved in a relegation scrap – but that doesn't mean that games like today's come without opportunity.
"This is a chance to do something," said the Australian international. "If you score the winner against St Mirren or against St Johnstone next midweek that could be the thing that takes the club to safety.
"So you have to look forward to it.
"You need to perform well to get a result but at this stage of the season it's all about how many points you pick up.
"Both teams need a result. Who handles the pressure and the occasion best will come out on top.
"There is pressure every week. It has been like that since I came in because we need results.
"You have to try to rise to it. These big games are ones you want to look forward to.
"We have a lot of experience in the changing room – players who have been there before and have been around the block.
"Who handles the pressure will determine who gets out of this and who doesn't.
"You can't afford to focus too much on the games coming up. It's about dealing with each game as it comes."
McGowan added: "As one of the more experienced players, you speak to the younger ones all the time in training.
"Decision-making is the important thing. We have made too many wrong decisions at key times games that have come back to hurt us.
"Eradicating that and making the right decisions are what we need to do."
Only victory this afternoon will allow Dundee to start turning their attention to catching Hamilton.
"Hamilton have done very well picking up wins to get that six-point gap," said McGowan.
"We want to beat St Mirren then try to reel them in, but it all hinges on this weekend.
"You can't worry too much about what the other teams are doing. All you can do is focus on your own game.
"It's an old cliche but that's just because it's the best way to approach a battle like this."
Well over 1,000 Dundee supporters will be making the trip west and their backing hasn't gone unnoticed.
"The fans selling out the allocation is a huge lift for us," said McGowan.
"They are going to turn out in their numbers because they believe in us. They can see us trying to get the club out of this.
"They will be really behind us but we need to give them a reason to shout."
Dundee will be without Andrew Davies, who has undergone a second operation on his foot.
Fellow January recruit Andrew Nelson is available again, though.