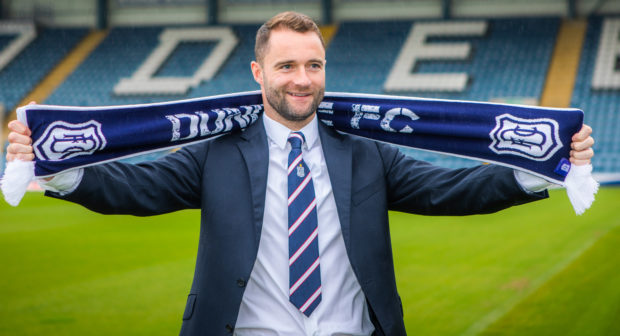 James McPake is happy there aren't many players left at Dundee after last season's relegation from the Premiership.
Because that means the focus for him in his first week as manager is on bringing men in, rather than getting them out.
"The positive is that I don't need to change 10 to bring 10 in," said McPake.
"That's been a problem at this club and at other clubs. I'm sure you saw that at United in the transfer window.
"When a new manager comes in, they need to move players to bring others in.
"I don't need to do that – and I genuinely feel that's a positive.
"I saw it happening with other managers here, they had to do it. I'm not having a go at them. They needed to make moves to get their own ideas in.
"But it's tough trying to get 10 or 12 players out the door. I've not got that problem and I'm happy about that."
Jack Hamilton, Andrew Davies, Josh Meekings, Paul McGowan, Kenny Miller, Craig Curran and Andrew Nelson are all under contract, with Josh Todd signed up on a pre-contract from Queen of the South. Cammy Kerr is expected to agree a new deal, with Jesse Curran and Kerr Waddell also set to be offered fresh terms.
McPake added: "Would I love to have 10 more guys I want in there already? Absolutely. But it's my job now to find those players and bring them in.
"I think the players I have left in the squad are good players. People will say: 'But they have just been relegated'. I know they have but they are good characters. I know each and every one of them."
"I am delighted with what we have got. We will do our work in this window."
The Dundee v Dundee United rivalry is the main talking point for next season's Championship but it won't be consuming McPake.
"My concern is Dundee and putting a team on the pitch our fans are proud of," he pointed out.
"Of course United is a big game and that will be the biggest focus for a lot of teams but there are a lot of other teams in that league who cannot be overlooked. We know that. We need to get our recruitment right."
In his one game in charge, as interim boss, McPake gave a starting debut to 16-year-old Finn Robertson, with fellow youngsters Josh Mulligan, Max Anderson and Lyall Cameron on the bench.
Asked whether he will still be keen to involve players from the academy now that he has got the manager's job full-time, he said: "My answer is no different to what it was in the build-up to the St Mirren game.
"If they can cope in the first team environment, if they can add to it like they did, they will come into my plans.
"I'm not saying I've got three players who are ready to play every week, in front of fans who are demanding that you win.
"When things aren't going right, can you put the kids out there? That's a big test for them.
"But those boys are ready to come in and train with the first team. They'll certainly be in and around the place – and everything will be on merit.
"If the young boys are doing a job, they'll play. But I will stress that we need to be careful with them.
"Some of these boys are 16. Now, we want to bring them through, of course we do.
"I want this to be a club with more Cammy Kerrs on the pitch – players who mean a lot to the fans, and the club means a lot to those players.
"That is a goal, bringing players through the academy. But they need to be ready. Only when I know they're ready will they be put out there."
Meanwhile, Dundee have been linked with a loan move for 19-year-old Rangers striker Zak Rudden, who impressed in the Championship with Falkirk last season, scoring 12 times.