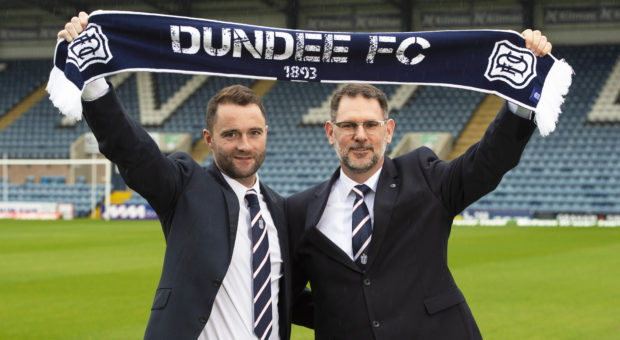 Dundee managing director John Nelms admits he is delighted with the early work done by manager James McPake and hopes he will help bring the feel-good factor back to the club.
The Dark Blues kick off their opening Championship match tonight at Dunfermline, determined to return to the Premiership at the first time of asking.
McPake, who succeeded Jim McIntyre after he was sacked following Dundee's relegation, has carefully rebuilt the squad and has successfully negotiated the group stage of the Betred Cup to set up a last 16 meeting with Aberdeen.
And Nelms admitted that everyone at Dens is rooting for former skipper McPake in what is his first job in management.
The American said: "It is early doors but we are happy with the way things are working out with James.
"He has put the right people in around him, he is not afraid to ask questions and he is very humble.
"He is going to be successful. It may take time but so far, so good.
"Everyone in this building wants Jazz (McPake) to do well because of what he has gone through for us, what he has done for us.
"We have invested a lot in Jazz but having said that he has also invested a lot in Dundee Football Club.
"So everybody to a man wants him to do well.
"Jazz will build a good team and so far that's what we have done.
"There is no guarantee that we will go back up. As Jazz has been saying to the players, we have to treat every game as if it is a cup final.
"If we are going to get out of this league we are going to have to fight, scratch and claw our way to the top.
"It will be pretty at times and it will be ugly at times but that's the way we will approach this season."
Last month, Dundee appointed former Scotland and Celtic boss Gordon Strachan as the club's new technical director.
The 62-year-old will primarily work with the club's academy but Nelms admitted Strachan's arrival had already upped Dundee's profile.
Nelms added: "Gordon has a world football profile.
"Him walking in the door has taken us to the next level. Now when people are talking about Gordon Strachan, they talk about Dundee Football Club.
"So that is big kudos for the football club.
"I spoke to him yesterday and we talk about all kinds of things. We have ideas and how we can make those ideas work.
"We talk about all kinds of things when we talk about the football club.
"We also speak about things outside football. When you talk with Gordon, it is an enjoyable time.
"I talk to him about all kinds of things. I talk to him about negotiations and a number other things but he is a good sounding board for me."
Despite Dundee dropping down a division, as of Monday, season ticket sales stood at the 3,100 mark.
Nelms admitted he would like more fans to snap them up but he admits that will probably only come with better results on the park.
He added: "Sales are ticking over. I think we will get back to about where we were last year.
"I say it every season that I would like them to be higher but that comes with wins and the feel-good factor as well.
"For us, it is a budgetary item so the budget gets bigger as more season tickets are sold.
"But we kind of know where we will end up and we put the money in that we put in.
"I think Dundee has a core fanbase and they will be with us through thick and thin.
"When we took over the organisation, we were in the Championship and the season ticket numbers then are about what the numbers have been throughout the last few years, top six, bottom six, being relegated.
"So it fluctuates ever so slightly but we are appreciative of that core fanbase.
"We want to grow that but the only way we can is with results out on the park and the feel-good factor.
"You can do a few other things but at the end of the day it is about winning games of football."