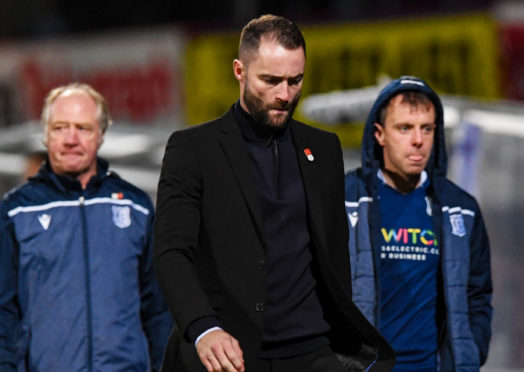 In this week's Talking Football Eric Nicolson and Ian Roache look back at the Dundee derby and look ahead to its implications.
Let the derby post-mortem begin. Home team first….where was the revenge-fuelled Dundee side we expected to see?
EN: This is THE biggest talking point of the game as far as I'm concerned. United played pretty much as I expected but Dundee were way below what I anticipated from them. Their form going into the game was good and the players and management struck the right tone in their pre-match talk to us – confidence without going over the top. They were too respectful of United in the game, though. Dundee played like a team that would have been quite happy with a 0-0 and that wasn't what was required.
IR: I sat in my Press seat at Dens waiting, waiting and waiting for Dundee to get going. They could maybe argue that the first half was pretty even but I thought United edged that before running away from their opponents in the second period. From a Dark Blue perspective, they should have come out all fired up and taken the match by the throat from the very start. The form was there, the fans were there and there were players in their team capable of having a go at United. It didn't happen, though. They were even given a gift by the Tangerines – a second-minute booking for midfielder Calum Butcher – but he was able to stroll through the match for the other 88 minutes without any serious pressure. To be humiliated 6-2 in the first derby and then almost concede the second one to your rivals on your own ground is dispiriting stuff.
Big things were expected from Graham Dorrans. Did he under-perform or was he a victim of under-performance around him?
EN: There were poorer players than Dorrans in dark blue. I'd lean more towards the latter. Declan McDaid, Kane Hemmings and Paul McGowan had their worst games for a while and Andrew Nelson just doesn't look at home out wide. If you make the right runs, Dorrans will find you, but that just didn't happen.
IR: That Dorrans' most important contributions in the game came at the back tells a story. He put in goal-saving tackles on Lawrence Shankland and Nicky Clark. However, Dundee fans would have preferred us all to be speaking about that defence-splitting pass or terrific cross. He had an OK game but it just didn't happen for him at the top end of the pitch.
The team had a settled feel for a while. Do you expect that to change when Dundee are back in action a week on Saturday?
EN: I do. Hopefully Jordan Marshall will be back by then. He was badly missed at left-back. Nelson couldn't argue if he was dropped and the time could be right to give Hemmings and Danny Johnson a run as a partnership.
IR: I agree that Marshall's return is a must because Sean Mackie struggled against United. Another player who would rather forget the derby was Nelson, who was out of position. You could almost feel sorry for him when he got hooked just a minute or so after his mistake that led to Shankland's goal. Inverness away a week on Saturday looks a tough one on paper even if Arbroath battered the Highlanders but Dundee need to win that one to restore confidence.
Psychologically, how big an impact do you expect this second derby defeat to have on Dundee…..greater than the first time even?
EN: They could be 12 points behind by the time they play next. All that hard work to win three in a row would seem like a distant memory. Looking further ahead, I think there was baggage from the first derby going into the second and that could well be the case for number three in December.
IR: During the build-up, Dundee boss James McPake didn't try to hide the fact that the first derby cast a pretty long shadow over his club. The problems to solve following the Tannadice one were quite specific, ie poor defending at set-plays and selection decisions. There was also a justified sense that the scoreline flattered United. I think this will be harder to get to grips with because there was a more general malaise about this display, while 2-0 certainly didn't flatter the Tangerines. Indeed, it could have been more.
The other side of the coin now…..what did Dundee United do so well?
EN: Robbie Neilson did well by resisting temptation to change his team, for starters. The central midfielders and central defenders brought their Inverness game to Dens and those areas were the key to victory.
IR: Yes, I would give Neilson credit for the central defensive call, with Paul Watson staying in there and playing well again. I would also single out Calum Butcher, not for his second-minute booking – it was a poor challenge on Shaun Byrne – but for the way he played thereafter. Not only did he stay out of trouble but he was, for me, the best midfielder on the park. Nicky Clark also took one of the best penalties by a United player for many a year (I know that's not a particular claim to fame!). Oh and Lawrence Shankland scored….I think we are almost taking his goals for granted now.
United are odds of 4-9 to win the league now. Is there a realistic challenger out there or is this the beginning of the title procession?
EN: I'm a few weeks away from calling it a battle for second but you would have to say that the collection of results on Saturday (and the fragility of Inverness, in particular) is pointing towards that. If there is to be a challenge it will have to come from Dundee.
IR: If Friday was fabulous for them, then the Tangerines had a super Saturday as well as Ayr and Inverness both lost. Neilson will be spending all this week reminding his players not to rest on their laurels and how can they when it is Queen of the South they are playing this Saturday? I still get shivers up the spine recalling that match at Palmerston and it should be a sobering thought that the 4-0 loss came just three and a half weeks ago. The great thing for United is that the serious pressure in on the teams below them because the others know they can't really even afford to draw matches if they hope to reel in the leaders.
'What will they be like without Shankland?' It's a question that has been hanging in the air since he had such a transformative effect on this team. We're about to find out, aren't we?
EN: It will be intriguing to see how Neilson sets out this team, if nothing else. Nicky Clark has played so well in a deeper role but the obvious move would be to deploy him as the out and out striker. Confidence will be so high that United should have enough without their talisman to win. The rest of the players won't want to be known as a one-man team.
IR: I think United will be fine and the team selection looks relatively straightforward. I would move Clark up top, have Cammy Smith behind him and keep Louis Appere on the left and Paul McMullan on the right. Clark is a strong replacement and has the self-belief to go out and grab the headlines in his absence.
Did we get too excited too soon about a St Johnstone revival?
EN: It was disappointing to see Saints slip back into bad habits, which makes me think we're going to have to wait until after the mid-season break and the addition of a new centre-back for a sustained move up the table.
IR: In hindsight, Hibs weren't the ideal team to be playing as they definitely got a lift from the departure of manager Paul Heckingbottom. I agree with Eric that the central defensive area still needs strengthening and that will be the club's priority for the January window.
Will Scotland win two games and does it matter?
EN: Yes, I think they will. I don't think the results are too significant, though. The gap between now and the play-offs in March is so long that momentum, good or bad, will be lost over the four-month period.
IR: It won't do Scotland any harm to string wins together, although I do appreciate the last one came against San Marino. I fancy an attacking display in Cyprus, with Shankland involved, to lead to a narrow victory. We will all then discover how really appalling that 3-0 loss in Kazakhstan last March was when the Scots take care of them at Hampden on Tuesday.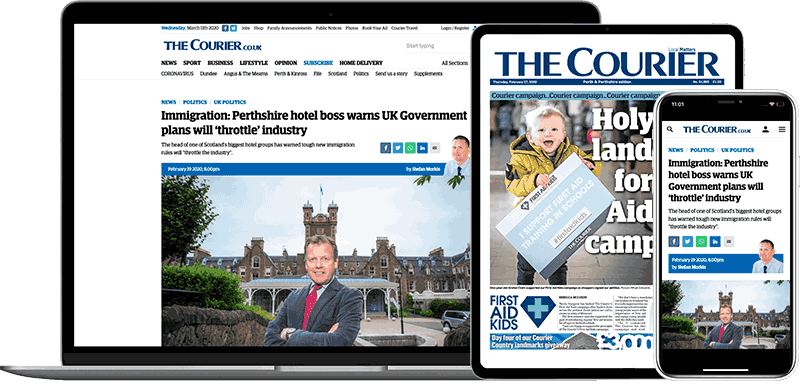 Help support quality local journalism … become a digital subscriber to The Courier
For as little as £5.99 a month you can access all of our content, including Premium articles.
Subscribe