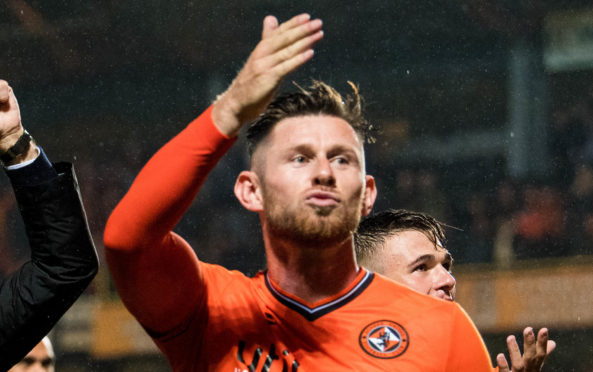 Dundee United midfielder Calum Butcher believes having Dundee in the Championship has helped their promotion push.
The city rivalry, which will be on show at a sold-out Tannadice tonight, has spurred the Tangerines on as they aim for the title.
Butcher's theory looks pretty sound so far, with United having already beaten the Dark Blues twice this season on their way to the top of the table.
James McPake's men, though will be desperate to stem the tide by winning game number three.
Butcher said: "Having Dundee in the league has been a good thing for us this season.
"There are a lot of good teams in the league but having that rivalry there has added a further edge to it.
"Having a derby so early and winning it the way we did let us get off to a good start and we have kicked off from there really.
"Having them there has asked questions of us.
"There are two big teams in the league and we knew they would come down into the Championship and bring good players in.
"They were always going to have a real go this season and we know there is still a long way to go."
His manager Robbie Neilson preferred the 2-0 victory at Dens on November 8 of the two derbies that have already taken place but Butcher chose to differ.
That is perhaps not a surprise when you recall that the tough-tackling midfielder scored twice in the 6-2 home triumph over Dundee on August 30.
He said: "The first derby win of the season is the highlight for me personally but there have been a lot of highlights.
"Dundee will want to get back at us for the last two derby wins so they will be up for it and we have to be conscious of that.
"We have to be ready for whatever they throw at us.
"Both derbies have been tough games.
"Even though we have won them, in both matches there have been times we have had to dig in and battle.  This time will be no different.
"It is going to be a fight all over the pitch and we will have to work hard to win it."
Dundee striker Kane Hemmings has claimed that the Dark Blues should concentrate on qualifying for the play-offs now that United are so far ahead.
Indeed, should Neilson's men make it three out of three derbies tonight then they will be an incredible 20 points ahead of their city rivals.
Butcher isn't getting drawn into such talk, though, suggesting an ulterior motive may be in play.
The United man said: "Kane maybe said that to take a bit of pressure off them going into the game this week.
"But we can't focus on that.
"It is about us and we just have to focus on our ourselves.
"It would be dangerous for us to think the job is done so it is good to have a game like this because a derby focuses minds.
"It means you go from one game straight to the next one.
"It would be wrong for us to get ahead of ourselves but I can't see that happening with the way the gaffer is and the way the staff are.
"We had a tough game on Saturday against Ayr United and to get out of that with a 4-0 was a really good result.
"We are doing OK at the moment and showed the kind of qualities you need.
"Once we scored the first goal we controlled the game and hopefully that will be the case again against Dundee."
At the core of United's promotion push is a determination not to feel as bad again as they did last May when they lost the play-off final shoot-out to St Mirren.
Butcher explained: "That was a big thing for us because we all sat in the dressing-room after that and said we can't sit here next year having the same conversation.
"It hurt a lot that day because when most of the boys came in in the January we wanted to go up that season.
"We felt we had a real chance going into the play-offs and to lose it the way we did only increased the hunger in our bellies.
"We want to play in the Premiership so we have to prove to people we deserve to be there.
"That St Mirren game hurt a lot and we have spoken about it. It has only made our desire stronger.
"We had a good pre-season, got off to a good start and have just built from there.
"This season hasn't surprised me because we were always confident we had the players.
"However, it is a long season and we have to keep at it every single week."
Meanwhile, United have been linked with a pre-contract move for St Mirren captain Stephen McGinn.