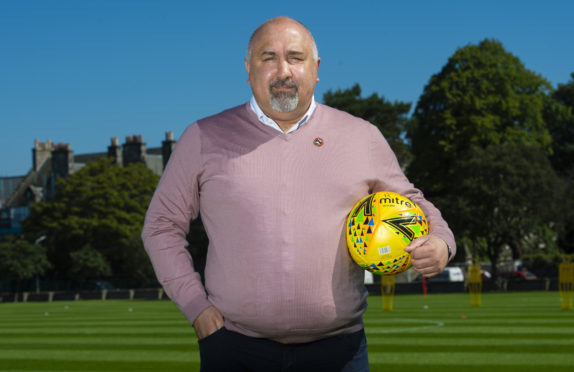 Dundee United sporting director Tony Asghar has called for calm as Scottish football comes to terms with coronavirus.
In an upbeat update given as he worked from home, Asghar stressed to Tangerines fans that: "We will come through this."
He said: "What we have to do is be ready to be flexible and adaptable, very calm and stay positive – not just within the club but our supporters as well.
"We will await the next course of action and be ready.
"This is something that will pass.
"We have never been in this situation in our lifetimes.
"Nobody really knows what the outcome (will be) but, for our supporters, what we have to be saying is: 'We will come through this.'
"Since we came here we have pushed the club in a very positive manner and there have been a lot of good news stories.
"We are top of the league, our academy is buoyant, we have players in the international set-up and we have good people at the club.
"There is a lot of uncertainty in society just now but we, as a football club, are there and we want to be ready to play, finish the league and be promoted.
"Hopefully, we will then look back and say it was a hard time but we got through it."
Asghar revealed he has been taking soundings from other clubs to see how they are managing.
He added: "There has been a lot of talk, negativity, about football falling down a financial hole and I understand that.
"I have been in this business a long time and, speaking to clubs here, in England and abroad, we are all in the same boat.
"It is now a question of trying to make sure that when we come back we are ready.
"If that is in two months, three months or whatever then we are determined to continue the good work that has already been done."