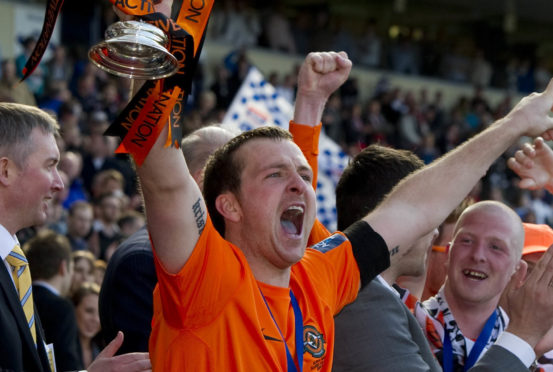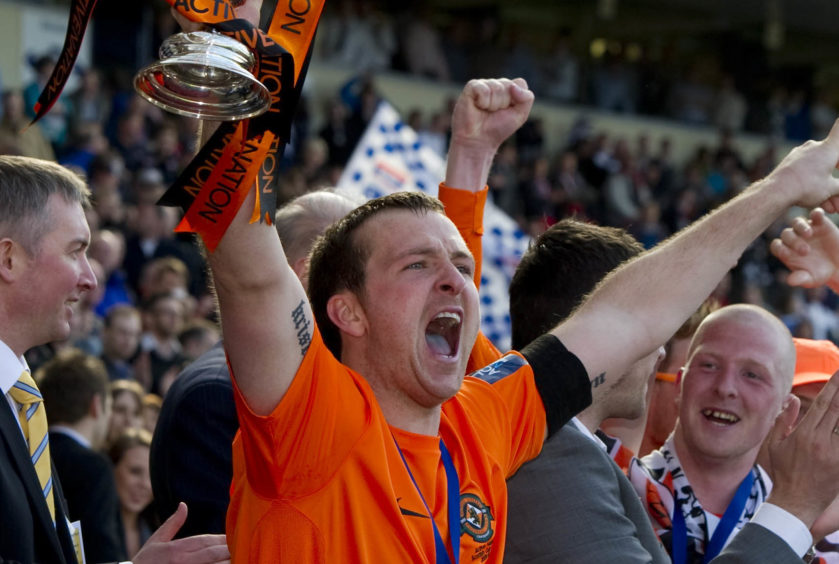 As he hoisted the 2010 Scottish Cup aloft, Dundee United captain Andy Webster was toasting far more than silverware – he was saluting a career-revived.
Through a combination of injuries, loss of form and complicated transfer rulings, it had been a difficult three years for Webster prior to signing a season-long loan at United in 2009.
He made just 11 appearances for Wigan, Bristol City and parent club Rangers after leaving Hearts under a cloud in 2006.
His promising career was in danger of hitting the skids.
But the faith of then-Tangerines-boss, Craig Levein, and cup-winning manager, Peter Houston, meant the centre-half left Tannadice a hero.
"I had been suffering quite a bit, whether it was not playing, being injured or not being good enough and all the stuff that goes with it," the 38-year-old recalls.
"That went on for quite a period of time but, looking back on it, that season at Dundee United was career-defining.
"I had other options but I made the decision I did because it's a great football club, it's not far from my family life in Arbroath and I was going somewhere where the manager knew me.
"That helped immensely. Craig was really good, he would allow me not to train if I didn't want to.
"It was all about getting back to playing on a regular basis.
"Did it restart my career? Of course it did and for the season to end the way it did was hugely satisfying.
"It's like anything in life, people face their ups and downs but when you get the good bits, the little golden nuggets of being successful, that's what you treasure most.
"To be able to do that with Dundee United definitely ranks up there as a career highlight."
Webster, now a coach at St Mirren's academy, admits he never expected to win the cup with United.
It was only when they knocked Rangers out, after a replay, in the quarter-finals that he started to dream.
He continues: "For any Premiership team outwith the Old Firm your first port of call when you're looking for silverware is always cup competitions.
"It wasn't easy facing Rangers twice, I wasn't allowed to play in those games, but you have to face these hurdles along the way.
"The boys were outstanding in both games. Once we'd beaten them we had that little glimmer of going: 'Maybe we can win this now.'
"At the start of the season we'd have liked to make the Cup Final but as it went on it became more of a realistic ambition for us.
"It's one of those where either the stars are aligning or you're thinking it's maybe not to be. You're always a bit wary but to finish the season the way we did was outstanding."
A win over Raith Rovers would set up a final meeting with Ross County – who had shocked Celtic to make it to the Hampden showpiece – 10 years ago tomorrow.
It was a day of mixed emotions for Webster who, alongside former club captain Lee Wilkie, led United out to a 3-0 win before climbing the steps together to lift the trophy.
He admits it was tough taking over the armband from his pal, "Streaky", who had to retire earlier that season through injury, but insists he'll forever cherish the memories of the day.
"It was a tough one with Streaky's injuries. He really suffered, he tried really hard to get back and when he did play he was effective," Webster reflects.
"I remember him getting chucked on up front against St Johnstone at McDiarmid and doing really well! He did some training on Alloa's pitch as well, running and trying to get himself back fit.
"These are really vivid memories and I think, although not to his extent, when you've suffered injuries you're a bit more sympathetic towards people and have a bit more of an understanding.
"I really felt for Streaky not being able to do what he loved doing – and he was very good at it.
"Craig and Houstie had known me previously so me being captain wasn't something totally unbeknown to them or me.
"They knew me as a player and a person. It was unusual from the outside looking in but I didn't think overly much about it.
"I pride myself on what I do anyway, wearing an armband or not isn't a determining factor in how I perform or play.
"I've always tried to lead by example on and off the pitch.
"In one aspect, I was happy to step in but on the other side of it I was disappointed because that was Streaky's role at the football club and he wasn't playing."
Of the final itself, he adds: "My boys were both mascots that day – Streaky took out my oldest Kristian and I had my younger lad Layton.
"Even though I was captain on the pitch I always had it in the back of my mind that I wanted Streaky to lift the cup with me if we won it.
"But I was very wary of tempting fate. It wasn't until before the game at Hampden when we were in the shower area that I said to him quietly: 'If we win, I'd be delighted if we could both go up and lift the trophy.'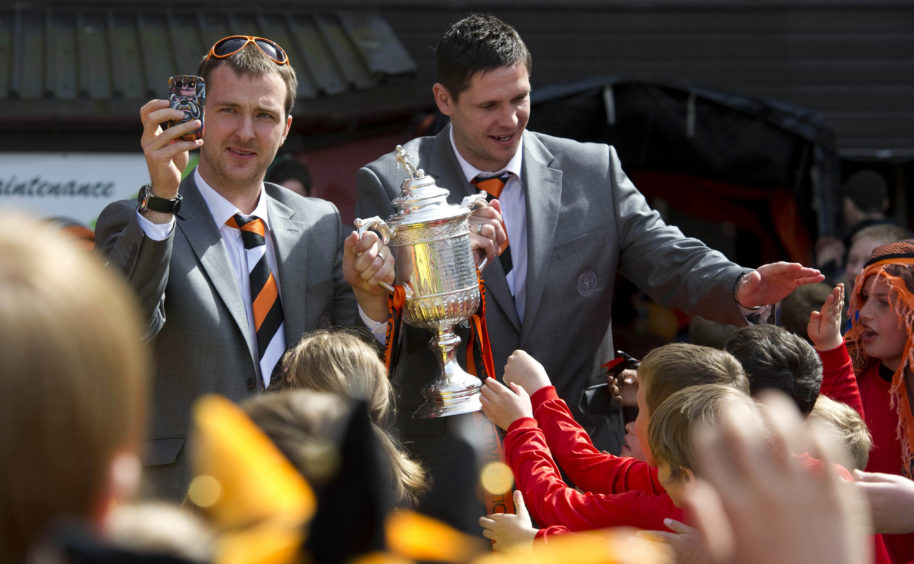 "I think these things are important because I've seen the other side of it where you don't feel overly involved and that your contribution is quite minimal because you're not able to do it on the pitch.
"It was an obvious and an easy thing for me to do."
It seemed like the perfect day for Webster & Co as they toasted only the club's second-ever Scottish Cup.
That is until they bumped into losing finalists County in the hotel after.
"When we were coming back down the road we stopped off at the Westerwood Hotel to get some beers," Webster explains.
"People are always a bit wary of tempting fate with these things and going above and beyond just in case things don't work out.
"And as sure as fate the Ross County team were in as well.
"It was slightly awkward. We were trying to be a bit magnanimous rather than jumping about mad."
Tension averted, United headed home for days of celebrations Webster insists will live long in his memory.
He adds: "The amount of Dundee United fans that turned up on that day was unbelievable – it just shows you what a big football club it is.
"For Dundee United, with the history it's got and the success it's had, for it to only be the second time they'd won the Scottish Cup is probably something you wouldn't associate with the football club.
"It allows the next generation of fans to know what success looks like at a football club.
"To be able to share those moments, not just with your team-mates, the fans and the club, but to experience it with your family is amazing.
"They see all the rubbish you have to go through, ultimately.
"To be able to play a small part in bringing joy to people, and ultimately that comes through success, that's great because it will live long in the memory for everybody."