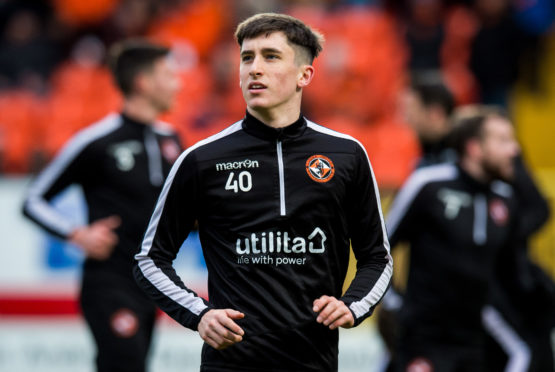 Robbie Neilson didn't need a Scottish football coronavirus crisis to focus his mind on integrating the next batch of youngsters into the Dundee United first team.
Giving youth a chance – even in the Premiership – is in his coaching DNA.
Louis Appere became a regular in the Tangerines' Championship-winning side after grasping his opportunity in pre-season and in the Betfred Cup group games, securing Scotland under-21 selection along the way.
Others, like Logan Chalmers, have had a season of transition and progression from age-group football to men's.
And just because United are now back in the top flight and Neilson will look to strengthen in the transfer market if the opportunity arises, doesn't mean he'll take his eye off the talent that is already emerging at Tannadice.
The head coach will continue to promote from within.
"It's something I've always believed in," Neilson told Courier Sport.
"When I first started out in coaching I worked at youth levels – when I was at Falkirk and then when I went back to Hearts.
"I took the under-20 team and I also ran the academy. I was the head of coaching there.
"I saw the young players coming through and for me it's always been about giving these young players a pathway to the first team.
"These are young guys who need an opportunity and it's amazing what they can achieve when you give them that chance and give them support.
"A lot of the time they'll out-perform what you expect."
Neilson added: "We have some great young ones who are in the team at the moment. Declan Glass did fantastically on loan and the coronavirus probably hindered his opportunities in the first team here.
"We've also got a few others in the background who we've got high, high hopes for.
"Chris Mochrie, Lewis Neilson, Archie Meekison, Nathan Cooney, Ross Graham – these are really good young players. They bring energy to the first team."
Neilson and sporting director Tony Asghar are singing off the same hymn sheet.
The pair wasted no time in putting in place a structure that means senior pros have mentoring their younger team-mates as part of their job description.
"Tony and I spoke about it in the January after the new owners came in," Neilson explained.
"We talked about how we'd try and develop these young players.
"What you can't do is put 11 young, inexperienced players into a team. You'd get one fantastic performance and three or four that are terrible.
"We spoke about trying to get a strong, experienced backbone to the team. We brought in the Butchers, Connollys and Reynolds that window to be part of a leadership group that will help our young players come through.
"They see themselves as being part of what we're doing to build these boys."
EXCLUSIVE: Tony Asghar's judgment on a fair price will be key for Dundee United in the transfer market