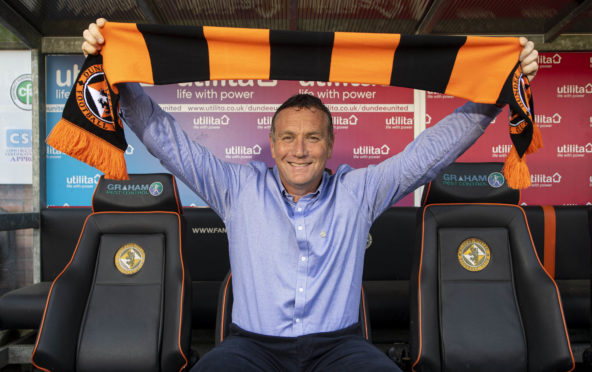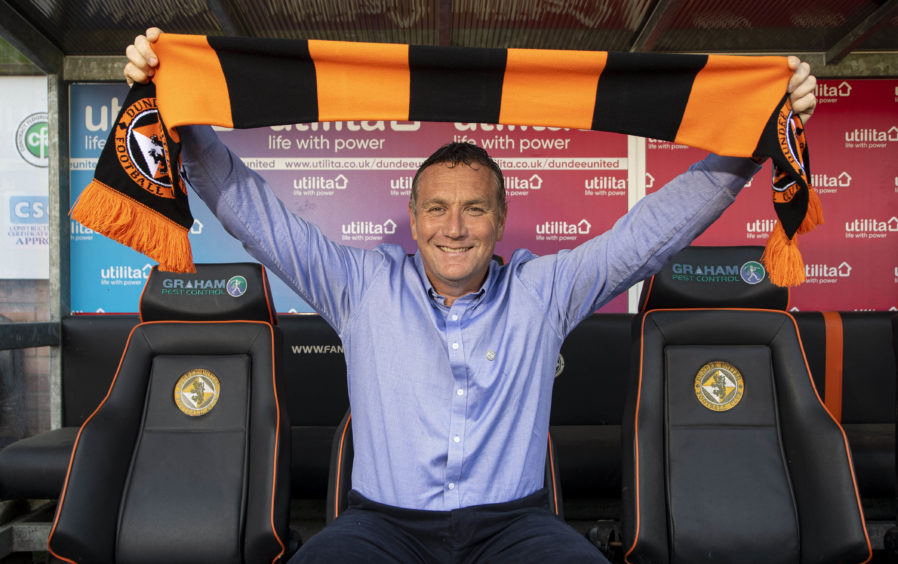 He's been on the training ground, he's spoken to the media and he's now getting his new team ready for their first practice match this weekend.
Micky Mellon's work has begun.
Eric Nicolson looks at what his priorities will be over the next few weeks, painting a picture of the type of Dundee United team he will be shaping and the type of Dundee United manager he will become.
Fostering team spirit
You don't need to know a league, a club or any of the players to start building camaraderie from day one that will serve a squad well over a long season.
A quick glance at the quotes attributed to the likes of Ian Black, Jack Grimmer and others who have worked under Mellon previously will tell you that won't be a problem.
This is no Csaba Laszlo.
Matt Jones, who has written two books on Tranmere Rovers, with Mellon featuring prominently in both, identified making sure he has a close-knit dressing room as his first priority at Tannadice.
"He likes a strong team bond," said Jones. "If you look at the team Micky built at Tranmere, the work ethic and the will to win they had was vital to their success.
"When he arrived there were people who were going through the motions and he wasn't prepared to put up with that.
"He wanted people who were going to be there to win. He certainly instilled that in them."
Getting his backroom team in place
One of the big talking points during the recruitment process, when Tony Asghar interviewed candidates ranging from the modern-day head coach at one end of the spectrum to the old-school manager at the other, as well as everything in between, was the type of boss the sporting director would end up going for.
That Asghar opted to go closer to old-school was a sensible move given the task the new man is faced with – establishing a promoted club in the top division during a pandemic and a football financial crisis. They have even changed the job title from head coach to manager. This is no season for a young up-and-coming training ground, stats-driven prodigy finding his way in the game, no matter how talented and badged-up he may be.
Mellon has never attempted to downplay the role of an assistant manager and his description of the number two expected to follow him out of Merseyside, Mike Jackson, speaks volumes about how crucial this appointment will be to the success of this project.
"He brought Mike with him from Shrewsbury," said Jones. "Speaking about the relationship between the two of them, the way Micky put it was that Jacko is everything he's not and he's everything that Jacko's not. The two of them clearly complement each other.
"The day Jacko was announced I asked Micky what he brings and he said: 'A massive dossier of coaching sessions!' Micky will be there at every training session but Jacko does a lot of the organising.
"There's his head fitness coach as well (Andy Hodgen), who came from Shrewsbury with him. There would obviously be compensation to agree but I would expect Micky to try to bring them with him."
Making United tactically flexible
Even as United were cruising to the Championship title – and certainly in his first season at Tannadice – you would find supporters who believed Neilson was too rigid in the way he set his team up and too reluctant to react to what was playing out in front of him.
That Mellon doesn't have a fixed formation that follows him from club to club and that he is willing to rip things up and start again during a match, however early in the contest that may be, will be music to the ears of many Arabs.
"The one thing I would say about Micky is that in all my time watching Tranmere, or football in general, I've never seen a manager like him with the ability to change the momentum of a game," said Jones.
"You could point to quite a few instances.
"There's the play-off final (to get into League One) last year, for example. We had a big defender called Steve McNulty who was club captain but was being phased out of the team.
"He'd made one appearance since January – and that one appearance was on the final league game of the season when the play-off position was secure. Micky was basically resting a lot of first team players that day.
"He was edging towards being released and possibly retirement.
"Then, come the 82nd minute of the play-off final Micky brings McNulty on and he puts in arguably his best performance in a Tranmere shirt, guiding them through extra-time to a clean-sheet and a 1-0 win.
"In the play-off final (to get back into the Football League) the year before he brought on Connor Jennings who had been in hospital on a drip the week before.
"Micky brought him on after 37 minutes because he though Tranmere's right-hand side needed a tactical switch because Boreham Wood were getting too much joy down that wing.
"Connor came on and got the assist for the winning goal.
"Micky's a game-changing manager."
Predicting the formation of the United starting eleven when it lines up against St Johnstone on August won't be easy for Saints boss Callum Davidson.
Certain managers will live or die by a 'this is how we play' mantra. Daniel Stendel and Ian Cathro immediately spring to mind. Mellon won't be one of them.
"He's very, very flexible," said Jones. "There was another game-changing moment in the League Two season I remember well. Tranmere were playing Lincoln and there had been a bit of rivalry between them in the National League. There was a bit of needle in this game and Lincoln were all over them in the first half.
"Tranmere had started 4-4-2 and at half-time Micky put an extra man into midfield for a 4-5-1. Rovers ran all over them and won 1-0. He stuck with 4-5-1 for a while after that.
"He was also very successful with 3-5-2 for a period in the National League and with 4-4-2. He'll play whatever formation he feels suits the players available and the opposition they're up against."
Creating an unbreakable bond with United supporters
The outpouring of grief (but with good wishes thrown in) from Tranmere fans when news of Mellon's departure broke and the sincere, home-made video message he sent back to them from a blustery Dundee riverside left you in no doubt of the relationship he had with the Rovers supporters. The Scot is talked about as one of greatest ever managers. It's the sort of bond that can't be faked.
That he'll want to strike up a similar connection in Tayside goes without saying.
At the end of a busy day's training and media duties on Wednesday, the subtle but ingenious touch of recording a clip on his phone for the fans was a typical Mellon gesture that was lapped up on social media.
Looking back, he would have been perfect to quicken the process of unifying the club three or four years ago.
The good news is that the American takeover and Neilson's promotion have done that work for him. Fighting Hearts off the pitch hasn't hurt either.
The bad news is that no fans in the stadium when the Premiership gets underway will remove a string from Mellon's bow.
"There was something missing before Micky came to Tranmere in 2016," Jones explained. "The previous manager was a lovely guy but he didn't make the same connection.
"He connected with the fans from the minute he came in and he won his first game, which was a local derby. He'd had two spells at Tranmere as a player, including one as captain. You've got to understand a club to be a success, which will be the same at Dundee United.
"He created that link with the supporters. At press conferences I would say he spoke as a fan as opposed to at the fans.
"The minute Micky walks out of the tunnel before a game he claps the three stands the home fans are in. If they win he runs to the Kop and give a big fist pump. He gets everyone going."
Neilson had his moments of spontaneous animation – the first derby win of last season, for example – but cool, calm and composed was his thing in the main. United fans can expect completely different, Jurgen Klopp-like, behaviour from his successor.
Frustratingly, he can't control when it will happen but for Mellon, the return of supporters to Tannadice is a key part of his plan to accelerate United's revival.
Building his squad
Before Covid-19 struck it was thought this was going to be a five or six player summer for United, who had ambitions to not only put down roots in the Premiership back but become a top six side challenging for Europe and cups straight away.
You could make a case for a new centre-back (with pace), a new winger (with end product), a new central midfielder (with composure and an eye for a pass), a new full-back (with week in, week out dependability) and a new striker (with an eye for goal to lighten the load for Lawrence Shankland or to replace him).
Neilson has understandably danced around the issue but assumptions have been made that his departure to Hearts was partly due to the diminished financial circumstances at Tannadice (not of their own making, of course).
Nobody is expecting five or six players now – certainly not of the calibre of the ones Asghar was sounding out in February.
The United 'new normal' won't spook Mellon, however.
His way is to give every player on the payroll equal opportunity before making up his mind on who will need to be replaced. Mellon's knowledge of the English lower leagues could prove to be invaluable in helping identify targets (Asghar has previously mentioned there could be attractive options in that market) but when signings are made, don't automatically assume that they will be ex-Tranmere or Shrewsbury men.
"He brought in a couple who he had worked with before but generally there weren't that many," said Jones.
"He won his first four league games as Tranmere manager, which hadn't been done before. But what was all the more remarkable was he played virtually everyone in his squad in those first four games.
"After that there were some we didn't see again because he'd decided they weren't for him but it showed he'll give everyone a chance before he makes a decision. He's very loyal to players. If you do well, he'll keep picking you."
Working with a sporting director will be a change for Mellon but not having total control in the transfer market won't be the frustration for him that it was suggested by some to be for his predecessor.
"That will obviously be a bit different to how things were down here," said Jones.
"I wouldn't want to speak for him but what matters the most to Micky is being surrounded by people with good character and work ethic. When he signs someone he always talks about having the right character. As long as they've got that, he'll be happy."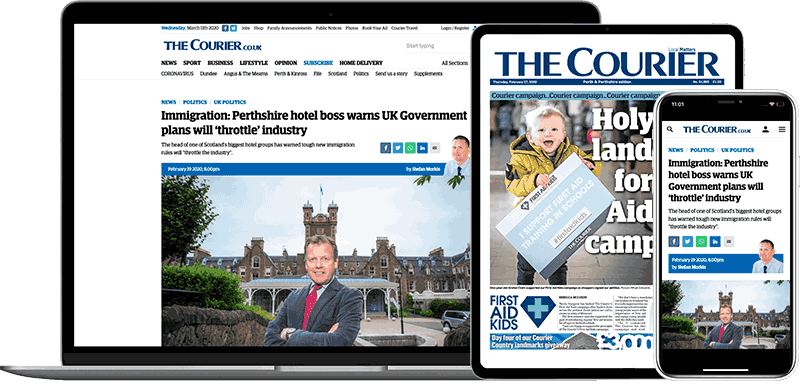 Help support quality local journalism … become a digital subscriber to The Courier
For as little as £5.99 a month you can access all of our content, including Premium articles.
Subscribe