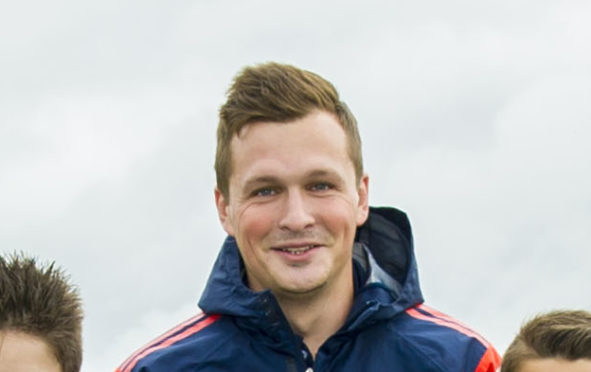 The hard work hasn't stopped in lockdown for Dundee United academy director Andy Goldie.
If anything, he has been busier than ever.
Between looking after sons Arran and Harris while wife Laura works on the wards at Ninewells and setting up an innovative new arm to United's youth set-up, Goldie has had his hands full.
The peace of his home office doesn't often last long but Goldie is a man who likes being kept busy.
The Tangerines' new link with Baldragon Academy is evidence of that.
Unveiled in May, the programme will see 11 young Terrors enter the school for a four-year football-based education when the term re-commences next month.
Having coached at SFA Performance Schools Grange and Braidhurst, Baldragon is something Goldie had been keen to implement since taking over the youth reins at Tannadice.
"It was something we looked at when I first came in February last year," he explains as his lads carry on in the background.
"We saw the number of hours the boys were training and noticed they were up at 6.30 in the morning and not finishing until nine that night.
"They were getting up for school then staying after to wait for training before travelling home to Arbroath or wherever they may be going.
"It alarmed us straight away so we got to work with the Scottish FA in terms of getting consistent and coherent messages across.
"We wanted there to be a lack of confusion and clear understanding of how players should be developing but, as time went on, that became more difficult.
"We thought we'd be better by creating our own programme, combining with Baldragon.
"Over four years the kids will get 1,200 additional hours of quality practice. It's all individually-tailored which should, ultimately, benefit them in the long run."
Goldie hopes the ambitious project can bear fruit for new boss Micky Mellon's first team, believing his young stars are in need of more practice to make the grade.
He continues: "We did our research, looking across the best academies in Europe to see how many hours these young players were getting in comparison to Dundee United and the majority of Scottish clubs.
"It was very evident that our players weren't training enough, getting enough quality contact time on the ball, analysis, physical and mental performance, etc.
"We've made no secret we want to bring success back to this club by developing our own players.
"We want them to aspire to go on and play at a higher level in Europe and internationally.
"By providing this, it's a platform but it's not guarantee. We're giving them this additional support, it should allow them to achieve their objectives on and off the pitch."
Although nothing is as it was amid the coronavirus pandemic, Goldie insists it is as close to business as usual for his fledglings with United's virtual academy a roaring success.
Not just benefiting the club, the Tangerines' programmes have touched players the world over.
Goldie added: "When the coronavirus kicked off we had a lot of meetings about what will happen to the academy in lockdown.
"We started putting some ideas together with individual drills, analysis tasks and, overall, just a real strong virtual programme.
"We rolled it out as soon as our academy shut down on March 12 and it's been going all the way through lockdown.
"It's been tough but our young players and families have been fantastic. They've stayed engaged within the programme.
"The numbers we're getting are exceptional despite the limitations some families have with being key workers, being on the frontline or have other siblings off school just now.
"They've continued to show a real desire and appetite for learning during this process.
"A lot of clubs have been insular but we've decided to share our programme out, firstly across the city then that quickly became Aberdeen, Angus, Fife and Perth.
"Before we know it we've got 20 countries and 300 clubs involved across the world utilising this. We thought 'wow, this has grown arms and legs!'
"It shows what our club is about. It's not just about Dundee United, we want to have an impact further afield. I've started doing webinars to America, the UAE and so on to share the journey of our academy over the last year."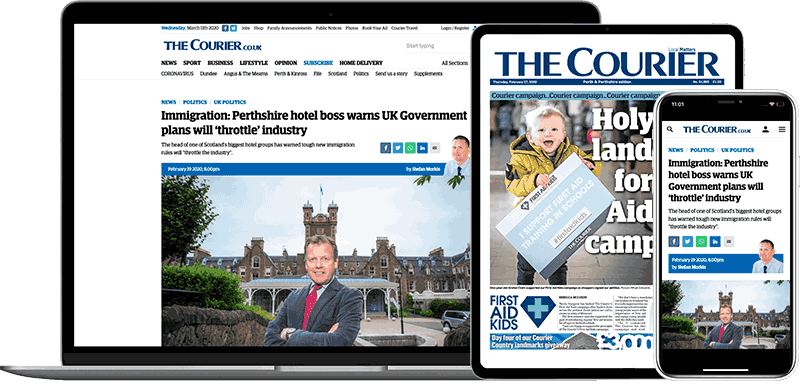 Help support quality local journalism … become a digital subscriber to The Courier
For as little as £5.99 a month you can access all of our content, including Premium articles.
Subscribe