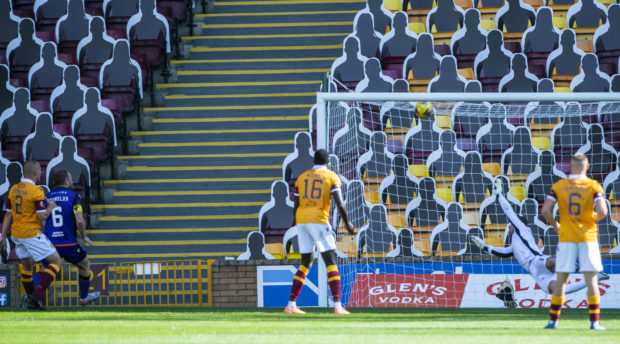 Wearing his new deep purple strip, Dundee United skipper Mark Reynolds rocked Fir Park.
As you sat in the sunshine on Saturday, you glanced at the Tangerines and wondered who could fill those Shankland-sized shoes.
A United side without the prolific Lawrence is a cause for concern and the team sheet made for uneasy reading.
Left out as a precaution because of an ankle injury, striker Shankland would obviously be missed against Motherwell even though he wasn't on top form in the opening-day draw with St Johnstone.
United needed someone with a poacher's instinct, someone who would get into the right position, anticipate sloppy defending from the opposition then pounce with a fabulous finish when required.
As you scanned the pitch looking for candidates, your eyes quickly whizzed past Reynolds.
How wrong can you be?
There was smoke on the water and fire in the sky when he grabbed that winner.
Maybe the central defender can pass on tips to Shanks.
It was spectacular stuff from Reynolds even if, for a split second after he scored, you wondered if he had forgotten how to celebrate a goal.
Not only was it Reynolds' first for the Tannadice club it was his first of any kind for three whole years. It arrived just four days short of the third anniversary of his last one, which came for Aberdeen against Ross County on August 12, 2017.
Maybe it wasn't quite worth that length of wait but it was pretty special nonetheless.
After Ian Harkes pounced on a poor clearance, he passed forward to Luke Bolton. The on-loan Manchester City wide player, in his first start for United, claimed a Kevin De Bruyne-type assist as he flashed the ball right across the face of the Well six-yard box.
With home defenders Liam Grimshaw and Bevis Mugabi both sleeping, Reynolds was lurking at the back post. He hit it on the half-volley and the shot flew up and into the net.
It was lucky for United that Reynolds had stayed upfield following a corner and his striking prowess earned a bit of banter from fellow central defender Mark Connolly, who joked: "I wondered what he was doing up there, to be honest – he came back with a nosebleed!
"I am told it is his first goal in three years and he's already got our analyst guy putting it on DVD for him."
Talking of time lapses, this was the Tangerines' first Premiership victory since they signed off their relegation season with a 4-2 win over Kilmarnock at Rugby Park on May 14, 2016.
They should never leave it that long again.
If manager Micky Mellon can help it, they will grow into a strong and resilient top-flight side rather than hang about the drop zone.
The United gaffer has a nice turn of phrase and he painted a picture of someone sitting terrified in the dark, scared of the unknown, to explain how some players feel when they start life in a new league.
"We maybe just need a wee bit more belief as we move ahead," said Mellon.
"I have been fortunate in that I have managed teams that have come up a level and when that happens the threats that you see before you are not unusual.
"They think that the monster in the wardrobe is bigger than it actually is. Then you open it and see it's not the case.
"You are maybe seeing a bit of that.
"Players grow in confidence as they go along and realise that maybe it's not that frightening after all.
"That will happen as we go along.
"It is up to me to encourage them to say to them that I will take the hits and the blows for them because I want them to go out and play and be brave on the park."
Mellon has shown he, himself, can show bravery when it comes to putting a team out.
He is not scared to trust young players and last week against Saints he drafted 17-year-old Lewis Neilson into his three-man central defence.
This time, his answer to Shankland's absence was to lead the line with 21-year-old Louis Appere, with 20-year-old Logan Chalmers just a bit further back along with 20-year-old Bolton.
Mellon changed to a back four and watched his team soak up pressure from the Steelmen in the first half. Slowly but surely, though, you could see the Tangerines growing into the game.
They started picking the home team off.
After the goal came, you might have expected nerves to creep in. They did, after all, blow a one-goal lead against St Johnstone seven days previously.
Instead, Mellon had used the interval to tell his players to kick on. They were by far the better, and more composed, team in the second half and could have scored more goals.
The closest they came to making it 2-0 was when substitute Dillon Powers controlled the ball just outside the box before blasting a shot off the bar via the glove of Motherwell keeper Trevor Carson.
The home team did have the ball in United's net late on but that "goal" was correctly chalked off for a two-handed push in Jamie Robson's back executed by Well sub Jordan White.
Overall, this was a United team that hit the right note, fine-tuned by manager Mellon.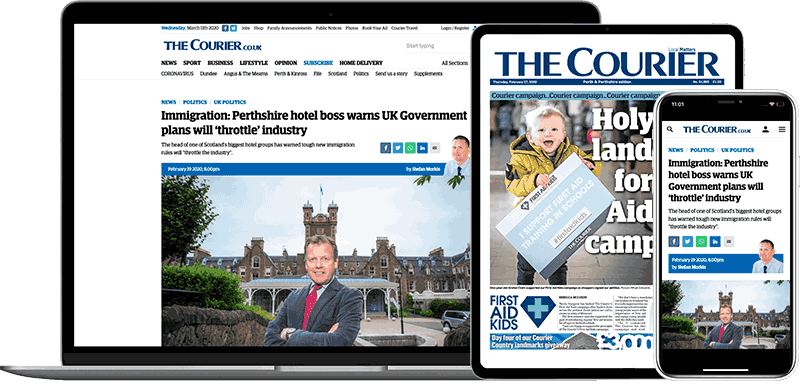 Help support quality local journalism … become a digital subscriber to The Courier
For as little as £5.99 a month you can access all of our content, including Premium articles.
Subscribe