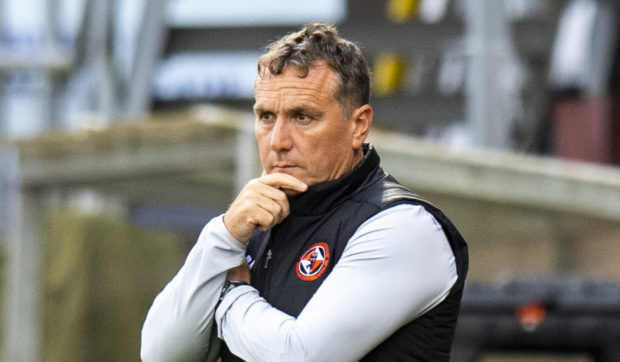 Dundee United manager Micky Mellon can't wait to welcome Jeando Fuchs to the club even though he won't be able to see him for a fortnight.
Mellon views Fuchs as exactly the kind of "quality player" the Tangerines need to keep progressing in the Premiership.
The Cameroon international midfielder is on his way to Tannadice after the Tangerines and his Spanish club Alaves agreed a deal.
However, he will then have to self-isolate as part of the coronavirus regulations so won't feature against Livingston at Tannadice tomorrow night and will be segregated from the rest of his new teammates.
Mellon said: "He hasn't signed yet but the two clubs have agreed a deal and he is on his way over to do his medical and things.
"He would then have to complete two weeks of quarantine.
"He is a quality player and we have a recruitment system in place here which allows us to try and look everywhere to try and bring players here who we believe are the right fit for what the club wants to do.
"Jeando is certainly that.
"He is an international footballer with loads of great qualities and he's keen to come over here and perform."
Alaves wished him well, stating: "Deportivo Alavés and Dundee United have reached an agreement for the transfer of Jeando Fuchs.
"After staying for the 2019-2020 season on loan at Maccabi Haifa (in Israel), the Cameroonian midfielder is now embarking on the project led by Micky Mellon.
"From the club we wish Fuchs the best of luck in his new stage in Scotland."
Aged just 22, Fuchs has played not just in La Liga but in France with Sochaux and had a loan spell in Israel with Maccabi Haifa.
One of his two caps for his national team came against Brazil so there is certainly pedigree there.
Mellon added: "He has been playing at a decent standard so we look forward to working with him.
"With him, we wanted to wait and make sure we brought the right ones in that we believed were right for the group and for the club. He definitely ticks all of these boxes.
"We are always looking to try and improve things.
"As a club we are in transition having come up a division into the Scottish Premiership and we will try and improve the players we have and improve the group.
"We have had really good recruitment and worked very hard between myself, my staff, (sporting director) Tony Asghar and the owner (Mark Ogren).
"I know how delicate transfers can be and sometimes you think you may be getting one done and it falls down but we are trying hard to move things along."
While Fuchs will self-isolate to follow the rules on incoming travel rather than anything else, news broke yesterday that both Kilmarnock and Hamilton Accies have reported positive cases of coronavirus, three at the former club and one at the latter.
Mellon pondered that if Covid-19 can get into football clubs then everyone should be worried.
He said: "It's a fear for the world.
"In any area of life, any industry, there's a fear of anybody picking up Covid.
"It is around us all the time.
"It would be unfair to say you just fear about it in football.
"I fear about it for my kids at school, my kids at university, while my boy is a professional footballer as well.
"It is all around us all the time and it is something everybody has to be aware of – not just football.
"When you consider the environment we are in, football couldn't honestly try any harder to get it right and isolate itself from any chance of getting this virus.
"You would need to come here to see the environment we live in to believe it, how sterile it actually is going to games.
"If we're still running the risk of getting it then everybody should really fear getting it and respect it.
"Football has gone way beyond and there are people doing some unbelievable stuff. So if footballers are still getting it, it can pretty much get anybody – trust me."
United face Livi in a Friday night clash that would, were the pandemic not a factor, have attracted a crowd of 8,000 upwards.
That won't happen, of course, but Mellon is still relishing the prospect of playing a slowly improving Lions side.
"We have to respect whoever we play against because we're new to this level," said the United gaffer.
"That's the facts and we know that.
"We have to concentrate on ourselves and getting an awful lot right in the games we play because we maybe only have something like three players who are experienced at this level and that might've been a couple of years ago.
"Livingston are the next challenge and we know the qualities they possess.
"We have to be ready to answer the questions they will no doubt ask us.
"We are growing as a group and improving all the time and we'll be able to ask them questions as well so it will be a good contest."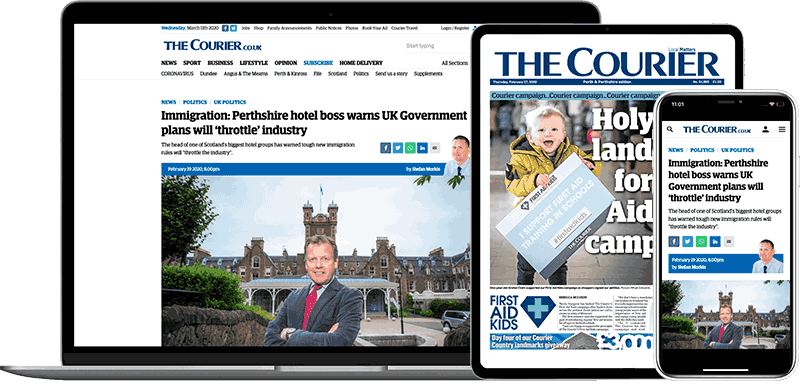 Help support quality local journalism … become a digital subscriber to The Courier
For as little as £5.99 a month you can access all of our content, including Premium articles.
Subscribe