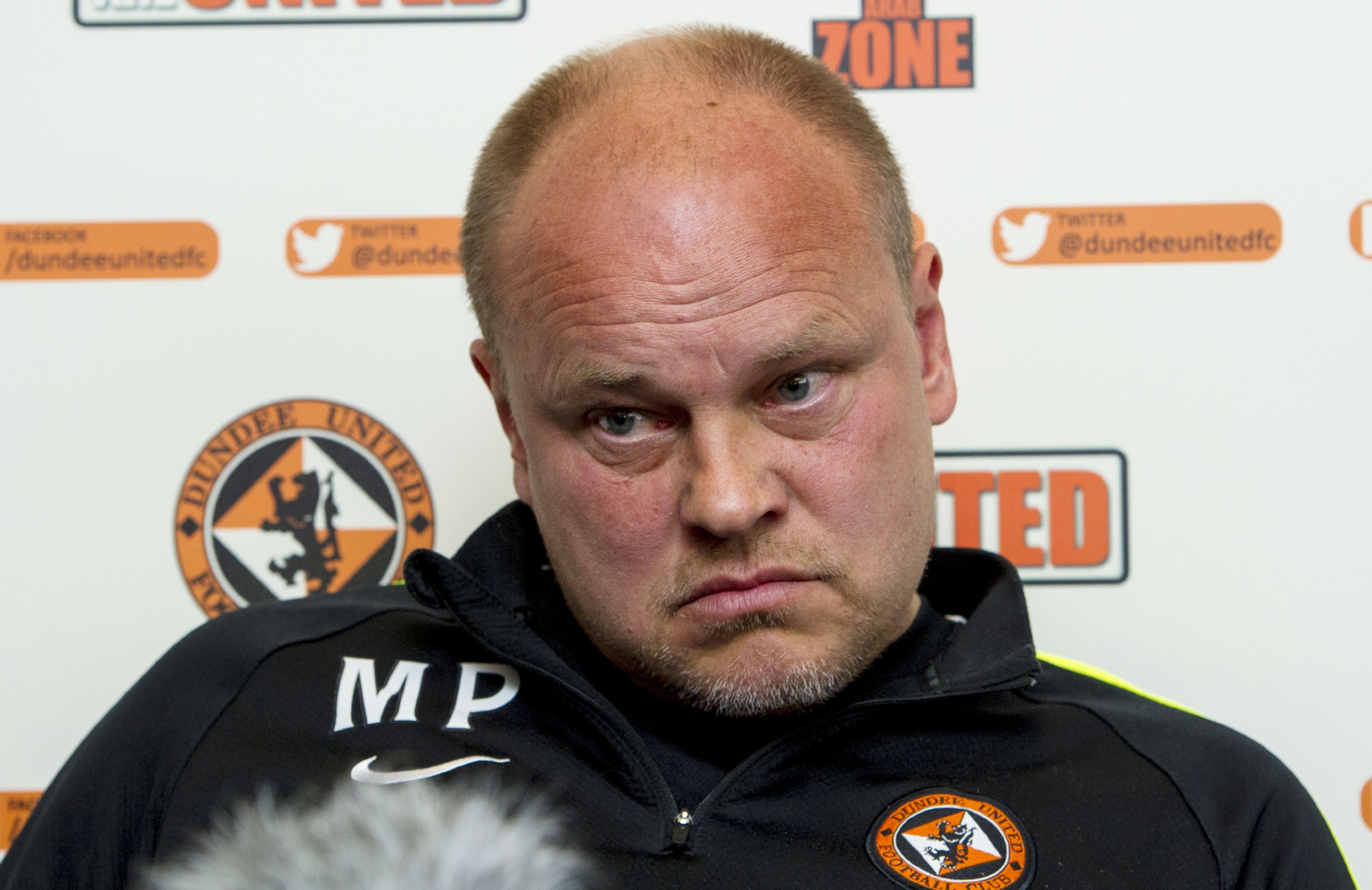 Dundee United manager Mixu Paatelainen admits the situation has become toxic at Tannadice.
However, he insists he won't let the gloom and doom debilitate him or his relegation-threatened team ahead of the derby.
The Tangerines boss will take his players over the road to Dens Park on Monday night to play Dundee.
By then, they will know whether or not defeat to the Dark Blues that evening will send them down a division because second-bottom Kilmarnock will have played Hamilton two days earlier at New Douglas Park.
A Killie victory on the Saturday will set up the nightmare scenario for United and should they be relegated by the Dark Blues then it will be a long walk back up the street for Paatelainen and his men.
It is perhaps fitting, considering United's season, that the week or so leading up to such a crucial clash against their city rivals has seen a fans' demonstration, the manager's future being called into question and chairman Stephen Thompson confirming he is ready to sell up.
It appears to be a perfect storm and Paatelainen accepted that there is a real cloud hanging over the club.
He likened the situation to the one at relegated Barclays Premier League side Aston Villa.
Indeed, you could swap Paatelainen for Villa caretaker coach Eric Black and United chairman Stephen Thompson for the Birmingham club's unpopular owner Randy Lerner, at least in some fans' eyes.
Former Aberdeen striker Black talked of a "toxic mix" of onfield failures and off-field problems combining to drag down the former European Cup winners.
Paatelainen, when asked how it is possible to prepare for the derby while there seems to be just one problem after another for United, said: "When a club is in the position that we are in that's always the case.
"There is always plenty of negativity.
"Look at Eric Black's comments about Aston Villa.
"There's a lot of toxic (stuff) in the air and it's the same with us because of where we are.
"It's natural but it's not nice and it hurts."
However, Paatelainen insisted he and his players should not let it take their focus off trying to beat Dundee.
"Do you go into a corner and start crying?" he asked.
"Or do you roll you sleeves up, make a plan, and fight to make things better?
"That's the spirit from me.
"That's the kind of guy I am."
However, surely it is impossible to shield people when United's plight is there for all to see and protests from the street could be heard within the dressing room after the dire 3-1 loss to home to Hamilton?
"You will need to ask every individual player and worker about that," he said.
"But it certainly doesn't bring me down.
"Strong characters are not bothered because they believe they will survive and will be fine.
"Weak characters crumble and become even weaker.
"That's the way it goes.
"That's the law of the jungle.
"My message to the players the first time we met after Sunday was that there was no room for them to feel sorry themselves.
"They need to keep their heads high and be like steel.
"There is no room for weak mentalities."
Paatelainen is a clever individual and will know, deep down, that relegation could herald the end of his time in charge of the Tangerines.
However, he still believes he is the right man for the job.
He said: "I've got no problem with the fact my position has been questioned – it's only natural in this position.
"I've been here a few months but this really isn't my squad.
"I respect our players and like working with them because of their attitude but we do have deficiencies in the squad, otherwise we wouldn't be in this position.
"We keep working very hard on improving those things but we have the players we have at this moment and unfortunately the same mistakes keep happening.
"I don't regret taking the job," he added.
"I knew it would be difficult but I must say it's been a very hard winter.
"I'm not someone who shies away from challenges – it's the opposite.
"I want to make this right and we have made clear plans already about how to go forward.
"I've got all the knowledge of what needs to be done personnel-wise and on other football matters. I know what to correct to be better next season.
"No manager's position is ever 100% assured – that's the way football works.
"I'm not daft but I'll keep working and I know what needs to be done."