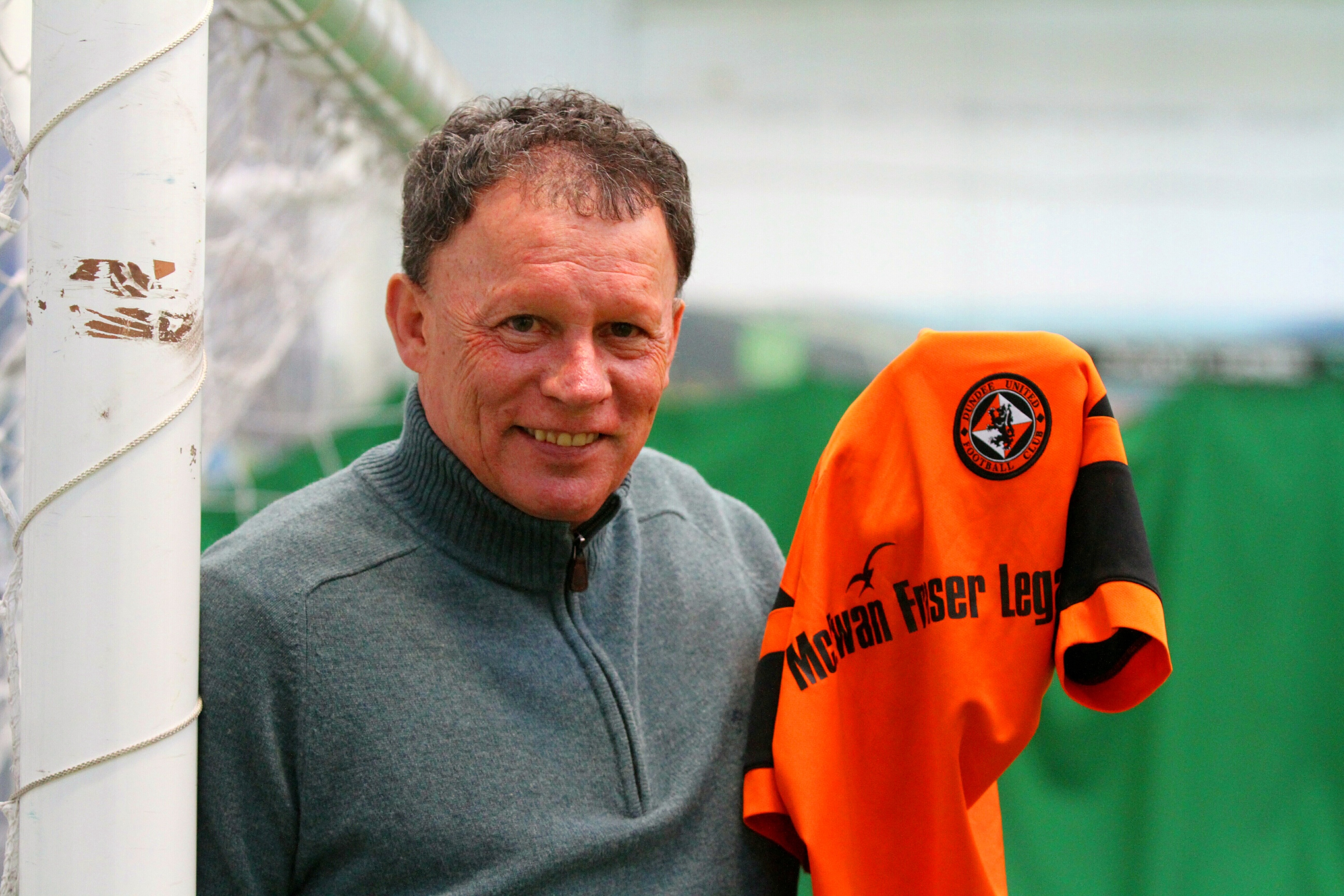 John Holt had a perfect view as the ball flew into the Barcelona net.
Having pinged a throw-in to Paul Sturrock, his job was done so he could savour the moment.
Holt watched as Sturrock played the ball towards Kevin Gallacher, who at the age of 20 was the youngest player in United's team.
The match was fewer than two minutes old but Gallacher wasted no time as he sent his shot – OK, maybe it was a cross! – past Spanish international goalkeeper Andoni Zubizarreta.
The stadium, packed full of 21,322 people on the night of March 4, 1987, exploded with noise.
As the fans celebrated, Holt contemplated how it all could have been so different for him.
While anticipation and excitement built in the city at the prospect of a UEFA Cup quarter-final against one of the world's biggest clubs – yes, even 30 years ago Barca were mighty – he had been considering his future.
Holt was a giant of the Jim McLean era, making over 400 appearances, winning the Premier League title, two League Cups and playing a key part in so many of the fabulous results that had cemented United's reputation as a force on the European stage.
Yet, he had found himself in the weeks leading up to the visit of Barcelona wondering if he should leave.
Never mind the Nou Camp, he was heading to Station Park.
In what must be one of the Scottish game's most remarkable sliding-doors stories, Holt had decided to become player-assistant boss at Forfar working with manager Henry Hall but changed his mind when McLean put him back in United's first team.
Holt would stay and see out his 14th season at Tannadice before joining Dunfermline that October.
He started all six legs of the UEFA run from quarter-final, through the semis and on to the final. Not only that, he was the man-of-the-match in the return match in Barcelona, according to McLean himself.
Just one short drive up the A90 and it would have been so different.
Holt recalled: "I got an offer from Gordon Webster, who was Forfar's chairman at that time.
"Jim McLean had given him permission to speak to me.
"I was to be their assistant manager and signing as a player as well.
"At that time I was feeling a wee bit down because I wasn't getting as many games in the United first team as I felt I should have got.
"Gordon spoke to me and I said to him that I would definitely like to come to Forfar. He was even going to get me a job as a sales rep, complete with a car.
"I was keen but then it all changed.
"I managed to get back into the United team so I had to think again.
"I was back in favour at Tannadice just when I was considering leaving after all those years.
"Suddenly, I went from thinking my time at United was coming to an end to playing against Barcelona.
"It was incredible stuff."
Listen to The Courier sports team discuss the 1987 victory on our Talking Football podcast:
McLean had decided that having Holt in midfield was essential to his game plan, while the man who usually played at full-back readied himself for a battle against Terry Venables' millionaires.
Holt said: "We had looked at all their star names but we had plenty of quality ourselves.
"What you need to appreciate is that we were a European team.
"We were in Europe every year and seemed to always do well.
"That was because we played a continental style of football.
"We were organised, could break quickly and damage teams."
Holt recalled that McLean had done his homework and also got by with a little help from a friend.
"Wee Jim told us all about their players," he said.
"We looked at what Gary Lineker and Mark Hughes could do but we had Davie Narey and John Clark so we were confident they could handle them.
"That proved to be right as there was only one chance for Lineker inside the six-yard box that was missed.
"The manager also mentioned Victor, who was Barcelona's captain and an experienced Spanish international.
"What wee Jim said to me was that Victor had to work on his first touch because it was often a bad one.
"I went out there looking for that and tried to shut him down quickly.
"The manager knew all that stuff because I'm sure Walter Smith had helped out by watching Barcelona and giving him a report."
As for the Gallacher goal, Holt remembers his role in the build-up.
"I took the throw-in and I gave it to Luggy, who played it back to Kevin Gallacher.
"I'm not saying it was a fluky goal – Kevin can speak for himself – but I think he just hit it and the wind maybe helped it on its way.
"I was looking straight at it when the ball hit the net.
"There were fewer than two minutes on the clock so we only had to hang on for another 88!
"Seriously, though, it took the pressure off.
"I was thinking that Barcelona weren't as good as I expected but maybe that was because of how well we were playing.
"We also had chances and it wasn't a case of just hanging on."
United had gone at Barca right from kick-off and the ferocity of their football lasted the 90 minutes.
Holt added: "We played at such a high tempo and I have been asked since whether or not we changed the training or our build-up for that game.
"The honest answer is that we didn't.
"Everything stayed the same whether we were playing a league game or a UEFA Cup quarter-final."
Holt remembers that by half-time confidence was surging through the team, although some still got the hairdryer treatment.
"We looked around at each other at the break and knew we could win," said Holt.
"The manager spent his time going around all those who he thought maybe weren't putting themselves about as they should be.
"I think Ian Redford, who was a great player for us, took a wee bit of stick but it would be someone else's turn next time.
"He was giving you a kick up the backside.
"When it was my turn I always tried to go out and show him that he was wrong to do that."
When the final whistle blew, United were heading to Spain with a lead and – importantly – not having conceded an away goal.
Holt recalled: "Of course I was nervous before such a massive match but once I crossed the white line at the Nou Camp I calmed down.
"They scored first and I was on the other post when the goal went in and it was just one of those things.
"Having won the first leg 1-0, even after that we were still heading for extra-time at least.
"That meant we didn't have to panic.
"I was enjoying myself in midfield and I have to say that playing alongside Jim McInally made it a lot easier for me.
"We kept looking for the opening and we got a freekick out on the left.
"Ian Redford took it and Clarkie absolutely smashed his header in off the bar.
"I ran to Reddie to congratulate him because the cross was unbelievable – right on to his head.
"Then we did it again, with Luggy sending the perfect cross over to Fergie to make it 2-1 on the night.
"I didn't appreciate it at the time but we were creating history.
"Imagine being the club that has beaten Barcelona four times out of four in competitive matches!
"This was not just a great achievement for us but for the whole of Scottish football."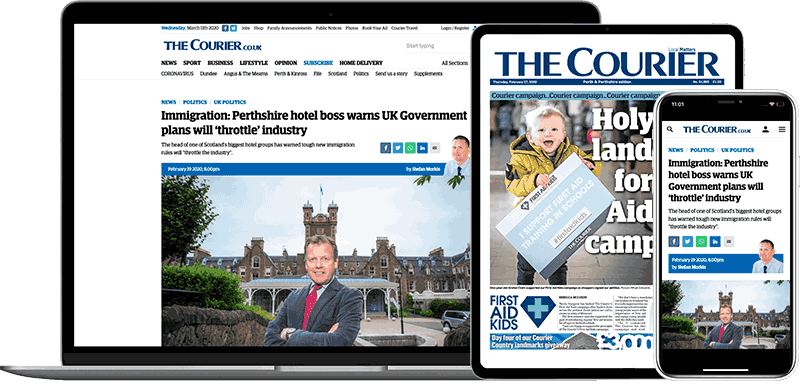 Help support quality local journalism … become a digital subscriber to The Courier
For as little as £5.99 a month you can access all of our content, including Premium articles.
Subscribe