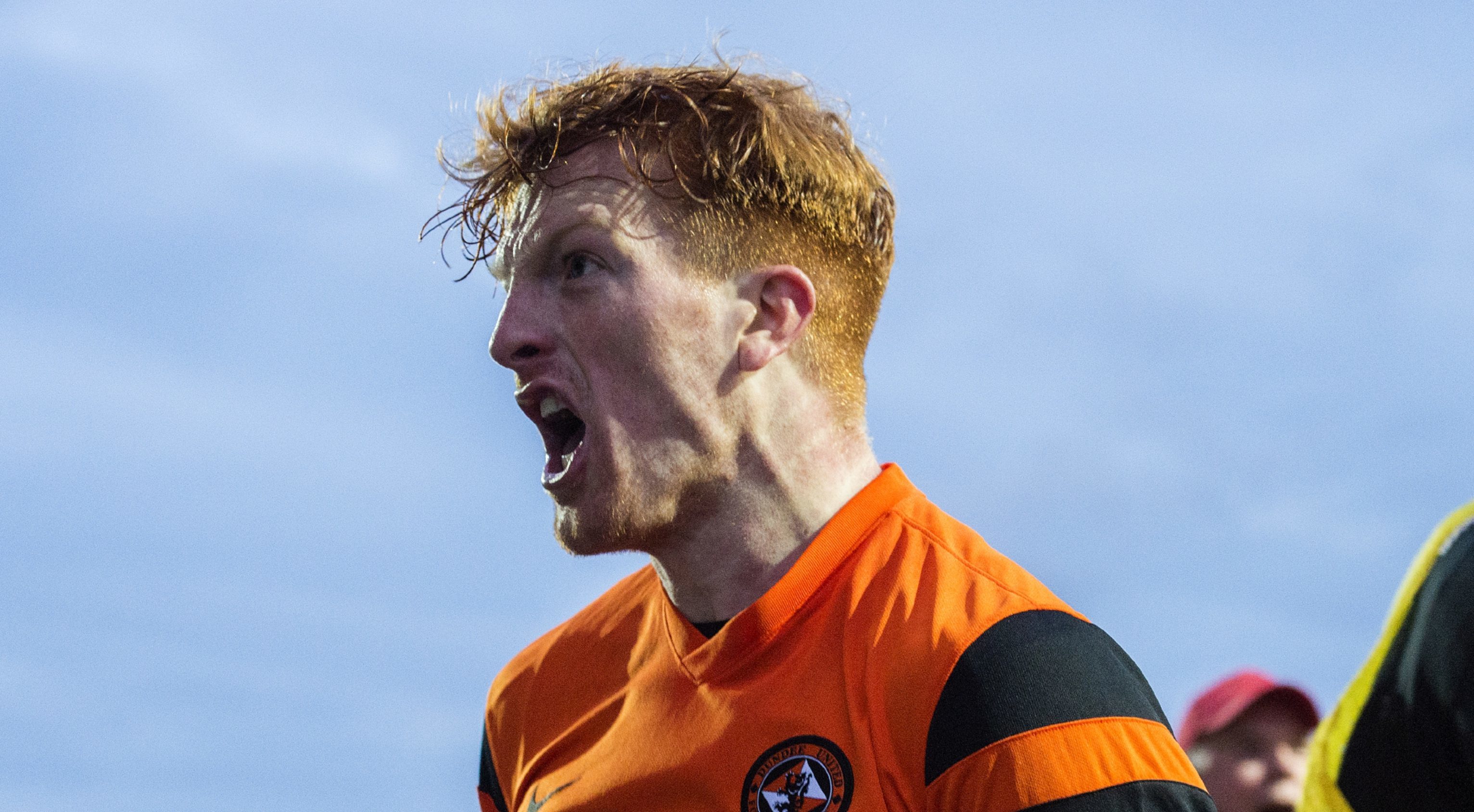 Simon Murray is determined to exorcise the ghost of relegation by shooting Dundee United back up to the Premiership.
Murray, who produced one of the finest individual performances from a United player in a very long time at Falkirk on Friday and deservedly took home the man-of-the-match champagne, is sick of being haunted by and taunted about what happened last season.
The dreaded "Doon Derby," when defeat to Dundee at Dens confirmed that they would be dropping down a division, still gives Murray and the Tangerines' fans nightmares.
As a locally born and bred boy, the former Arbroath striker has been affected more than most, with his "dark blue" pals keen to remind him of it on a regular basis, while those of the tangerine persuasion have kept him posted about how miserable they have felt.
Now, though, Murray and his Tannadice teammates stand just two games against Hamilton Accies away from returning to the Premiership.
Their 4-3 aggregate semi-final victory over the Bairns has placed them so near and yet still so far.
It would be a glorious achievement if they come out on top after the two legs of the play-off final, with the first game at home on Thursday night and the return at New Douglas Park on Sunday.
It would feel like a cup win and Murray would love to be able to shut up those among his mates who have either been moaning about being relegated or enjoying United's Championship predicament just a little too much.
Murray, who fired the Tangerines level against the Bairns on Friday before Paul Dixon nodded home the winner three minutes from time, said: "I think about being relegated all the time.
"I was part of the squad when that happened and I have had to live with it.
"Half of my group of mates are United fans so they are not happy with what happened last season, while the rest are Dundee fans so they're the opposite.
"There's no escaping it – I get it from both sides.
"You know what it's like with your pals – they wind you up and give you stick.
"I don't let on to them that it gets to me.
"Friday night was a lot better feeling than being relegated, that's for sure.
"Indeed, it was the best feeling I have ever had in football when we scored the winner.
"But the job isn't done yet, nobody is going to get ahead of themselves because we have two very tough games coming up.
"Hopefully we can get through them, get the club back in the Premiership and I can give them all a bit of stick back.
"We can't change what happened last season but we can affect what happens in the future.
"The aim is to get back to the Premiership and it has been from day one.
"We are confident and we have momentum at the moment, which is really important at this time of the season.
"There is a great bunch of lads in our dressing-room, the morale is great and everyone is pushing to get the club back up."
Saturday's results ensured it is Hamilton standing between them and that goal and Murray believes United are playing well enough to have a great chance.
"They will know they are in for a game," he said.
"Obviously, they are the Premiership side and will be favourites to go through.
"However, we know we are capable of giving anyone a game and if we play like we did in the second half on Friday then we will have a good chance of getting through it."
Indeed, United were a team transformed once again against the Bairns, putting a flat first-half display behind them to secure victory with a storming performance after the interval.
Murray's goal – his 18th of the season – came on 76 minutes and set the scene for Dixon's last-gasp winner.
The United man revealed that the Falkirk defence felt like they were the victims of an "onslaught."
"I thought we played some decent stuff at the end of the first half but the next goal was always going to be vital," added Murray.
"If Falkirk had scored it then it would have been a massive blow to us and our heads probably would have gone down because it would have been a long way back.
"But we managed to score it and from that moment on I felt we would go on to win it.
"I never felt we would lose the game in the second half – I knew we would turn it around.
"At one point, before we scored, one of the Falkirk defenders said to me: 'This is an onslaught.'
"When that happened I knew they had maybe gone a bit and we had to take advantage of that.
"I'm delighted to score in any game but these matches are ones which really matter.
"Hopefully, I will get more goals in the next couple of games."
If he does, then Murray might need to brace himself for some special attention from jubilant supporters.
He revealed: "I think I was kissed by about eight men during the celebrations.
"It was mental but that just shows what it means to people.
"Scoring a goal and getting a reaction like that from the fans is something you dream about."