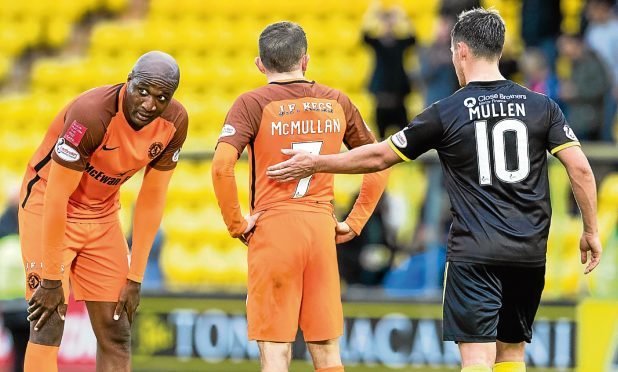 Dundee United defender William Edjenguele insists the players are just as frustrated as the supporters after signs of a resurgence came to a halt in Saturday's timid 2-0 defeat at Livingston.
The Tannadice outfit were easy prey for the Lions as Danny Mullen and Nikolay Todorov scored either side of the break.
United travelled to West Lothian with high expectations, having won three successive matches in all competitions.
Almost 1,300 fans also made the journey from Tayside, but were left feeling short-changed.
Those who remained at full-time certainly made their feelings clear, a crescendo of boos chasing the players down the tunnel.
As well as being leap-frogged by Livingston, Ray McKinnon's side slipped to fourth in the league, four points behind leaders St Mirren.
"I can understand their frustration," said Edjenguele, whose attempt to offer his applause to the fans was quickly shot down.
"I have never been a fan myself but of course I can understand them.
"The fans are frustrated; we are frustrated ourselves.
"They give their time and they give their money and they expect a team to turn up and put on a good performance, which we didn't do.
"Everyone is disappointed, from the manager down to the players – to the staff.
"We need to keep our heads up and go again.
"It was a disappointing afternoon, especially since we were on a wee run before this game.
The first quarter of the season complete, Edjenguele and the fans are keeping their fingers crossed for a better return over the upcoming matches, starting at home to Inverness next weekend.
"There are plenty of games to go and hopefully we can right this one," he added.
"We leave with nothing but we have to keep at it and get back to work on Monday."
Livingston gained an advantage after seven minutes when Mullen raced on to Alan Lithgow's quick free-kick and squeezed a shot past Harry Lewis at the goalkeeper's near post.
Todorov added a second in the 76th minute when he smashed home Josh Mullin's cross via the underside of the bar.
It was a bad day at the office for the visitors, and United manager Ray McKinnon lamented his side's defensive frailties and toothless attack.
He said: "Our lack of quality and concentration cost us. I'm not going to point the finger in there because people are feeling bad enough.
"We got caught with the first goal. It was just a long ball over the top, and decision-making cost us there. That gave Livingston the impetus to battle for everything.
"We were dominant in the second half and we just need to score a goal and we didn't do it, and we got caught with another sucker punch.
"When we were in possession of the ball there was a lack of quality in the final third and that was disappointing because we got into some really good areas and never capitalised on it.
"I said that to them in there, three things have cost us today: concentration, our lack of quality and efforts on goal.
"They were all feeling good going into the game with the momentum we had gained.
"The team's on the up and we need to keep moving forward. Hopefully this is just a bump in the road, but you need to learn from it."
On-loan Hearts striker Todorov, who started as a surrogate centre-half for Livingston on Saturday before reverting to his natural position, was pleased to repay manager Hopkin after being allowed to visit his family in Bulgaria during the international break.
The 21-year-old enjoyed home comforts as well as catching up with dad, Nikolay Sr – a former internationalist for his country.
"The gaffer gave me a break to recharge the batteries so I really appreciated it," said the former Nottingham Forest trainee.
"That's the way I repay the gaffer," he added.
"It was great to see some family back in Bulgaria. They're back home but I'm really focused.
"I recharged my batteries and I had some of my mum's food and I'm ready. I had everything, whatever she prepares is really nice.
"I try to go back whenever there is a break. I think it's important to spend time with the family.
"My dad gives me advice as well, he has played at the top level and I always listen to him.
"A father's advice is the best," he added.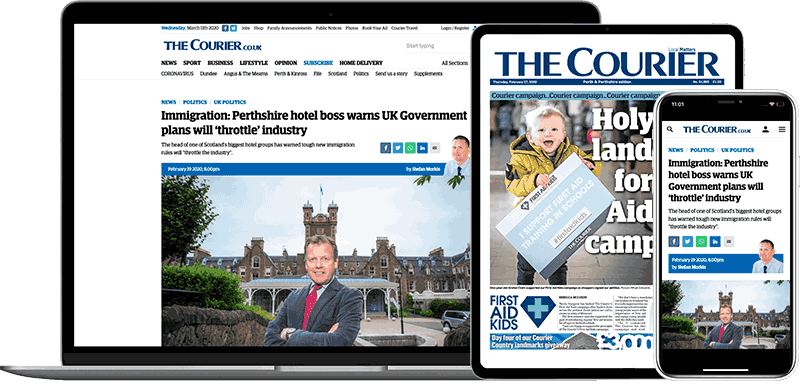 Help support quality local journalism … become a digital subscriber to The Courier
For as little as £5.99 a month you can access all of our content, including Premium articles.
Subscribe