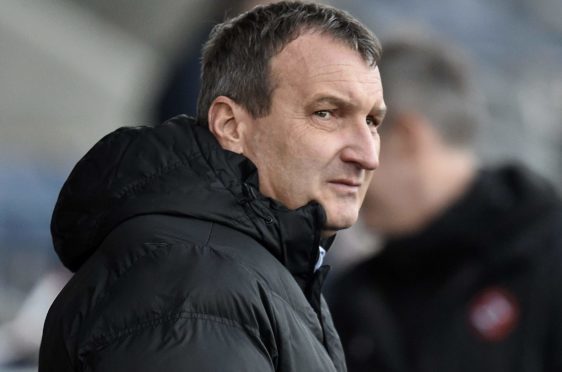 Dundee United manager Csaba Laszlo has suggested Aberdeen have landed lucky thanks to the absence of other big clubs from the Scottish Premiership.
While the Dons have been widely recognised as the country's second strongest side behind Celtic over recent years, Laszlo thinks that they have benefited from not having to face – at various times – Rangers, Hearts, Hibs and United.
All four of those teams have been missing from the top flight at some stage, with the Tangerines still struggling to get out of the Championship.
That has convinced the Hungarian that the Pittodrie men, who host United on Sunday in a televised William Hill fifth round tie, have been rather fortunate.
Laszlo said: "Aberdeen have made a huge step forward but, to be honest with you, I don't want ever to talk about other clubs and how fantastic they are.
"You have seen that Aberdeen in the last four years really have not had an opponent, just Celtic.
"You know that Hearts have struggled, Hibernian have struggled and Dundee United have struggled.
"Rangers were off the map and down.
"I am talking there about one, two, three, four big clubs which were the same size as Aberdeen, who have stabilised to be second.
"OK, Aberdeen have used this time.
"Now Rangers are not in the best shape but they are still fighting for the second position.
"They came from very deep and at the moment I think Hearts are also growing, as are Hibs, so the fight is back on for Aberdeen to be just second."
Laszlo, who managed the Jam Tarts between mid-2008 and early 2010, added: "I want to tell you that, yes, Aberdeen in the Scottish Premier League in the last five years are very strong and have come back definitely in this way as they were in the past.
"But it is with the absence of Dundee United, Hearts, Hibernian and Rangers."
Meanwhile, Laszlo revealed that French-born Congolese international Chris Malonga has left the club without being offered a deal, although that may change at the end of the season.
Laszlo said: "Malonga was here but it was not for a direct trial because I think this kind of player he doesn't have trials.
"You know he played for Monaco but for eight months he hasn't played any football.
"I just wanted to test his fitness but I think I made the decision that he can't help us and we can't help him so it is better maybe to see him in the summer.
"I think a player who cost two million euros and played for Monaco and Guimaraes and all these teams can play football but if he doesn't have the fitness I don't think that he can help.
"We need fit players. We don't have the time for two or three weeks when we can do something with the players so we have decided no."
The United boss confirmed that Tam Scobbie will miss Sunday's cup clash because of injury but William Edjenguele is available.
He added: "I would say Scobbie is struggling so is a no for Sunday but William can sit on the bench."
James Keatings will be having surgery next Monday, while Scott Fraser should begin training in three or four weeks' time.