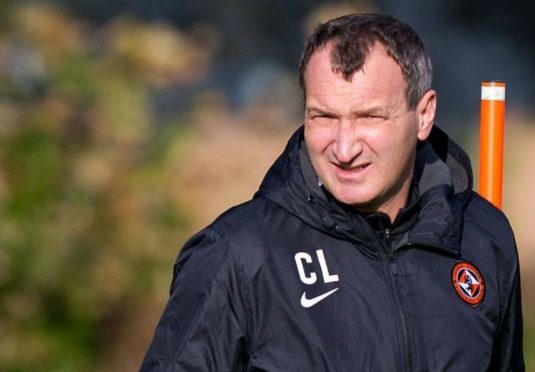 Dundee United manager Csaba Laszlo has made it his mission to shake the Tangerines out of their "comfort zone."
Laszlo has spent the summer so far reflecting on what has gone wrong for a club that finds itself in the Championship for a third season and is attempting to come up with solutions to stop the rot.
The result has been a complete overhaul of not just the squad but also the coaching staff.
After casting light on how badly disorganised the club has been, he is determined that the new season will mark the start of the Tangerines' recovery.
Part of that plan is keeping everyone on their toes.
"I have learned that if you want to achieve something you have to take people out of their comfort zone," said Laszlo.
"I say that if you don't want to do what is good for Dundee United then goodbye, you have to leave.
"Every change takes people out of that comfort zone and they have to think a little bit more.
"We want not just to rebuild the team but to bring in players who have ambition.
"This is the first criteria, to have ambition, and also not be satisfied with what you have achieved up till now."
He wants to use as few loan players as possible and has knocked the idea of a trialist match – floated earlier this summer – on the head as he prepares to welcome his players back to work tomorrow.
Laszlo added: "My target is not to go and begin the season with trialists.
"I will not be very happy if I go and have 10 trialists in training for the pre-season.
"By that time, more or less 90% of the team must be ready.
"I am not against loan players but they must be ones who can help the team and have ambition.
"If you are under contract at a club and you are put on loan then it's your ambition a lot of the time not to be on loan.
"I want players who are from Dundee United, who are fighting for Dundee United and who are living Dundee United day by day.
"We don't have a loan manager, a loan chairman or a loan kitman.
"They are all employed by Dundee United and this is what I want with the players.
"Our first target is to have our own players."
Laszlo seems content with the backroom team rejig, which has seen his former number two Werner Burger appointed first-team coach under him and assistant boss Laurie Ellis, club legend Paul Sturrock named head of recruitment and covering the English market, Dave Bowman chief scout in Scotland, Craig Easton become reserve team manager and Scott Robertson take the under-18 coach's role.
The United gaffer said: "I have a very good working relationship with Paul and every week we have had meetings with the chairman about the direction in which we are taking the team.
"Paul is the head of this recruitment and he is working down in England. I am working here.
"I am also very happy about Bow's decision to be our scout. He will look for new players for us and he has experience in this area. He will also look at opposition and he is very close to the first team.
"Paul will be more or less down in England and Bow will be here.
"Everybody who is involved in this process has a word to say.
"We don't just pick players from the internet."