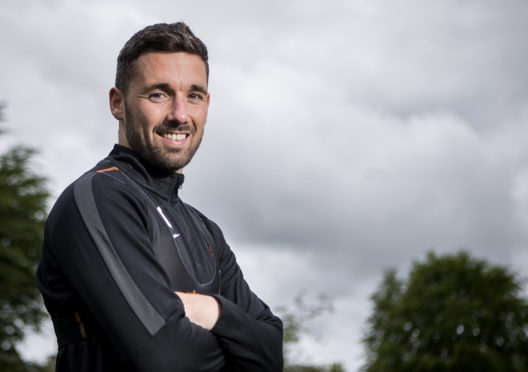 Nicky Clark is determined that Dundee United will be fast starters this season as the Tangerines place greater emphasis on the Betfred Cup compared to 12 months ago.
After moving from Dunfermline last summer, Clark was part of a United side that Csaba Laszlo decided not to expose to public pre-season matches.
It was an approach that back-fired, with poor cup form ensuring pressure built on the Tangerines before a ball was even kicked in the league campaign.
The former Pars and Rangers striker is happy that current boss Robbie Neilson has adopted a different strategy, with two matches lined up this weekend to follow on from the game against East Fife last Saturday.
Clark, who scored United's equaliser in the 1-1 Bayview draw, said: "I think we had a couple of closed-doors game at St Andrews but that was about it last year really.
"Then it was into the Betfred. They were treated a bit like pre-season games.
"You need friendlies to get yourself going. It's tough to go straight into competitive games.
"The Betfred results put us under pressure right away. We don't want that to happen again.
"We've had a chat and we want to win every game, whether that's in pre-season, the Betfred or the league."
Reflecting on the trip to Methil, Clark noted: "It was a good start to pre-season. Everybody who was fit got 45 minutes at the end of a hard week.
"You need to put the hard work in. It's always tough but always worth it.
"It's good to back into games quickly.
"East Fife gave us a good game and it was a worthwhile exercise."
With Pavol Safranko moving on, United are in the market for another striker.
"It's only me and big Os (Osman Sow) just now," said Clark.
"There is also Matty Smith and Louis Appere, who I thought did really well against East Fife, but you would think another one is going to come in.
"That's a good thing. We need competition at a big club.
"I just want to play and I'm happy to be a 10, a nine, or wherever the manager wants me to play."
Clark scored United's goal in the play-off second leg against St Mirren at the end of last season before having to endure the penalty shoot-out torture from the bench.
"It was horrendous," he said. "It's the worst way to lose a football game, especially as important a game as that one.
"It was really disappointing. I don't think I've seen four penalties missed in a shoot-out before. It just wasn't meant to be for us that day.
"It took a while to get it out of the system. I've lost a few times in the play-offs but that was probably the hardest one to take.
"That's in the past, though. We need to look forward and make sure we win this league now.
"Nobody's spoken about it since we've come back. It's done."