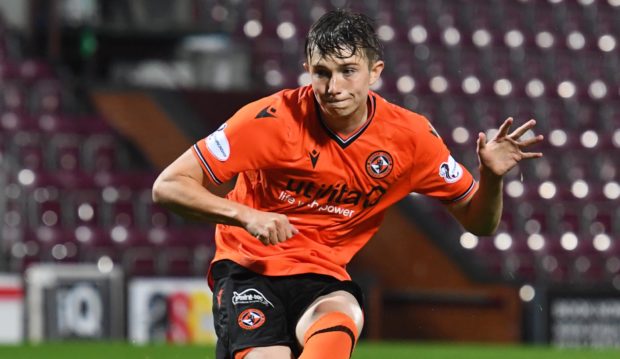 He has previously suffered agony with growing pains but Scott Banks certainly enjoyed himself as he hit the heights making his senior Dundee United starting debut against Cowdenbeath on Friday night.
The 17-year-old graduate from the club's academy was a constant threat on the flank against the Blue Brazil and also chipped in with an assist for the second goal in the 3-0 win that left the Tangerines in pole position in Betfred Cup Group A.
Banks hopes to be back involved again tonight against East Fife at home which is all a far cry from the lengthy time he had to spend out with Sever's and Osgood-Schlatter disease.
He said: "I just enjoyed every minute of Friday night.
"I wanted to get on the ball all the time. I had quite a bit of space to do so and just tried to do my best every time I got it.
"I found out the day before at a team meeting I would be starting.
"So I just had to mentally prepare myself to make sure I was composed on the ball.
"I think that showed I was prepared because I wanted the ball all the time.
"Being at the club for so long now – about six or seven years – you always want to play at Tannadice and start.
"So it was a great feeling to make my first senior start at Tannadice.
"It was a superb moment for me.
"My mum Sam and dad Brian are always there. They are always supporting me and taking me to all the games.
"It was a big moment for them as well. They'll be really proud of me too.
"I'm just grateful for what they've done for me."
Banks admitted he is also delighted to be pain free after problems caused by a growth spurt.
He added: "When I was younger, I was part of the performance school as well.
"All the training took its toll on my heels and knees. So I got Sever's disease in my heels and Osgood-Schlatter's in my knees.
"That put me out for quite a long time.
"I was really small when I was younger but then I shot up over the course of two years.
"I think that's what caused it. It took its toll on my body but I'm over it now and pain-free."
While pleased with his performance against Cowdenbeath, Banks certainly isn't content to rest on his laurels and is determined to cement a place in the first team with the help of the coaches at the club.
The teenager said: "There was Brian Grant at the start when I was much younger, and now that I'm with the first-team squad, Lee McCulloch and Gordon Forrest just push me along all the time.
"They keep helping me improve and give me individual work to do as well. So it's clearly paying off.
"I know I've still got a long way to go.
"It's great getting all this praise just now but I want to be playing in the first-team every week. I'll just have to take my chances when they come and I do want to do it as quickly as possible.
"If I'm playing like I did the other night, then hopefully I can do that and stay there on a permanent basis."
Banks is fully aware of United's rich tradition in developing young players but he also knows he still has a lot of work to do before he is the finished article.
He said: "When I was first coming through the ranks, it was players like Ryan Gauld and both John and Harry Souttar who were making a name for themselves.
"The club has a proud tradition which obviously everyone wants to keep going.
"The experienced players help as well by keeping you grounded and doing the jobs around the stadium. We don't get carried away.
"They're brilliant on the pitch as well giving you advice, where to be positionally and how to react to things.
"They're just constantly speaking to you.
"I'm still cleaning the boots and washing the dishes in the morning."
Banks went out on loan to Clyde last season, helping them win promotion to League 1 and picking up a couple of awards himself along the way.
He added: "To go up with Clyde was just brilliant.
"I loved every minute of it. It was a very special moment for me at what is a great club.
"I was lucky enough to get man of the match in the last game to get us up and I also picked up the goal of the season award.
"So it was a really successful spell for me with some great personal moments."