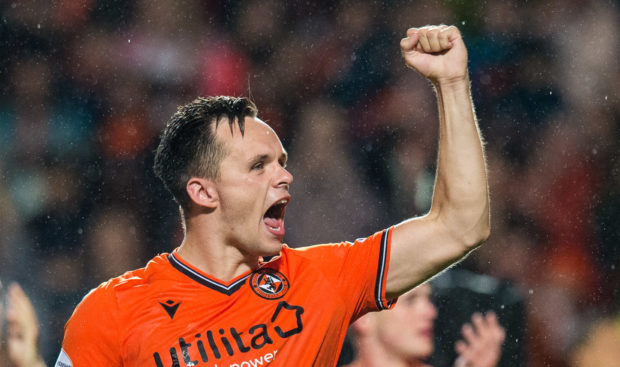 Dundee United striker Lawrence Shankland's gratitude to Ayr will not stop him trying to make them suffer.
Shankland, who was this week named the Ladbrokes Championship player of the month for August, has made a flying start to his career with the Tangerines after moving from the Honest Men in the summer.
He can do no wrong, having slammed home eight goals in four league games for United.
Shankland would love to keep that run going, even if it makes him unpopular for the day at Somerset Park.
He said: "I am looking forward to going back to Ayr.
"I had a great time there.
"The club, the manager and the lads there were brilliant for me and I will always be grateful for that.
"I always had a great relationship with the fans down there so we will just have to see what it's like this weekend.
"Supporters can be fickle so who knows but I have nothing but great memories of the club.
"It was great to be a part of bringing the team up to the Championship and then doing well last season.
"The manager Ian McCall was brilliant for me and gave me the opportunity to go there.
"It was September and I was without a club but he backed me and showed confidence in me.
"The way he manages suits me and he just let me go and express myself on the park.
"He didn't ask too much of me but got me fitter, changed my workrate and changed my mentality a bit.
"I learned a lot of things from him that I probably needed to learn.
"He gives you advice but he also lets you just go out and play."
Shankland revealed that it was an Ayr player – and former Tannadice man – Mark Kerr who offered him some sage advice about making his moved to the Tangerines.
The striker said: "I spoke to Kerrso before I came to United because he's been here and was able to tell me about the club.
"He told me that it would be perfect for me here because of the facilities and the size of the club.
"He was one of the main people I spoke to and even though you make your own mind up it was good to hear from someone like him."
Shankland, of course, put United to the sword last season when he famously – or infamously – scored four times against them in one match at Tannadice.
His new boss Robbie Neilson would love a reversal of that this afternoon but Shankland is wary of the threat posed by his old mates.
He said: "Ayr are right on our tails and they never get a mention.
"They are having another good season but I am not surprised by that because they have good players and a good manager.
"People seem to write them off all the time and the boys there will be happy with that because going under the radar will suit them.
"I know and the boys here know they are a good side because the results against United last season showed that.
"We had some really good wins, especially the one at Tannadice because it's such a good place to come and play football.
"They will go into the game thinking they can win it, no doubt about that."
Shankland, without making any bold predictions, hopes to continue hitting the target for as long as possible.
He added: "Scoring goals is my job and hopefully I can keep it going.
"You can't ever think you will score in every game but it's good times at the moment so all you wish for is it keeps going."
His fabulous form gained recognition this week when he was voted player of the month but the attention won't be going to Shankland's head.
He said: "I have won four or five of the awards in the past so it's nice to get another one.
"They are in my mum's house at the moment but I have just moved out to be closer to Dundee so I will probably move them up to the new place.
"It's great to get recognition but I felt like I was accepting it on behalf of the team because it's the lads who create the chances for me.
"They have been great for me, setting up goals and helping to create things.
"I can only make the runs and get into positions. It's the rest of the lads who do all the work to get it up there.
"It has been a real team effort since the season started. We have all gelled well and hopefully we can keep improving from here."