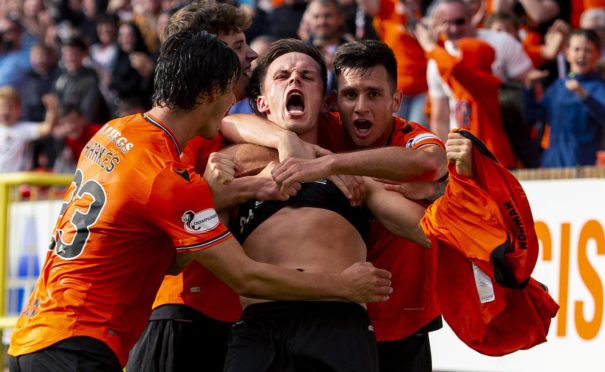 Dundee United's Paul McMullan is praying that Lawrence Shankland can keep scoring all the way to May.
McMullan set Shankland up for the first of his two dramatic goals that earned the Tangerines a barely deserved victory over Arbroath at Tannadice on Saturday.
The excellent Lichties had been leading until the 88th minute but found themselves somehow 2-1 down a couple of minutes into stoppage-time thanks to Shankland's number 11 and 12 of the season.
McMullan is hoping the striker can keep producing his magic and help secure promotion for the Tangerines.
He said:  "Lawrence has scored 12 already and we are not even in October.
"Hopefully, he can keep it going.
"That's why the club brought him here.
"That what they felt we needed and hopefully he continues to score like that for the whole season."
McMullan admitted that Shankland is one of the best goalscorers he has played with.
He added: "He is right up there, yes.
"He has all the finishes and it can be left foot, right foot or the head – it doesn't really matter.
"I was probably surprised that we signed him and 'relieved' would be another word I would use.
"Thankfully he is here and didn't go to a Premiership club or elsewhere.
"He is a natural goalscorer and someone who finishes off all your good work.
"You can pass the ball around the park for 90 minutes all you want but if don't have someone to score then you don't win games.
"Having someone up there who does that makes all the difference."
Meanwhile, Arbroath were left to curse Shankland's clinical finishing.
Midfielder James Murphy said: "Their striker took his chances well but maybe we switched off at the wrong time.
"Football matches last for 90 minutes, and you have to do your job for the full 90.
"Maybe we were tired but he took his chances well and we were punished.
"That's what he does best. I felt like he was pretty quiet for most of the game but he got two chances and scored with both of them.
"That's why he is the leading scorer in the league right now."