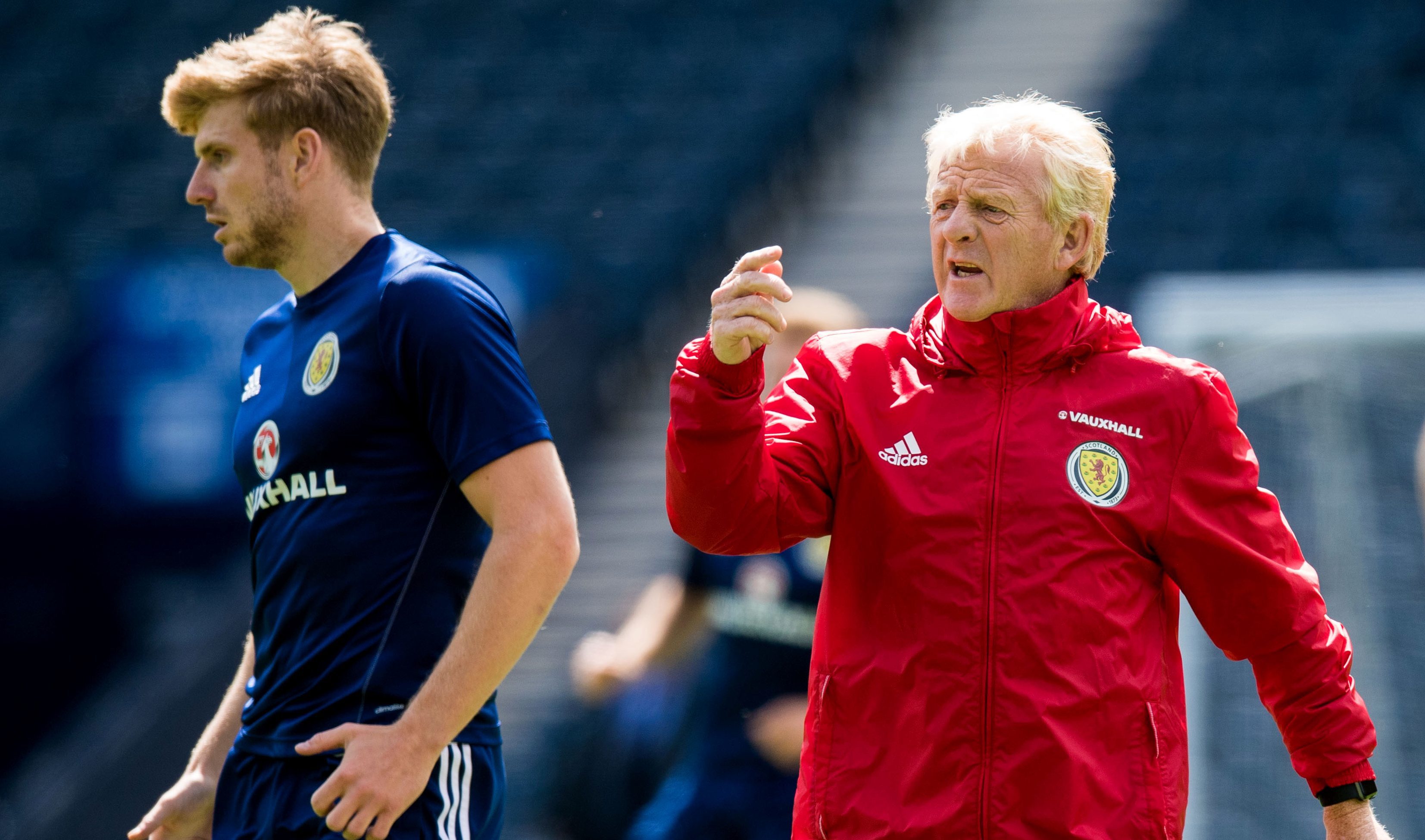 Gordon Strachan can understand why Gareth Southgate took his England squad to an army boot camp at the start of the week.
But the Scotland manager didn't need the commando and camouflage treatment to get his own team in the zone for today's Hampden Park encounter.
Strachan believes the home side have had the perfect build-up for this crucial end of season World Cup qualifier against the Auld Enemy.
And the Scottish players have filled him with confidence that they can upset the odds against their multi-millionaire rivals.
"All managers sense what their players and the group needs at a time," Strachan said of England's stint with the Royal Marines.
"We had to do a wee bit more because a lot of our lads hadn't played. We had to do more basic stuff.
"Gareth had a look and decided he needed active rest. Have a rest and a bit of a laugh and a joke and trying something else. He decided to take them off the football field when we needed to get them back on it. I understand that totally.
"The best bond is when you are on the field and in the dressing-room. That's it.
"I've seen it all before – the go-kart days, nights out, golf days. All that happens is they get drunk and start fighting with each other. And this table is better than that table when they are drinking. That doesn't work.
"It's about winning games of football and enjoying that 20 minutes after a game when you celebrate as a group. That's what makes you into a team.
"That's what's happened with Celtic. When you see the six Celtic boys together their team spirit is fantastic.
"You could have 20 nights out and it wouldn't have brought the feeling of that Slovenia winner (in Scotland's last Group F match)."
Strachan added: "If you're talking about team spirit, I'll take you back to training on Monday. I'd set out for eight players to do extra running, and the whole group said they would do it as well.
"That's team spirit, that's looking after everybody and pushing each other on. That's what you call good team spirit.
"When everybody wants to do the running when they could easily have walked away – much to the concern of the fitness coach I might add – that's the wee things that show team spirit. You have to be there to see it."
They may struggle when it comes to championship finals but England are as polished a qualifying team as you could find. Beating the Scots 3-0 at Wembley without hitting top gear was proof of that.
A draw against them would keep Strachan's side in the hunt for second place in the group but holding on for dear life will not be the game plan.
He said: "We are looking at ways to stop them scoring but we won't be sitting back in numbers and hoping to do it.
"We have to make sure they don't get to make passes, fire in crosses and if they do then we have to find numbers to fill in areas.
"I don't think it's a free hit. I really don't think it's like that. I genuinely believe we can win the game. I really do, and I'd be really disappointed if we didn't get anything from the game.
"I take stuff from the last England match, where we would all agree that there was nothing happening and we were comfortable and doing a lot of things we had worked on.
"We get a couple of chances, we don't take them, we could have been in the lead.
"That's how close we were, so I take that. Then I take the training, and the enthusiasm of the training, and what the guys who have had a good season are bringing to the group.
"All that adds up to feeling good. In saying that, I've always gone into any game with the knowledge that we can win, or we can lose. We just need to deal with that.
"There's a good chance to just get that victory or a draw, but we're going for the victory because when you watch us train. That's the way we're going."
The balance of heart and head is always there for a professional footballer but it gets magnified in a contest which is a local rivalry played out in front of a passionate home crowd. Strachan is confident his players will get that balance right.
"We're not fighting in the streets anymore," he said. "It's not Culloden and all the rest of it.
"It was good fun in those days because we never saw big games, and that game was huge. There were four or five games on the telly a year and this was one of them.
"It's sort of dissipated into the background with the Champions League and all that, those games have more build-up now than this one I think.
"I've seen people play to the crowd and flying into tackles, but not now."