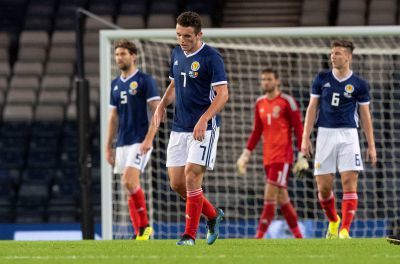 Scotland midfielder John McGinn was taught a harsh lesson from Belgium but is desperate to put his Hampden horror show behind him.
The Aston Villa man was culpable, along with goalkeeper Craig Gordon, for the crucial first goal in the Scots' 4-0 hammering by the Belgians in Friday night's friendly.
It was the worst home loss for the country in 45 years and it was painful to watch at times as they struggled to cope with the excellent Eden Hazard and his fellow World Cup semi-finalists.
McGinn was caught in possession as he tried to take a needless throw out from Gordon on 28 minutes and it was downhill from there.
He can't afford to dwell on that for too long, however, with Scotland kicking off their new Nations League against Albania back at the national stadium tonight.
McGinn said: "It's probably the lowest I have felt in a Scotland jersey.
"I want it out of my system and will try not to dwell on it too much.
"It was a footballing lesson for all of us.
"We have a group that is trying to gel and improve but we were up against the second or third best team in the world and it showed.
"Overall, we need to try to take the positives out of it and realise how far we've got to go to get anywhere near that kind of level.
"It was mistakes that cost us but overall they proved how good a side they are and it was a good test for us.
"Myself and a couple of others made some mistakes but it is difficult when a team like that is closing down all the space and they making it hard for you.
"Next time, I maybe won't take the ball in that position.
"We just need to regroup, put it in the past, realise how good a team they are and move on from there.
"I think you have professional pride.
"You can try and dress it up and say they are the second or third best team in the world but at the same time you don't want to be beaten by that margin off anyone.
"At the same time, we have to try to forget about it as quickly as we can."
McGinn found some solace in the fact that neither of Scotland's Nations League group rivals, the Albanians and Israel, will have players anywhere near the standard of the Belgians.
Asked about man-of-the-match Hazard in particular, the former Hibs man replied: "It is hard enough when you are beside him but then you have to worry about the three others that he is going to pass it to.
"Listen, it is a priceless learning experience and I know because it's a friendly that you've got that luxury.
"At the same time we want to be competing with these teams and making it difficult for them in the way that Scotland have in the past.
"It just shows that everyone has a long way to go to be able to compete with players of that calibre.
"You do learn more from defeats than wins and it makes you hungry to go and improve the next time.
"That's the way I have dealt with things my whole career."
McGinn believes it will be a different type of contest this evening against the Albanians, who started their Nations League League C Group One campaign with a 1-0 home win over Israel on Friday night.
He added: "I think, with due respect, the way we are going to play means we are going to have more of the possession.
"But that doesn't mean it is going to be easy to get a result. These games are very difficult and everyone knows that.
"Teams will sit in and try to counter on us so we have to use the ball better –  be brave and confident.
"We know how important the Nations League is as it gives us another avenue to try to qualify and we have to take every chance we've got."